Dr. Pulley Variator Roller Weight Set 25x15 (Majesty, Morphous, Tmax)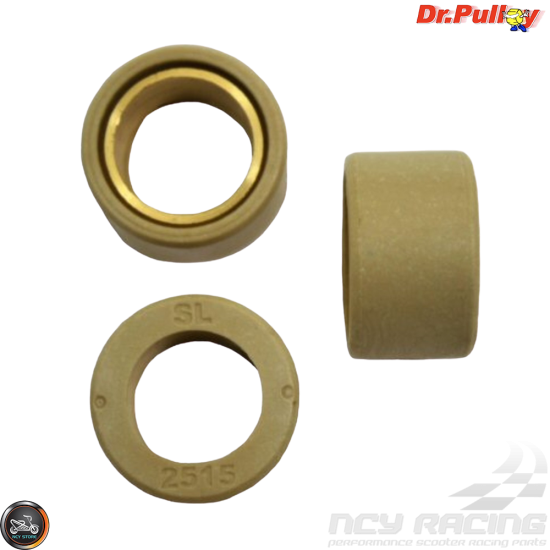 Description: Dr. Pulley 25x15 Sliding Roller Weights for the Yamaha Majesty 400, Yamaha T Max 500 & Yamaha Morphous. Traditionally, the gear ratio is changed by the up-and-down rolling movement of the roller weights in the ramp of the Moveable Drive Pulley (MDF). With Dr. Pulley, no abnormal wear will occur even when running in high gear. Dr. Pulley's U.S. Patent Number 7,276,004 states that their roller weights eliminate abnormal wear, prevent reduction gear ratio deterioration, prolong the useful life of the transmission, and have the availability to adjust reduction gear ratios as well as driving performance. Dr. Pulley Round Roller Weights have exceptional durability, heat resistance and are low friction and low wear.
NOTE: Please select weight from the menu
Features:

• Broadens your range of gear ratios
• Fastest Roller Weights available
• High-Temperature Resistance
• Increases acceleration and re-acceleration properties
• Increases top-end speed
• Lasts longer than standard roller weights
• Low Friction Coefficient (low wear)
• No abrasive fibers (glass fiber or carbon fiber)
• Suitable for aluminum variator housing
Specifications:
• Set of 8 Sliders
• Size: 25mm x 15mm
• Select Weight: 11g to 22g
• U.S. Patent Number: 7,276,004
• Material: SL-9T, SL-9TS (oil-less PA46)
• Made in Taiwan
• Fit Majesty 400
• Fit Morphous 250
• Fit Tmax 500

Supported Models: Yamaha Majesty, Yamaha Morphous 250, Yamaha Tmax 500, and various unlisted makes/models.
-----
Item Weight & Package Dimensions:
• 0.092~0.231 pounds | 3.486" (L) x 2.852" (W) x 1.050" (H)

Dr. Pulley Variator Roller Weight Set 25x15 (Majesty, Morphous, Tmax)
Stock:

20

Brand: Dr. Pulley
Reward Points:

1

Part #:

169-345
Price in reward points: 26
Tags:
dr. pulley variator round roller weight set 25x15 tmax
,
dr. pulley 25x15
,
dr.pulley 25x15 majesty
,
dr. pulley 25x15 morphous
,
tmax dr.pulley 25x15
,
majesty dr. pulley 25x15
,
dr pulley variator roller 20x12
,
dr pully roller 25x15
,
morphous dr. pulley roller weight tmax
,
roller weights 25x15
,
round roller weight
,
dr. pulley round roller wieght