OKO Carburetor PWK (QMB, GY6, Universal)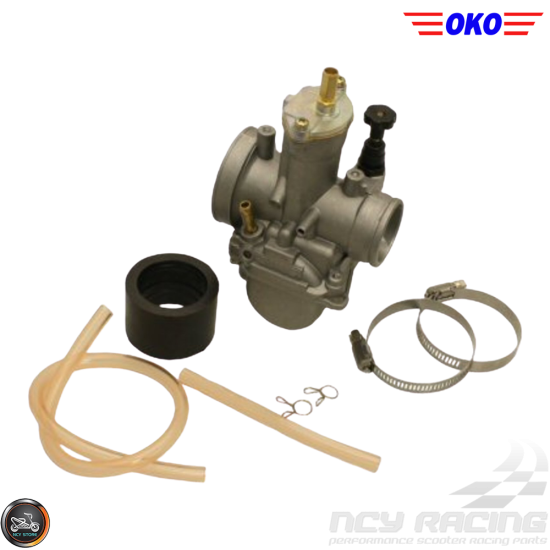 Description: OKO High-Performance PWK Carburetor without Power Jet. Choose from 19mm to 30mm sizes. This Model Does Not Have The Power Jet. Please See Related Items For PWK with Power Jet. Choose from OKO Carburetor PWK venturi side opening 19mm to 30mm sizes.
NOTE: Please select the size carb: 19mm, 21mm, 24mm, 26mm, 28mm, and 30mm venturi side opening.

The main jet and idle/pilot jet sizes are as follows:
• 19mm Carb: main 95, idle 42
• 21mm Carb: main 103, idle 42
• 24mm Carb: main 107, idle 46
• 26mm Carb: main 112, idle 46
• 28mm Carb: main 130, idle 48
• 30mm Carb: main 138, idle 48

Specifications:
Includes carburetor without Power Jet, Vacuum Tubing, Intake Manifold Boot & Clamps.
• 1x PWK Carburetor w/o Power Jet
• Air filter mount OD: 49.5mm
• Intake mount OD: 34.5mm
• 1x Manual Choke
• Fit GY6 125/150cc+
• Fit QMB
Supported Models: Honda Dio AF16 AF18E 50; Elite S/SE/SR 1994-2001, Daelim Cordi 50, Kymco Fever/ZX50, SYM DD50, 40QMB 50cc 2-stroke, 40QMB 50cc 2-stroke, Eton, Peugeot, PGO, SYM, TGB,139QMB 49cc-50cc 4-stroke, 50QMF 90cc-100cc, 152QMI 125cc, 157QMJ 150cc, 161QMK 170cc, 161QML 200cc, Chinese Scooter, ATV, Genuine Buddy, Kymco, Polaris RZR 170, Ruckus, TaoTao, Yamaha Cygnus, Vento, and virtually any scooter engine with these measurements.
-----
Item Weight & Package Dimensions:
• 1.469 pounds | 6" (L) x 6" (W) x 6" (H)

OKO Carburetor PWK (QMB, GY6, Universal)
Stock:

18

Reward Points:

2

Part #:

114-71

OKO
Price in reward points: 69
Tags:
oko pwk carburetor
,
oko pwk carburetor with power jet
,
oko pwk carburetor with power jet 2-stroke
,
24mm carburetor
,
oko carburetor pwk 24mm qmb
,
oko pwk carburetor 24mm
,
pwk 24mm carburetor
,
pwk 24mm carburetor
,
oko carburetor
,
oko qmb carburetor pwk with power jet
,
oko pwk carburetor with power
,
vento 24mm carburetor with power jet
,
scooter 24mm carburetor
,
oko carburetor pwk 24mm vento
,
oko 40qmb pwk carburetor
,
eton 24mm pwk carburetor
,
30mm carburetor
,
oko carburetor pwk 30mm qmb
,
oko pwk carburetor 30mm
,
pwk 30mm carburetor
,
pwk 30mm carburetor
,
oko carburetor
,
oko qmb carburetor
,
oko pwk carburetor
,
vento 30mm carburetor
,
scooter 30mm carburetor
,
oko carburetor pwk 30mm vento
,
oko 40qmb pwk carburetor
,
eton 30mm pwk carburetor