Gates CVT Belt 818-19-28 PL30701 Premium (Aprilia, Lance)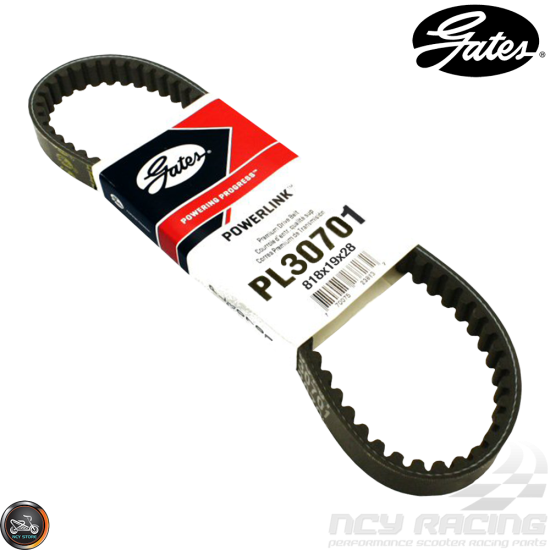 ETA 4 - 10 Days
Description: Gates Powerlink Premium CVT Drive Belt size 818x19x28 is made in China by the U.S.A. Company Standard. Its material used is EPDM (Ethylene Propylene Diene Monomer) used in making automotive and construction for its excellent resistance to environmental factors such as weather and heat resistance up to 130°C (266°F). EPDM is strong yet it's flexible, and not harsh on aluminum drive face like "Kevlar" which is recommended for heavier-duty off-road applications. EPDM makes it gentle on CVT recommended for everyday riding use. Standard fit for Aprilia Scarabeo 125 (124cc) '99-'03, Aprilia Scarabeo 150 (151cc) '99-'06, and Sym Lance Cali Classic 200.
Installation: 1. Slack the belt by opening the CVT clutch giving belt slack to the variator side. 2. Then install the variator drive face while lifting the slack belt further away from the center boss if done properly should not see any splines between variator drive face slop-side and boss flat-side. Should be flushed together. 3. Then install the existing variator fan, washer, and hand-tight nut. 4. Finally, apply blue Loctite, torque nut to 30-35ft-lbs. For reassurance please consult your manufacturer's variator torque specs.

Specifications:
Include the following belt.
• Poly Reinforcement Cords / EPDM Construction
• Length: 818mm (Loop 16.102 in.)
• Width: 19mm (0.748 in.)
• Height: 9mm (0.354 in.)
• Groove Angle: 28° (0.3 in.)
• Heat and Oil Resistant
• U.S.A. Company / manufactured in CHINA
• Fit Aprilia 125/150
• Fit Lance 200

Supported Models: Aprilia Scarabeo 125 (124cc) '99-'03, Aprilia Scarabeo 150 (151cc) '99-'06, Sym Lance Cali Classic 200
-----
Item Weight & Product Dimensions:
• 0.221 pounds | 16.102" (L) x 0.748" (W) x 0.354" (H)

Gates CVT Belt 818-19-28 PL30701 Premium (Aprilia, Lance)
Stock:

ETA 4 - 10 Days

Reward Points:

1

Part #:

1200-1087

Gates
Price in reward points: 40
Tags:
aprilia scarabeo 125 belt
,
aprilia scarabeo 150 belt
,
sym lance cali classic 200 belt
,
lance cali classic belt
,
gates pl30701 premium 818-19-28 cvt drive belt aprilia scarabeo
,
scooter gates powerlink premium belt
,
nylon cvt belt
,
cvt belt 818-19-28
,
cvt belt 818x19x28
,
818x19x28 belt
,
818-19-28 belt
,
818 19 28 belt
,
818-19-28
,
cvt lance cali classic 200 belt
,
longcase belt
,
aprilia longcase cvt belt
,
aprilia drive belts
,
scooter belts
,
scooter cvt belts
,
scooter belt 818-19-28
,
lance longcase cvt belt
,
lance drive belts