Helix Fuel Line 3/8 ID x 1/2 OD 3 Ft (transparent)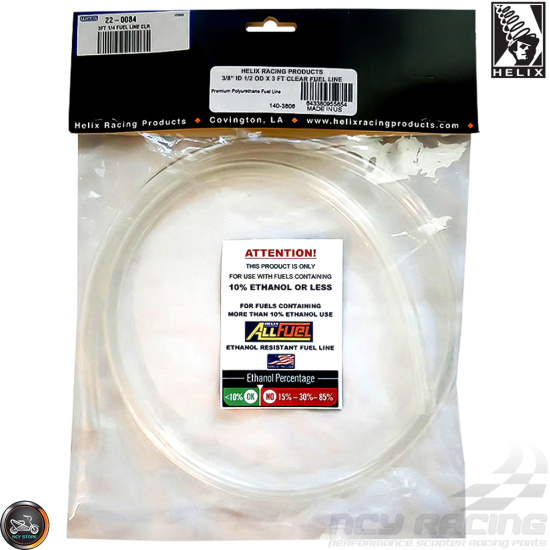 New
Description: Helix Racing Products 3/8" x 1/2" Transparent Polyurethane Fuel Line, sold in 3 ft. roll. Helix Fuel Line is a premium polyurethane, 85 durometers, which provides for superior abrasion, kink, tear, oxidation, and chemical resistance. Please select a color from the drop-down menu.
NOTE: Recommend using Fuel Filter 1/4"

Specifications:
Include the following Fuel line hose.

• 1x Transparent Fuel Line L: 3 ft. / ID: 3/8" / OD: 1/2"
• Do Not Use Fuel More Than 10% Alcohol
• Operating Temperature: 75°-155° F
• Melting Temperature: 370° F
• 85 Durometer
• Made in the U.S.A.
• Fit Fuel Ports OD: 12.7mm (1/2")
Supported Models: GY6, Various makes/models. For most scooters with 1/2" fuel line used.

-----
Item Weight & Product Dimensions:
• 0.1 pounds | 36" (L) x 3/8" (OD) x 1/4" (ID)

Helix Fuel Line 3/8 ID x 1/2 OD 3 Ft (transparent)

Helix
Price in reward points: 11
Tags:
helix fuel line 3-8 id x 1-2 od 3 ft transparent
,
helix fuel line 3-8 id x 1-2 od 3 ft clear
,
helix clear fuel line 3-8 id x 1-2 od 3 ft
,
helix 1 2 fuel line
,
helix 3 8 fuel line
,
helix clear fuel line
,
helix fuel line
,
1-2 clear fuel line
,
3-8 clear fuel line
,
clear fuel line
,
vacuum lines
,
vent lines
,
clamps
,
hose clamps
,
line clamps