Hoca Valve Seal 4V Set (GY6)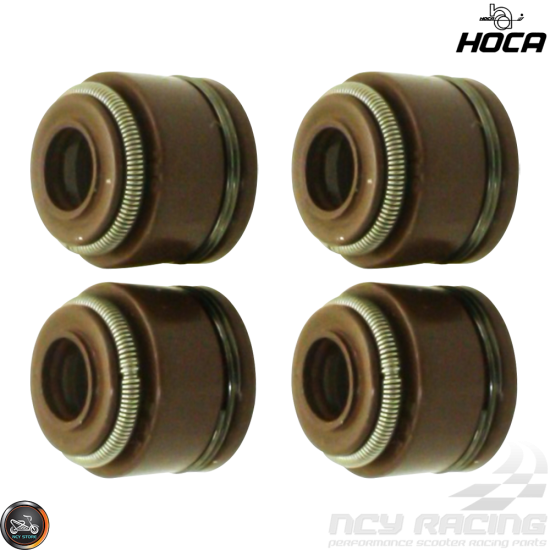 Description: Hoca Valve Seal 4V Set for 4-stroke GY6 125/150cc+ 4-Valve engines. It can handle higher temperatures and have better wear resistance. OEM-quality valve stem oil seal made by Taiwanese and Japanese manufacturers. Set of 4 valve seals for 4-valve cylinder head. Excessive oil consumption may be down to the valve seals. Too much oil in the chamber can cause deposits to build up and could lead to the cylinder head failing. When removing the head, it is wise to change these valve seals.

Specifications:
Includes the following Valve seal set.

• 4x Valve Seals OD: 10.3mm / ID: 4.5mm / H: 8.5mm
• Material: Heat Resistant Rubber
• Made in Taiwan
• Fit Rocker Arm Assembly: 4V / Feeler Gauge: .004in / .005in / Socket: 9mm
• Fit Valve Springs: 4V / Keepers: 4V / Retainers: 4V / Shims: 4V / Socket: Valve Tool
• Fit GY6 125/150cc+ 4V

Supported Models: GY6 125cc-150cc 4-stroke, 152QMI 125cc, 157QMJ 150cc, 161QMK 170cc, 161QML 200cc, Chinese Scooter, ATV, Genuine Buddy, Kymco, Polaris RZR 170, Ruckus, TaoTao, Vento, and virtually any other GY6-based engine with these measurements.
-----
Item Weight & Product Dimensions:
• 0.01 pounds | 0.5" (L) x 0.425" (W) x 0.319" (H)

Hoca Valve Seal 4V Set (GY6)

Hoca
Price in reward points: 9