Hoca Variator Roller Weight Set 23x18 (CFMoto, CN250)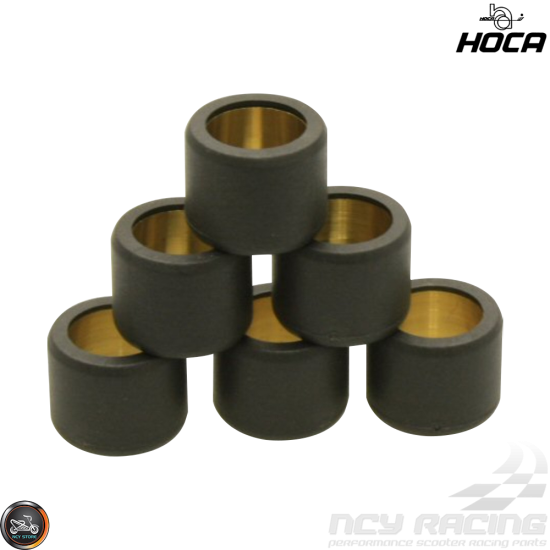 Description: Hoca Variator Roller Weight Set 23x18 for CFmoto V3/V5 and CN250 172mm 250cc 4-stroke engines.
For those of you unfamiliar with roller weights, they are an important tuning device and have a significant impact on your scooter's performance! They should be checked/changed every 1000 miles (per maintenance schedule) to keep your scooter running tops. Over time, roller weights will develop flat spots which will impair the performance of your scooter.
A good indication that your rollers are worn is increasingly high revs for a given speed and/or decreased top speed. Replacing worn rollers with this set will restore and actually improve your low-end power and especially your top speed. Fuel efficiency will also improve dramatically!

Specifications:

Including the following Roller weight set.
• 6x Roller Weights: 23x18mm 10gm<28gm
• Made in Taiwan
• Fit CFMoto
• Fit CN250+

Supported Models: CFmoto V3/V5, CN250 172mm 250cc 4-stroke water-cooled engines, Boreem (BMS), Kazuma, Kymco B&W 250, Kymco Dink 250, Kymco People 250, Lifan, Roketa MC13-250, Roketa MC54-250B, SUNL SL250-22, Tank Touring 250T-H, Tank Touring DE, and various unlisted makes/models.
-----
Item Weight & Package Dimensions:
• 0.022~0.061 pounds | 3.486" (L) x 2.852" (W) x 1.050" (H)

Hoca Variator Roller Weight Set 23x18 (CFMoto, CN250)

Hoca
Price in reward points: 13
Tags:
roller weights
,
hoca roller weight set 23x18 cfmoto
,
hoca roller weights 23x18 cn250
,
hoca roller weights 23-18
,
roller weights 23x18
,
weights 23x18
,
cn250 roller weights
,
hoca variator weights 23x18
,
hoca roller weights 23x18 10gm to 28gm
,
hoca roller weights 23-18
,
roller weights 23x18
,
weights 23x18
,
cfmoto roller weights
,
cn250 variator weights
,
23x18