Naraku Cylinder Head 4V 22.3/20.3 (BWS, Zuma 125)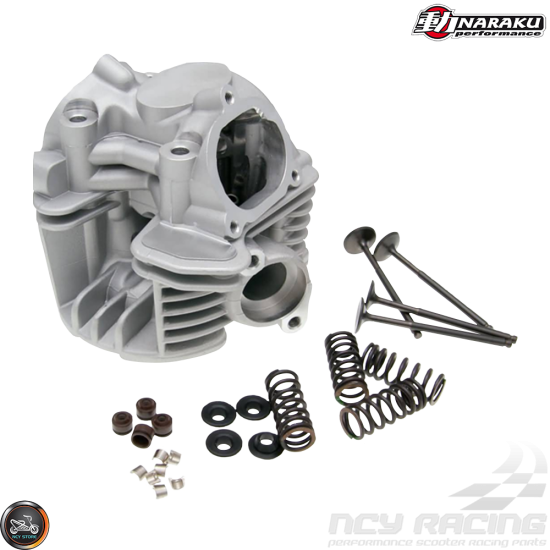 Description: Naraku Cylinder Head 4V 22.3/20.3 racing cylinder head for use on big bore cylinders for Yamaha Cygnus 5ML engines like Yamaha BWS 125 and Yamaha Zuma 125. The cylinder head features stiffer valves and springs. The inlet valves have a diameter of 22.3mm and the exhaust valves 20.3mm. Inlet connection: 25mm, the exhaust has a cross-section of 24mm. It will not work with Yamaha 125cc original cylinders.
Specifications:
Includes the following Cylinder Head and installed Valves Assembly.

• 1x Cylinder Head Stud Space: mm / H: mm / Intake Port: 25mm / Exhaust Port: 24mm
• 4x Valves: 22.3mm Intake / 20.3mm Exhaust / Stem: mm / (w/intake valves) H: mm
• 4x Metal Steel Valve Springs
• 4x Metal Steel Valve Spring Retainers
• 8x Valve Spring Retainer Teeth
• 4x Rubber Valve Seals
• Overall Height: mm
• Intake Threads:
• Exhaust Bolt-to-Bolt Space: mm
• Exhaust Threads:
• Made in Taiwan
• Fit BWS 125
• Fit Zuma 125
Supported Models: Yamaha BWS 125, Yamaha Cygnus 125, Yamaha GTR Aero 125, Yamaha Cuxi 100 4V, Yamaha RS 100 4V, Yamaha Zuma 125

-----
Item Weight & Package Dimensions:
• 2.35 pounds | 7.5" (L) x 6.875" (W) x 3" (H)

Naraku Cylinder Head 4V 22.3/20.3 (BWS, Zuma 125)
Stock:

40

Reward Points:

15

Part #:

NK600.48

Naraku
Price in reward points: 390