Naraku Cylinder Head 52.4mm 94.9cc 2V 23/20 (139QMB)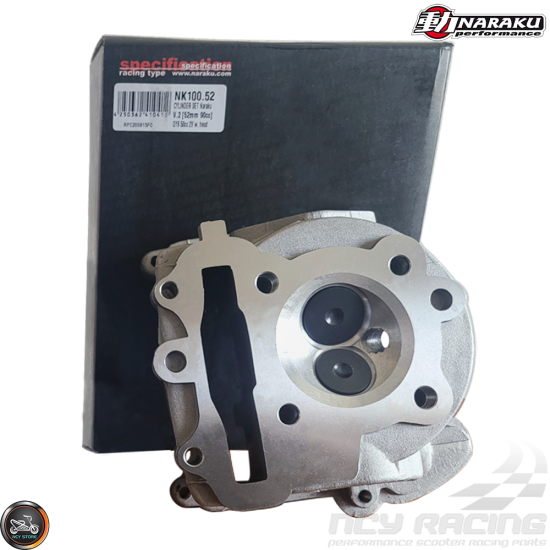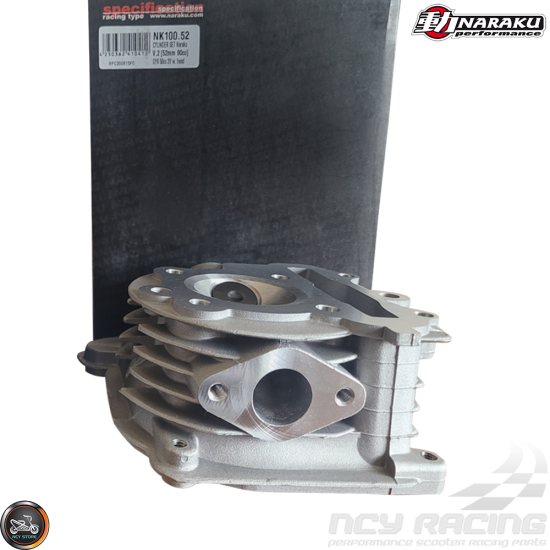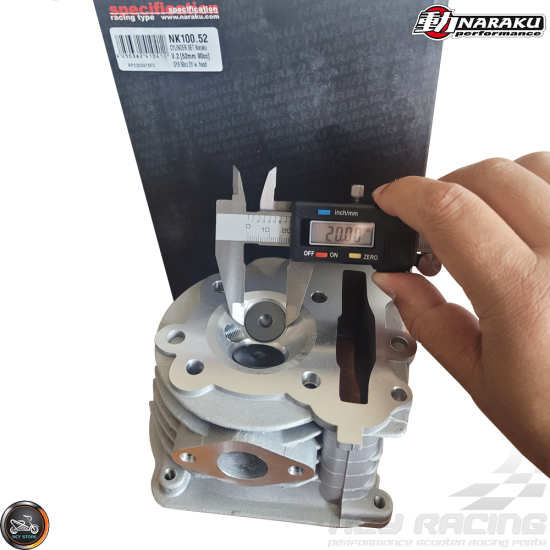 Description: Naraku Cylinder Head 52.4mm 94.9cc 2V 23/20 for 139QMB 49/50cc 4-stroke engines. Common problems with stock cylinder heads on the Chinese 4-stroke engines are generally known to be expensive repair maintenance costs. Chinese replacement cylinder heads for GY6 engines are only of medium build quality at best. Help comes in the form of a well-manufactured replacement cylinder head from Naraku, made for Taiwanese manufacturing.
The Naraku Cylinder Head is supplied fully assembled with valves and springs and is ready for installation. The cylinder head has been deliberately produced without an SLS connection. The result will be an increase in performance, and the head can be mounted on any 139QMB 4-stroke and Kymco 50cc scooters. Whether equipped with or without SLS, it will be closed off and the exhaust connections blanked. Suitable for GY6 50cc Chinese-built 139QMB 4-stroke engines and Kymco 50cc 4-stroke engines. This is same cylinder head comes in complete Naraku Cylinders' Combo 52.4mm (Part# NK100.52).
When used in conjunction with a Naraku Cylinder 52.4mm and stock crankshaft stroke 41.4mm the engine displacement comes out to 89.3cc! When used with a 44mm stroker crank, engine displacement = 94.9cc!
NOTE: Most stock 139QMB cylinder head's valve height is 69mm which comes standard with its 69mm rockerarm. This Naraku Cylinder Head's valve height is 64mm and will work only with a 64mm rockerarm only. If you need a set of 64mm rockerarm see Part# 151-101 sold separately.
Specifications:
Includes the following Cylinder head, and Valve assembly.
• 1x Cylinder Head Stud Space: 50mm / H: 60mm / Intake Port: 20.8mm / Exhaust Port: 18.7mm
• 2x Valves: 23x64mm Intake / 20x64mm Exhaust / Stem: 5mm
• Overall Height (w/valves) H: 66.1<67.3mm
• Cylinder Height (w/o valves): 59.75mm
• 6mm Intake Threads
• 6mm Exhaust Threads
• Made in Taiwan
• Fit Intake Studs: M6 / Nuts: M6 / Socket: 10mm
• Fit Exhaust Studs: M6 / Nuts: M6 / Socket: 10mm
• Fit Rocker Arm Assembly: 64mm / Feeler Gauge: .004in / .005in / Socket: 9mm
• Fit Cylinder Studs: 168mm 176mm / Nuts: M7 / Washers: M7 / Side Bolts: M6 / Socket: 8mm-10mm
• Fit 50mm Stud Spacing /Diagonal 70.5mm
• Fit Crankshaft 41.4mm to 44mm
• Fit Dowel Pin Set (8x14mm)
• Fit Naraku Cylinder 52.4mm
• Fit QMB 49/50cc+

Supported Models: 139QMB 49cc-50cc engines, Baja SC50, Boreem (BMS) 50, Filly 50, Kymco 50, Panterra 50, Qingqi 50, QLink 50, Roketa 50, SUNL 50, SYM 50, Tank 50, TaoTao 50, and virtually any other scooter engine with these measurements.
-----
Item Weight & Product Dimensions:
• 2.193 Pounds | 5.227" (L) x 5.323" (W) x 2.598" (H)

Naraku Cylinder Head 52.4mm 94.9cc 2V 23/20 (139QMB)
Stock:

33

Reward Points:

5

Part #:

NK100.52-H

Naraku
Price in reward points: 137
Tags:
naraku cylinder head 52.4mm 94.9cc 2v 23-20 139qmb
,
naraku cylinder head 52.4mm 2v 23-20 139qmb 49-50cc
,
naraku cylinder head 2v 23-20 139qmb 50cc
,
naraku cylinder head 2v 23-20 gy6
,
naraku cylinder head 2v 23-20 valves
,
naraku cylinder head 2v 23-20
,
naraku cylinder head 50cc
,
naraku 50cc cylinder head
,
naraku 139qmb cylinder head
,
naraku cylinder head 139qmb
,
139qmb naraku cylinder head