Naraku Cylinder Stud Nut M7x12.75mm Set (139QMB)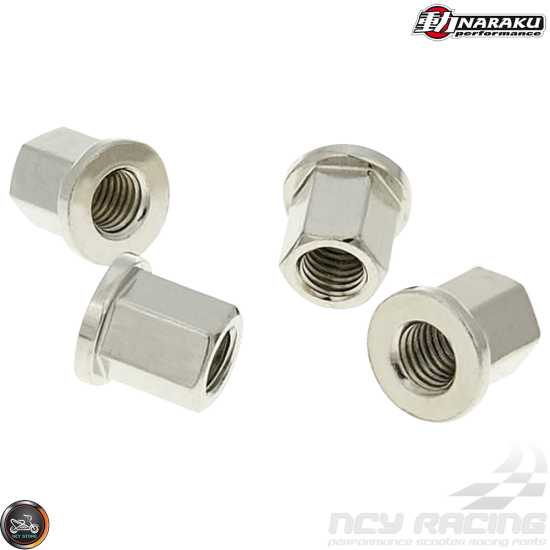 Description: These Naraku replacement cylinder stud nuts work with many scooter cylinder big bore kits. The nut length allows for solid mounting of the cylinder top-end system, in a way that standard nuts cannot. These nuts can be used for other purposes. Commonly used in Minarelli, Kymco, MBK, Yamaha, CPI, Keeway engines with M7 cylinder studs. The set includes four-cylinder stud nuts.
NOTE: Nut the shorter thread of cylinder studs. Recommended apply blue Loctite and torque no more than 6 ft-lbs max. on these 7mm nuts. For assurance please consult your manufacturer torque specs. Sold separate Cylinder Stud 7mm Set (Part# 1100-4004).

Specifications:

Includes the following Cylinder stud nut set.
• 4x Stainless Steel Nut L: 12.75mm / ID: 6.30<7mm / OD: 10mm
• Fit Cylinder Stud Thread 7mm (0.276")
• Fit 10mm Socket\Wrench
• Fit Dowel Pin Set (8mm x 10mm)
• Fit QMB 49/50cc+
Supported Models: GY6 139QMB 49cc-50cc engines, Buddy50, Filly 50, Kymco, Peugeot, Piaggio, QLink, RoughHouse, SYM, TaoTao, and virtually any scooter engine with these measurements.
-----
Item Weight & Product Dimensions:
• 0.045 pounds | 0.502" (L) x 0.276" (ID) x 0.394" (OD)

Naraku Cylinder Stud Nut M7x12.75mm Set (139QMB)
Stock:

16

Part #:

NK101.86

Naraku
Price in reward points: 9
Tags:
naraku cylinder stud nut m7x12.75mm set 139qmb
,
qmb 7mm bolts
,
qmb 7mm cylinder nuts
,
qmb 7mm cylinder pipe nuts
,
qmb 7mm cylinder pipe studs
,
qmb 7mm cylinder studs
,
qmb 7mm nuts
,
qmb 7mm studs
,
qmb m7 bolts
,
qmb m7 cylinder nuts
,
qmb m7 cylinder pipe nuts
,
qmb m7 cylinder studs
,
qmb m7 nuts
,
qmb m7 studs
,
gy6 50 cylinder bolts
,
gy6 50 cylinder bolts
,
gy6 50 cylinder nuts 7mm set gy6 50
,
gy6 50 cylinder nuts m7 set gy6 50
,
gy6 50 cylinder nuts
,
gy6 50 cylinder pipe nuts 7mm pair
,
gy6 50 cylinder pipe nuts m7 pair
,
gy6 50 cylinder pipe studs 7mm pair
,
gy6 50 cylinder pipe studs m7 pair
,
gy6 50 cylinder stud nuts 7mm set gy6 50
,
gy6 50 cylinder stud nuts 7mm set gy6 50
,
gy6 50 cylinder stud nuts 7mm set qmb gy6 50
,
gy6 50 cylinder stud nuts m7 set gy6 50
,
gy6 50 cylinder studs 7mm pair
,
gy6 50 cylinder studs 7mm set gy6 50
,
gy6 50 cylinder studs m7 pair
,
gy6 50 cylinder studs m7 set gy6 50