NCY CDI AC 6 Pin Standard Black (QMB, GY6)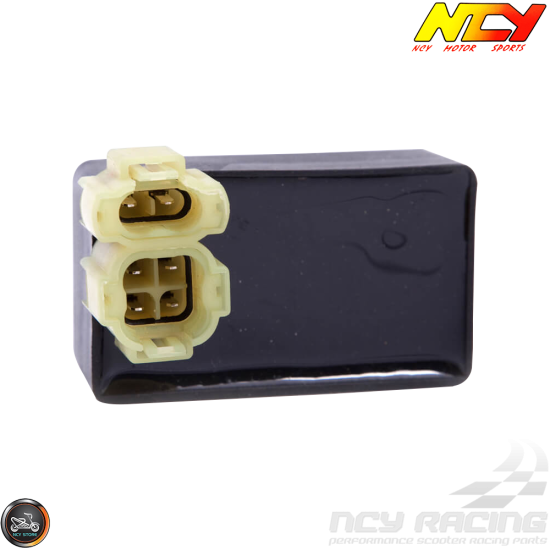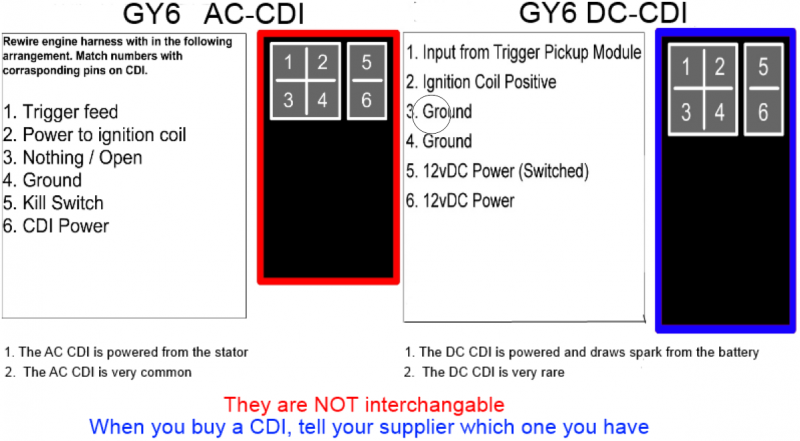 Pin configurations for a GY6 AC CDI vs DC-CDI. This item works ONLY as an AC CDI unit.
Description: This NCY standard scooter CDI igniter module works on most current stator AC fired 139QMB 49/50cc, GY6 125/150cc. A typical CDI module consists of a small transformer, a charging circuit, a triggering circuit, and the main capacitor. First, the system voltage is raised up to 400-600 Volts by a transformer inside the CDI module. Then, the electric current flows to the charging circuit and charges the capacitor. The rectifier inside the charging circuit prevents capacitor-discharge before the ignition point. When the triggering circuit receives triggering signals, the triggering circuit stops the operation of the charging circuit, allowing the capacitor to discharge its output rapidly to the low inductance ignition coil, which increases the 400-600 V capacitor discharge to up to 40 kV at the secondary winding at the spark plug. When there's no triggering signal, the charging circuit is reconnected to chargeback the capacitor.
NOTE: Please be sure to confirm the connector design will match and that you have an AC ignition system before ordering. This part is for off-road use only and carries NO WARRANTY. USE AT YOUR OWN RISK.

Specifications:
Include the following AC CDI unit.
• 1x AC CDI Pin: 6
• Color: Black
• Made in Taiwan
• Fit GY6 125/150cc+
AC Ignition ONLY

• Fit QMB 49/50cc+
AC Ignition ONLY
Supported Models: GY6 40QMB 50cc 2-stroke, 139QMB 49cc-50cc 4-stroke, 50QMF 90cc-100cc, 152QMI 125cc, 157QMJ 150cc, 161QMK 170cc, 161QML 200cc, Chinese Scooter, ATV, Genuine Buddy, Kymco, Polaris RZR 170, Ruckus, Vento
-----
Item Weight & Package Dimensions:
• 0.25 pounds | 3.45" (L) x 3.45" (W) x 1.85" (H)

NCY CDI AC 6 Pin Standard Black (QMB, GY6)
Stock:

38

Reward Points:

1

Part #:

1100-1045

NCY
Price in reward points: 25