NCY Clutch Bell (Vino, Zuma 125)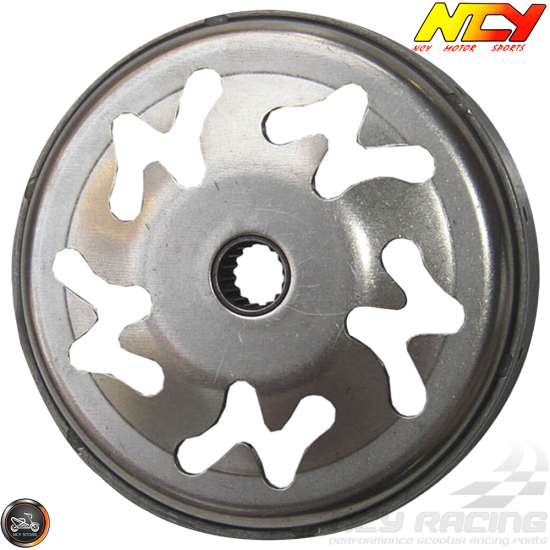 Description: High-quality reinforced clutch bell by NCY. Has provisions that allow dust to escape and air to cool the clutch and a high-friction surface for more bite. For Yamaha Vino 125 & Zuma / BW's 125 scooters. Clutch housings are often overlooked when looking for extra power. Lightweight housings allow for quicker acceleration and more efficient cooling. This housing is a perfect upgrade to any Yamaha Vino 125 & Zuma / BW's 125 scooters! Through constant research, NCY continues to bring design concepts to the CVT transmission that are unmatched by any others.
Features:

• Inner Textured for Better Initial Bite
• Ultra-Efficient Cooling Properties
• Lighter Than Stock Clutch Bell
Specifications:
Include the following Clutch bell.

• Iron Clutch Bell: OD: 129mm
• Splines: 16 / ID: 15mm
• Fit Dowel Pin Set (8x14mm)
• Fit Belt Size: 759x22x30 (Vino)
• Fit Belt Size: 810x22x28 (Zuma)
• Fit Vino 125
• Fit Zuma 125

Supported Models: NCY CVT KIT (Part# 1200-1047); Yamaha BW's 125, Yamaha Cygnus 125, Yamaha GTR 125, Yamaha Vino 125, Yamaha Zuma 125.
-----
Item Weight & Package Dimensions:
• 1.725 Pounds | 6.5" (L) x 5.7" (W) x 2.6" (H)

NCY Clutch Bell (Vino, Zuma 125)
Stock:

20

Brand: NCY
Reward Points:

2

Part #:

1200-1010
Products Sold: 0
Product Views: 156
Price in reward points: 53
Tags:
ncy clutch bell 125
,
ncy clutch bell yamaha zuma
,
ncy clutch bell performance yamaha vino 125
,
ncy clutch bell performance yamaha zuma 125
,
ncy clutch bell racing vino
,
ncy clutch bell performance zuma
,
ncy clutch bell yamaha zuma
,
ncy clutch bell zuma
,
ncy clutch bell zuma 125
,
ncy clutch bell zuma
,
ncy clutch bell
,
ncy performance clutch bell 125
,
ncy performance clutch bell star vino 125
,
ncy racing clutch bell vino
,
ncy bell vino
,
ncy performance clutch bell zuma
,
vino clutch bell
,
yamaha vino 125 clutch bell
,
yamaha zuma clutch bell