NCY Compression Spring 1500 RPM (Vino, Zuma 125)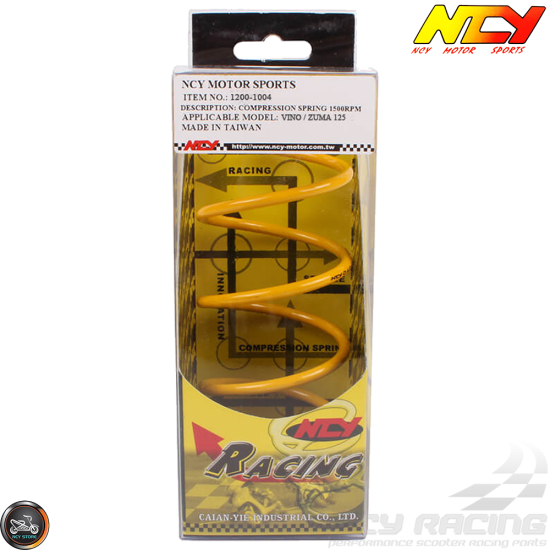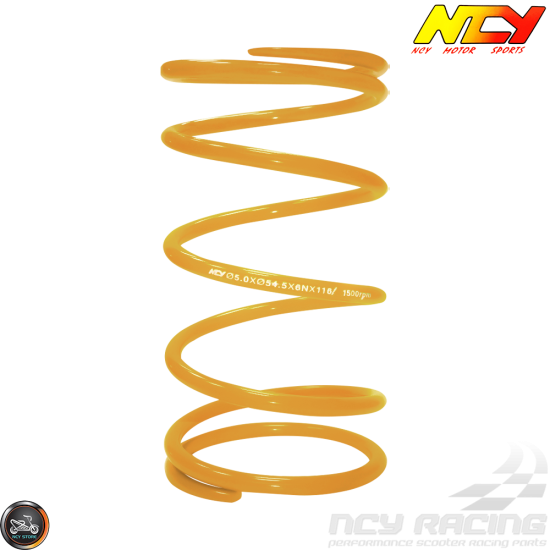 Description: NCY Compression springs do a couple of things. First, they supply the pressure to engage the belt. They also determine the rate at which the CVT transmission changes from low to high gear. A 1000rpm spring will go into a higher gear sooner than a 2000rpm spring. This NCY 1500 rpm compression spring is specifically for the Yamaha Vino 125 & Zuma125 / BW's125.

Specifications:

Include the following Compression spring.

• Spring Comp: 1,500 RPM / L: 116mm
• Spring ID: 54.5mm / OD: 58.2mm
• Wire Gauge: 5mm
• Made in Taiwan
• Fit Dowel Pin Set (8x14mm)
• Fit Belt Size: 759x22x30 (Vino)
• Fit Belt Size: 810x22x28 (Zuma)
• Fit BWS 125
• Fit Vino 125
• Fit Zuma 125

Supported Models: NCY CVT KIT (Part# 1200-1047); Benelli Velvet 125, Italjet Millenium 125, Malaguti Madison 125, Yamaha BWS 125, Yamaha Cygnus 125, Yamaha Vino 125, Yamaha Zuma 125
-----
Item Weight & Product Dimensions:
• 0.294 Pounds | 6" (L) x 2.291" (W) x 1.909" (H)

NCY Compression Spring 1500 RPM (Vino, Zuma 125)
Stock:

18

Brand: NCY
Part #:

1200-1004
Price in reward points: 15
Tags:
ncy compression springs 1500 rpm vino
,
ncy compression springs 1500 rpm
,
ncy clutch springs 1500 rpm
,
ncy clutch springs
,
vino clutch springs 1500 rpm
,
scooter clutch springs 1500 rpm
,
ncy super transmission set
,
ncy cvt kit
,
ncy cvt variator kit
,
ncy cvt set
,
ncy cvt variator set
,
vino cvt kit
,
vino cvt set
,
ncy compression springs 1500 rpm zuma
,
zuma clutch springs 1500 rpm
,
yamaha ncy cvt kit
,
zuma cvt kit
,
zuma cvt set
,
bws cvt kit
,
bws cvt set
,
ncy compression springs 1500 rpm bws
,
bws clutch springs 1500 rpm
,
yamaha bws ncy cvt kit
,
bws cvt kit
,
bws cvt set