NCY CVT KIT (Metro, Ruckus GET)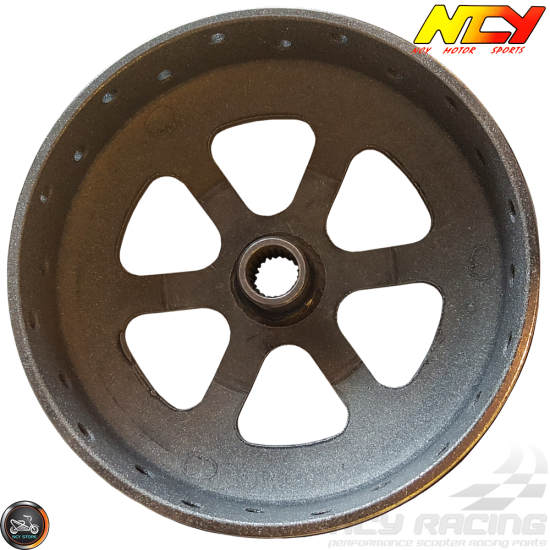 Description: NCY Super Transmission Set is one of the best dollar-for-dollar bolt-on to improve your Metropolitan 2012 & older and all U.S. Honda Ruckus GET 50cc scooters! Quicker acceleration, higher top speeds, and makes your CVT the smoothest operating trans in town! From rapid downshifting to slow cruising, this thing is smooth.
NOTE: Does not fit Fuel Injected models. Recommend using a new belt with this kit and graphite or moly grease when assembling. Must re-use stock variator ramp top, variator boss, washers, clutch nut, and nuts. Most parts also will fit Honda DIO's CVT.

Installation: Make sure variator drive face is seated properly and not get its teeth chewed by the variator shaft splines: 1. Slack the belt by opening the CVT clutch gives belt slack to the variator side. 2. Then install the variator drive face while lifting the slack belt further away from the center boss if done properly should not see any splines between variator drive face slop-side and boss flat-side. Should be flushed together. 3. Then install washer and hand-tight nut. 4. Finally, torque nut to 30-35ft lbs. For reassurance please consult your manufacturer variator torque specs.

Specifications:

1.
Includes NCY Drive Face Fan
, Drive Face.
• Aluminum Drive Face Fan I.D: 13.5mm (Splines 26) / O.D: 95mm / H: 20.19mm
2. Includes NCY Variator 95mm, Roller weights, Variator housing, and Variator slides.
• 1x Alumin-Alloy Housing: I.D: 20mm / O.D: 95mm / H: 31mm
• 6x Red Roller Weights: 16x13 7g
• 3x Plastic Red Slides
3. Includes NCY Secondary Slider +Sliding Sheave, slider (torque driver) and O-rings.
• Slider Sheave I.D: 17.43<21mm / OD: 34<45.1mm / H: 68.73mm
• Slider Funnel I.D: 33.5mm / OD: 43mm / H: 32.70mm
• 2x Slider Plates O.D: 118.5mm
4. Includes NCY Compression Spring 1000 RPM, Compression spring.
• Spring Comp: 1,000 RPM / L: 106mm (black)
• Spring I.D.: 49.6mm / O.D: 57.8mm
• Wire Gauge: 4mm
5. Includes NCY Clutch Performance, Clutch housing, Clutch springs, and Clutch weights.
• Clutch: I.D: 24<28mm / O.D: 105mm / H: 29.55mm
• 3x 2000rpm Clutch Spring (red)
• 3x Clutch Weights (gray)
• 1x Clutch Nut (39mm)
6. Includes NCY Clutch Bell, Clutch bell.
• Iron Clutch Bell: ID: 107mm / O.D: 114.85mm / H: 34.54mm
• Splines: 22 / I.D: 11<12mm / O.D: 16.95mm / H: 17.75mm
• Fit Belt Size: 660-18-28 (Fit Metro ONLY)
• Fit Belt Size: 785x18x30 (Fit Ruckus ONLY)
• Fit Dowel Pin Set (8x14mm)
• Fit GET 49/50cc

Supported Models: Metropolitan GET 2012 & older, Honda Ruckus GET all U.S. Model, and virtually any scooter engine with these measurements.

-----
Item Weight & Package Dimensions:
• 4.719 pounds | 17.5" (L) x 6.4" (W) x 5" (H)
NCY CVT KIT (Metro, Ruckus GET)
Stock:

16

Brand: NCY
Reward Points:

7

Model:

1200-1220

Weight:

5.88lb

Dimensions:

17.50in x 6.40in x 5.00in

SKU:

1200-1220
Products Sold: 8
Product Views: 8965
Price in reward points: 192
Tags:
ncy-cvt-kit-metropolitan-ruckus-get
,
honda ruckus ncy cvt kit
,
ruckus ncy cvt set
,
ruckus cvt kit
,
ncy cvt kit honda ruckus 50cc
,
ncy super transmission set honda ruckus 50cc
,
ncy super transmission set
,
ncy cvt kit
,
ncy cvt variator kit
,
ncy cvt set
,
ncy cvt variator set
,
honda ruckus 50cc cvt kit
,
metropolitan 50 cvt set