NCY Cylinder 50mm 81cc Big Bore Kit w/Cast Piston (139QMB)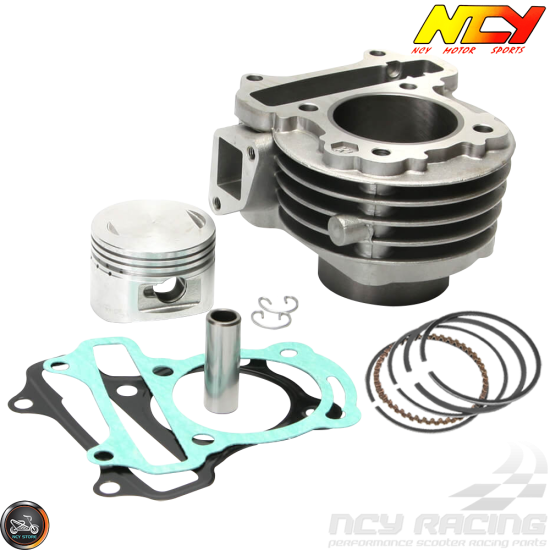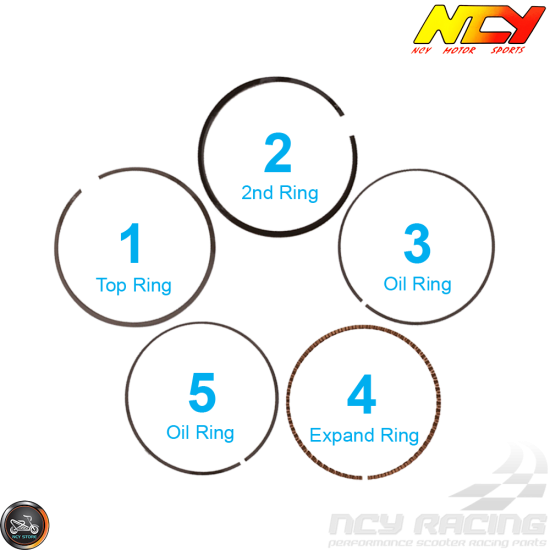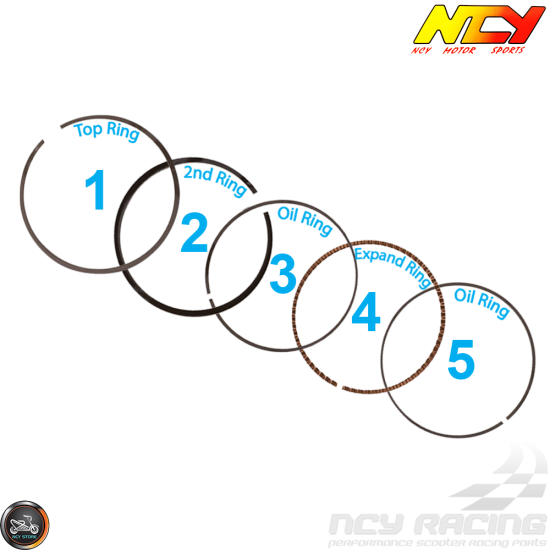 Description: NCY Cylinder 50mm 81cc Big Bore Kit with Cast Aluminum Piston for 139QMB. NCY GY6 50, 139QMB 50mm bore Cast Iron Cylinder Kit without a head. The perfect upgrade for most QMB139/GY6 50 scooters, this bolt-on 81cc kit will really give your scooter some go. It is recommended to get part number 1100-1239, 50mm big valve head as well, as most stock heads will not fit. In addition, we really recommend 1100-1250, NCY Performance Camshaft as an amazing complimentary item to this kit. It will allow the kit to perform to its maximum potential and go 50-55 MPH. Have a look at our Decompression Tube Assembly (1100-1282) which replaces your dipstick and allows excess crankcase pressure to be released. Good idea to install one of these alongside any cylinder kit upgrade.
When used in conjunction with a stock stroke of 41.4mm the engine displacement comes out to 81.3cc! When used with a 44mm stroker crank, engine displacement = 86.4cc!

NOTE: Please, measure with a caliper 139QMB crankcase bore (opening) for 54.5mm cylinder outer diameter sleeve need a minimum 54.6mm bore clearance or boring and machining are required. If, engine case must be bored, order an engine bore tool (Part# 1400-1001).

Specifications:
Includes the following Cylinder, Piston + Rings, Gaskets (compression base gaskets, steel head gasket), Wrist pin, and Circlips.
• 1x Cast-Alumin Piston: 50mm
• 5x Piston Rings: 50mm
• 1x Wrist Pin w/G-clips: 38x13x9mm
• 1x Cast-Iron Cylinder: 50mm
• Outer Sleeve Diameter: 54.5mm
• Cylinder Height (w/o sleeve): 53mm
• Overall Height (w/sleeve): 70.3mm
• Made in Taiwan
• Fit Intake Studs: M6 / Nuts: M6 / Socket: 10mm
• Fit Exhaust Studs: M6 / Nuts: M6 / Socket: 10mm
• Fit Rocker Arm Assembly: 64mm or 69mm / Feeler Gauge: .004in / .005in / Socket: 9mm
• Fit Cylinder Studs: 168mm 176mm / Nuts: M7 / Washers: M7 / Side Bolts: M6 / Socket: 8mm-10mm
• Fit 50mm Stud Spacing /Diagonal 70.5mm
• Fit Cylinder Head 50mm to 52mm
• Fit Crankshaft 41.4mm to 44mm
• Fit Dowel Pin Set (8x14mm)
• Fit QMB 49/50cc+

Supported Models: 139QMB 49cc-50cc engines, Baja SC50, Boreem (BMS) 50, Filly 50, Kymco 50, Panterra 50, Qingqi 50, QLink 50, Roketa 50, SUNL 50, SYM 50, Tank 50, TaoTao 50, and virtually any other scooter engine with these measurements.
-----
Item Weight & Product Dimensions:
• 1.437 Pounds | 4.463" (L) x 4.156" (W) x 2.767" (H)

NCY Cylinder 50mm 81cc Big Bore Kit w/Cast Piston (139QMB)
Stock:

39

Reward Points:

5

Part #:

1100-1237

NCY
Price in reward points: 132
Tags:
ncy cylinder 50mm 81cc big bore kit cast piston 139qmb
,
ncy 50mm cylinder 81cc big bore kit cast piston 139qmb
,
ncy 50mm cylinder
,
ncy cylinder 50mm 81cc big bore kit aluminum piston 139qmb
,
ncy cylinder 50mm big bore kit aluminum piston
,
ncy 50mm wear-resisting valve cylinder
,
ncy big bore kit
,
ncy cylinder
,
gy6 big bore kit
,
gy6 cylinder
,
scooter cylinder
,
scooter big bore kit
,
ncy 50mm wear-resisting valve cylinder head
,
ncy big bore kit
,
ncy 50mm cylinder