NCY Direct Ignition Coil AC (BWS, QMB, GY6)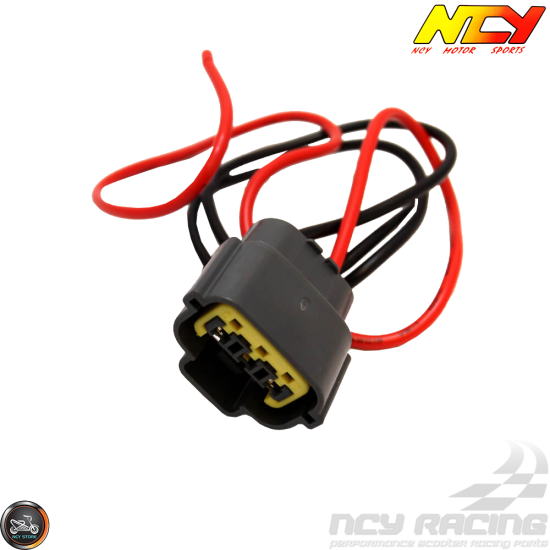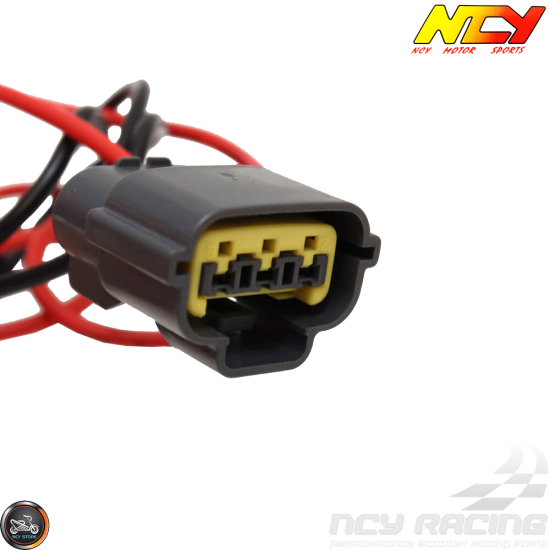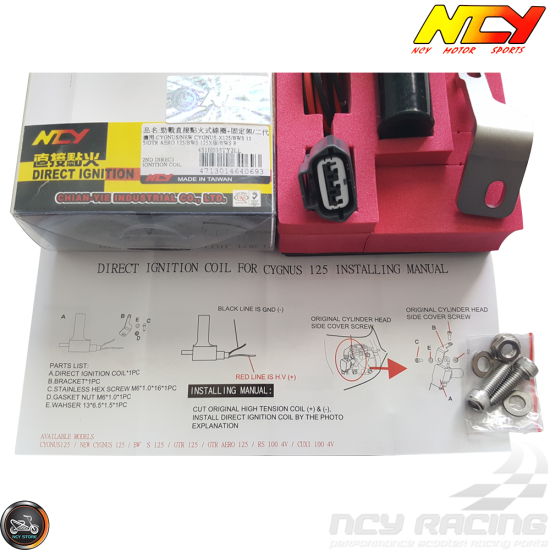 Description: Bring your scooter to the 21st Century! NCY's Coil-on-Plug ignition system provides 10kV more per spark and optimum timing precision over a conventional HT lead. The build quality on this is second-to-none! Overall, you will see the ability to build a more aggressive and more efficient ride!! Includes Coil Assembly, Bracket (can be modified for your needs), fasteners. We recommend this be installed by a professional.
NOTE: This item is a performance electronic item, as such, it is NOT A RETURNABLE ITEM.
Features:
• AC Fire Ignition Coil
• Cleaner Burns = less smoke (especially 2T)
• Engine Eye-Candy
• Higher Top-Speeds
• Hotter Spark
• Quicker Acceleration
Specifications:
Includes the following Direct ignition coil, Wire harness, Mount bracket, and Allen screws pack.
• 1x AC Ignition Coil L: 93mm / W: 87mm / H: 35.44mm
• Rubberized Shaft L: 50mm / OD: 22.2mm / ID: 8.9mm
• 1x Female Plugin Harness w/Red/Black Wire L: 14"
• 1x Stainless Steel Elbow-Bracket L: 64 / W: 34 / H: 10<23mm
• 2x Allen Screws w/Washers: M10x26mm
• 1x Nut: M10x6mm
• Made in Taiwan
• Fit BWS 125/150cc+ AC Ignition ONLY
• Fit GY6 125/150cc+ AC Ignition ONLY
• Fit QMB 49/50cc+ AC Ignition ONLY

Supported Models: GY6 40QMB 50cc 2-stroke, 139QMB 49cc-50cc 4-stroke, 50QMF 90cc-100cc, 152QMI 125cc, 157QMJ 150cc, 161QMK 170cc, 161QML 200cc, Chinese Scooter, ATV, Genuine Buddy, Kymco, Polaris RZR 170, Ruckus, Vento, Yamaha BWS 125, Yamaha Cygnus 125, Yamaha GTR Aero 125, Yamaha Cuxi 100 4V, Yamaha RS 100 4V
-----
Item Weight & Product Dimensions:
• 0.525 Pounds | 4.1" (L) x 3.7" (W) x 1.515" (H)
NCY Direct Ignition Coil AC (BWS, QMB, GY6)
Stock:

26

Reward Points:

3

Part #:

0900-1075

NCY
Price in reward points: 75
Tags:
ncy direct ignition coil yamaha bws 125
,
ncy direct ignition coil bws 125
,
bws 125 direct ignition coil
,
bws 125 ac direct ignition coil
,
ncy performance direct ignition coil cygnus 125
,
cygnus 125 ac direct ignition coil
,
cygnus ac direct ignition coil
,
ncy ac direct ignition coil cygnus
,
cygnus ac ignition coil
,
ncy direct ignition coil qmb gy6
,
ncy direct ignition coil ac only
,
ncy ac direct ignition coil
,
ac direct ignition coil
,
ncy performance direct ignition coil honda ruckus
,
gy6 ac direct ignition coil
,
gy6 ac direct ignition coil honda ruckus
,
ncy ac direct ignition coil
,
gy6 ac ignition coil