NCY Drive Face 93mm CNC-Machined Alumin (Metro, Ruckus GET)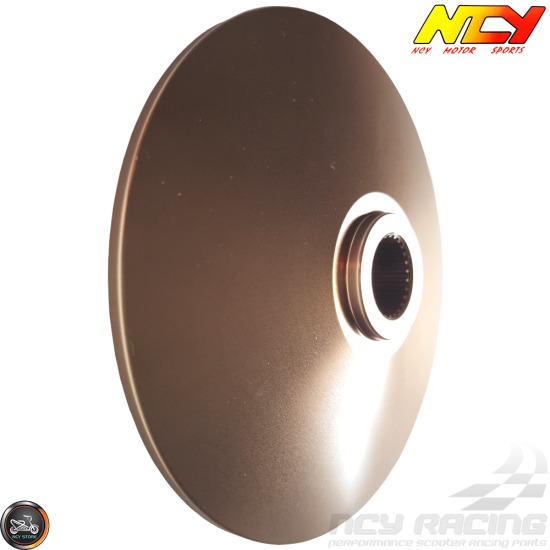 Description: High-quality CNC machined aluminum drive face 93mm by NCY for the Metropolitan 2012 & older, all U.S. Honda Ruckus GET 50cc and Zoomer 50cc scooters! The CNC-machined running surface of the disc allows for a clean, low-vibration belt operation. Light-weighs 2.6 oz. (compare 3.6 oz. stock). Not to mention its kool spectrum of silver, brass, and rose gold - color streaks!
NOTE: Does not fit Fuel Injected models. Recommend using a new belt with this kit and graphite or moly grease when assembling. Must re-use stock variator ramp top, variator boss, washers, clutch nut, and nuts. Most parts also will fit Honda DIO's CVT.

Installation: 1. Slack the belt by opening the CVT clutch gives belt slack to the variator side. 2. Then install the variator drive face while lifting the slack belt further away from the center boss if done properly should not see any splines between variator drive face slop-side and boss flat-side. Should be flushed together. 3. Then install washer and hand-tight nut. 4. Finally, torque nut to 30-35ft-lbs. For reassurance please consult your manufacturer's variator torque specs.

Specifications:

• 1x Aluminum CNC Machined Anodized Drive Face Weight: 73.7gm
• Splines: 26 / ID: 13.5mm / OD: 92.71mm / H: 14.55mm
• Made in Taiwan
• Fit Lock: Bracket
• Fit Variator Housing: 95mm / Weights: 16x13mm / Slides: 3 / Boss: 20mm / Shims: 20mm
• Fit Variator Shaft Nut: M12 / Washer: M12 / Socket: 17mm
• Fit Belt Size: 660-18-28 (Fit Metro ONLY)
• Fit Belt Size: 785-18-30 (Fit Ruckus ONLY)
• Fit Dowel Pin Set (8x10mm)
• Fit GET 49/50cc

Supported Models: NCY CVT Kit (Part# 1200-1220); Metropolitan GET 2012 & older, Honda Ruckus GET all U.S. Model, Zoomer 50cc, and virtually any scooter engine with these measurements.

-----
Item Weight & Product Dimensions:
• 0.162 pounds | 3.571" (OD) x 0.531" (ID) x 0.573" (H)
NCY Drive Face 93mm CNC-Machined Alumin (Metro, Ruckus GET)
Stock:

40

Reward Points:

1

Part #:

1200-1244

NCY
Price in reward points: 33