NCY Intake Manifold 30mm EGR Performance (Genuine RoughHouse 50)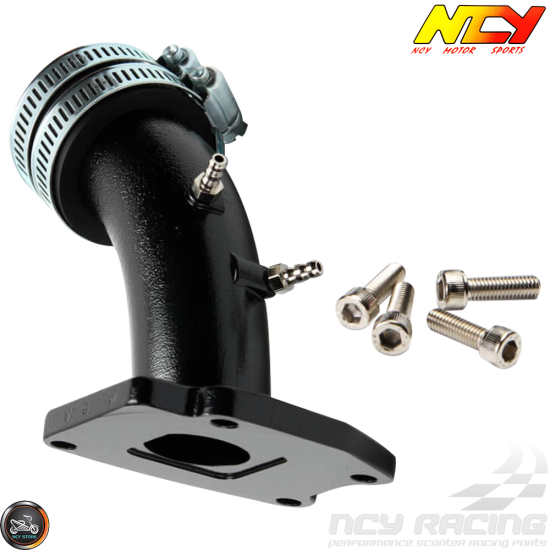 Description: New development from NCY! High-performance intake manifold for your Roughhouse or Rattler 50cc. This is a direct bolt-on manifold. It does not include a gasket. This manifold will accept most aftermarket carburetors from 24-30mm and any other with a 33mm fitting. For racing applications. *Off-Road Use Only*
NCY Intake Manifold Performance EGR 30mm offers a smooth bore and larger inlet diameter over the stock. Combined, these two assets allow more air and more fuel into your cylinder, giving you more power. Intake manifold upgrades are a must for larger carburetors. It doesn't make sense to install a large carburetor only to have its flow restricted by the manifold. Larger manifolds can make a noticeable power increase on their own, and provide a choice option over the standard rubber manifolds. Long-lasting parts, and more power. It's a win-win.

NOTE: When joined together with a 26mm-30mm carburetor, please verify the engine-side inner-diameter is within 2mm ± 28mm on the carburetor's manifold port.
Features:
Includes the following Intake manifold, Clamps, and Allen bolts.
• 1x Cast Aluminum Intake Manifold / PTFE Coated
• 1x Vacuum Port ID: 2.4mm, OD 4.6mm
• 1x EGR Port ID: 2.4mm, OD 4.6mm
• 1x Rubber O-ring ID: 31mm / OD: 34.5mm / H: 1.75mm
• 2x Stainless Steel Clamps
• 4x Stainless Allen Bolts
Specifications:
• Carb Bore: 30mm
• Carb Coupler ID: 33.85mm / OD: 50.65mm
• Coupler Flex ID: 3mm max. ± 29mm
• Engine Bore: 27mm / OD: mm
• Bolt Space: mm / H: mm
• Overall L: 95mm / W: mm / H: mm
• Made in Taiwan
• Fit CVK Carburetor 26mm-30mm
• Fit PWK Carburetor 26mm-30mm
• Fit TM26 /TM30 Carburetor
• Fit Vacuum Hose 4.5mm
• Fit Vacuum EGR 4.5mm
• Fit Vacuum Hose 4.5mm
Supported Models: Genuine RoughHouse 50 2-Stroke, Rattler 50
-----
Item Weight & Package Dimensions:
• 1.2 pounds | 6" (L) x 3.5" (W) x 3" (H)

NCY Intake Manifold 30mm EGR Performance (Genuine RoughHouse 50)
Stock:

37

Reward Points:

1

Part #:

1100-1292

NCY
Price in reward points: 39
Tags:
ncy intake manifold 30mm roughhouse 50
,
ncy intake manifold 30mm egr performance genuine roughhouse
,
ncy intake manifold performance egr 30mm genuine roughhouse
,
ncy intake manifold performance genuine roughhouse
,
ncy performance intake manifold genuine roughhouse
,
ncy intake manifold genuine roughhouse
,
ncy intake manifold
,
ncy performance intake manifold genuine buddy
,
ncy performance intake manifold pgo50
,
ncy performance intake manifold rattler 50
,
ncy performance intake manifold
,
ncy intake manifold 30mm