NCY Master Cylinder Cap 2nd 3D-X (GY6, Ruckus)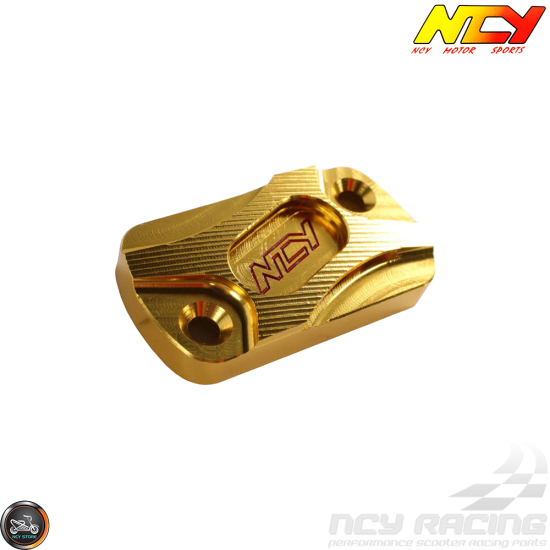 Description: Customize your brake master cylinders with these new Anodized NCY Master Cylinder Caps. Works great on most Honda Scooter master cylinders, as well as many various Chinese bikes. In addition, you can add these master cylinders caps to your NCY Ruckus front end kits to complete your disc transition. Sold individually.

Specifications:

Includes the following Master cylinder cap, and Phillips screws.

• One Master Cylinder Cap
• Two Phillips Screws
• Length: 54.559mm
• Width: 28.75mm
• Thick: 9.525mm
• Construction: CNC Billet Aluminum Alloy
• Color Options: Black, Blue, Gold, Gray, Orange, or Red

Supported Models: GY6, Honda Ruckus

-----
Item Weight & Product Dimensions:
• 0.0438 pounds | 2.148" (L) x 1.132" (W) x 0.375" (H)

NCY Master Cylinder Cap 2nd 3D-X (GY6, Ruckus)
Stock:

18

Brand: NCY
Model:

0800-1132 / 1000-1103

Weight:

0.07lb

Dimensions:

5.29in x 3.15in x 1.00in

SKU:

0800-1132 / 1000-1103
Products Sold: 2
Product Views: 6511
Price in reward points: 19
Tags:
ncy master cylinder cap 2nd 3d-x gy6 ruckus
,
ncy master cylinder cap 2nd 3d-x
,
ncy 2nd 3d-x master cylinder cap
,
ncy master cylinder cap
,
ncy brake cylinder cap
,
gy6 master cylinder cap
,
gy6 brake cylinder cap
,
gy6 cylinder cap
,
scooter master cylinder cap
,
scooter brake cylinder cap
,
scooter cylinder cap