NCY Secondary Bearing Spring Seat (GY6, PCX)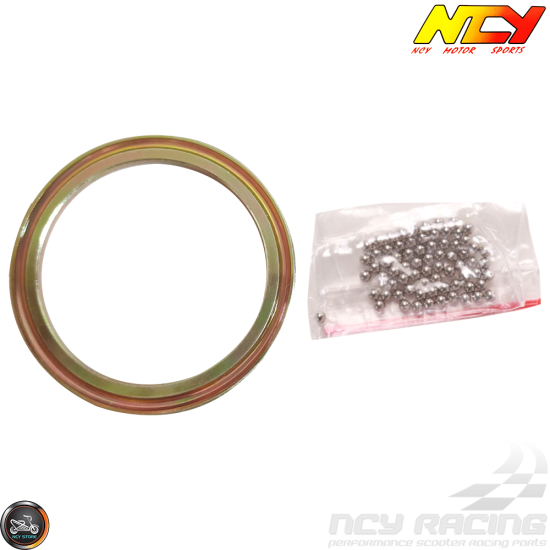 Hot


Description: Very nice quality Secondary Spring Seat by NCY for use in GY6 125cc-150cc+, Honda PCX 125-150cc (2010 and newer). This bad boy allows your belt to release nice and smoooooooth. The GY6 Torque Spring Base will allow for smoother torque spring action through the use of a machined aluminum cup that contains needle bearings. This allows the spring to pivot and turn free rather than binding up.
NOTE: This secondary bearing seat will not sit on PCX secondary funnel base cover. However, can be pair with GY6 funnel base cover or it can be install on opposite side of compression spring for GY6 and PCX, in reverse direction using the center clutch as its backing plate. See product video demonstration. Before use, lubricate slider grooves, slider pins, ball bearing seat, and inner funnel area with heat-resistant moly-graphite grease.
Installation: 1. Slack the belt by opening the CVT clutch gives belt slack to the variator side. 2. Then install the variator drive face while lifting the slack belt further away from the center boss if done properly should not see any splines between variator drive face slop-side and boss flat-side. Should be flushed together. 3. Then install the existing variator fan, washer, and hand-tight nut. 4. Finally, apply blue Loctite, torque nut to 30-35ft-lbs. For reassurance please consult your manufacturer's variator torque specs.

Specifications:

Includes the following Bearings, and Bearing seat.
• 1x Bearing Seat ID: 45.4mm / OD: 57.5mm / H: 3mm / Grove: 1.75mm
• 1x Bearings Pak
• Made in Taiwan
• Fit Clutch: 121.8mm / Slider: 34mm / Nuts: M12, M28 / Washer: M12 / Bearing Funnel: 43mm / Bell Spline: 19 / Socket: 17mm, 19mm, 39mm
• Fit Compression Spring: 1k, 1.5k, 2k rpm
• Fit Clutch Springs: 1k, 1.5k, 2k rpm
• Fit Belt Size: 743, 835, 842-20-30 (Fit GY6 ONLY)
• Fit Belt Size: 816, 836-22-30 (Fit PCX ONLY)
• Fit Dowel Pin Set (8x10mm)
• Fit GY6 125/150cc+
• Fit PCX 125/150cc+

Supported Models: NCY CVT KIT (Part# 1200-1048); GY6 152QMI 157QMJ 161QMK 161QML Chinese Scooter, ATV, Genuine Buddy, Kymco, Polaris RZR 170, Honda PCX 125/150cc (2010 and newer), Ruckus, Vento
-----
Item Weight & Product Dimensions:
• 0.043 Pounds | 2.263" (OD) x 1.787" (ID) x 0.118" (H)
NCY Secondary Bearing Spring Seat (GY6, PCX)
Stock:

35

Part #:

1200-1030

NCY
Price in reward points: 22
Tags:
bearing seat gy6
,
bearing seat honda pcx
,
rear pulley bearing seat gy6
,
rear pulley bearing seat honda pcx
,
bearing spring seat gy6
,
bearing spring seat honda pcx
,
honda pcx bearing seat
,
bearing seat
,
compression spring seat
,
compression seat
,
roller seat
,
ncy secondary spring seat
,
ncy spring seat
,
secondary bearing spring seat gy6
,
secondary bearing spring seat pcx