NCY Stator 8-Pole Racing Performance Kit (139QMB)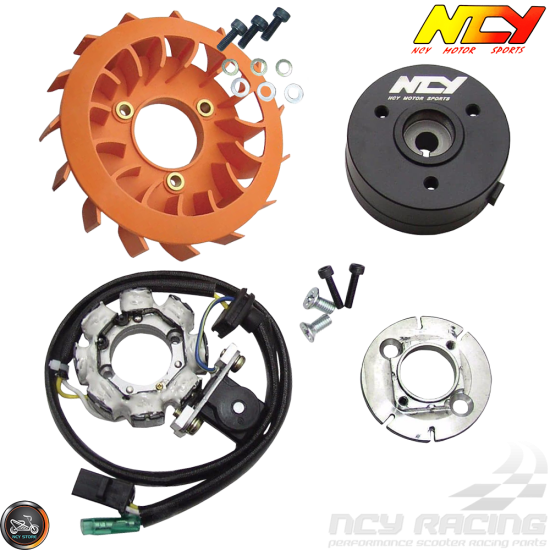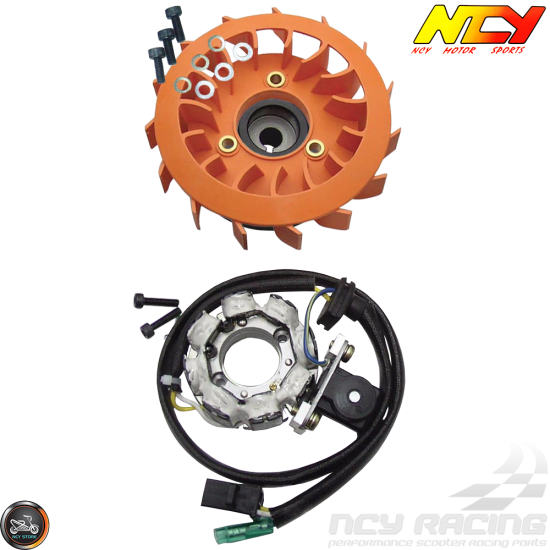 Non-Stock

Description: High-Quality Lightweight racing stator assembly for most 139QMB engines. Will work on most 139QMB engines with three wire output (Yellow, White, Blue/White) including Kymco Mongoose 90.
NOTE: Will not work on Kymco Mongoose 50/70. This is intended for race purposes and, in turn, holds NO parts warranty. *Clearance Item. No Returns Allowed*

Specifications:
Includes the following in the kit (arrangement by its mounting bolts assembly).

• 3x M6 Allen Bolts + Sping'n Washers
• 1x ABS Plastic Flywheel Fan (orange)
• Bolt Spacing: 46.5mm / Diagonal: 66mm / Bolt Hole ID: 6.5mm / H: mm
• 1x Light-Weight Metal Flywheel (black)
• 2x Phillip Bolts (silver)
• 1x Stator Base Mount (silver)
• 2x Allen Bolts (black)
• 1x 8-Pole Copper Coil Stator
• 2x Phillip Bolts
• 1x Stator Magneto Pulse
• 1x Stator Wire Harness
• Made in Taiwan
• Fit Stator Bolts: M6 / Washers: M6 / Socket: 8mm
• Fit Flywheel Shaft Nut: M10 / Washer: M10 / Socket: 14mm
• Fit QMB 49/50cc+

Supported Models: GY6 139QMB 49cc-50cc engines, Filly 50, Honda Ruckus, Kymco, QLink, SYM
-----
Item Weight & Product Dimensions:
• 3 pounds | 14.5" (L) x 10" (W) x 2.5" (H)

NCY Stator 8-Pole Racing Performance Kit (139QMB)
Stock:

Non-Stock

Reward Points:

11

Part #:

0900-1042

NCY
Price in reward points: 300