NCY Variator Ramp Top (DIO, QMB)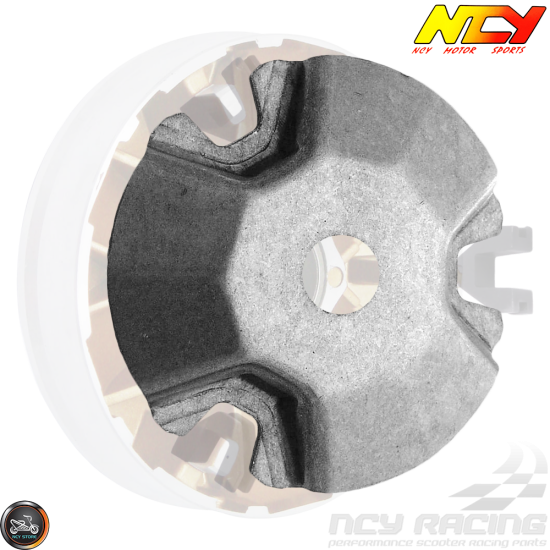 Description: NCY Variator Ramp Top aka Pressure Plate for your 139QMB and DIO transmission!
Compatible with most variator housing on the market works on Yamaha JOG Minarelli engines, Chinese Yamaha Clones such as the 1PE40QMB 1E40QMB engines, Honda Ruckus, 139QMB 50cc 4 stroke engines, Vertical Honda DIO style 2 stroke engines found in SYM and Kymco Scooters, as well as Aprilia Scooters with Piaggio engines, and Franco-Morini 50cc engines found in the 1E41QMB Suzuki AD50 AG50, TGB R50X, TGB 101, TGB 303 and Peirspeed Scooters.
NOTE: Recommend using a new belt with this kit. Belt and the belt drive facing plates KEEP DRY. All, other areas apply moly-graphite grease when assembling. For Honda DIO require belt-size 654-18-30 (Part# BD44DIO-6541830).
Installation: Make sure variator drive face is seated properly and not get its teeth chewed by the Bendix: 1. Slack the belt by opening the CVT clutch gives belt slack to the variator side. 2. Then install the variator drive face while lifting the slack belt further away from the center boss if done properly should not see any splines between variator drive face slop-side and boss flat-side. Should be flushed together. 3. Then install existing variator fan, washer, and hand-tight nut. 4. Finally, apply blue Loctite, torque nut to 30-35ft lbs. For reassurance please consult your manufacturer variator torque specs.

Specifications:

Include the following Variator top.
• 1x Metal Top: I.D: 14.15mm / O.D: 73.50mm / H: 11.58mm
• Made in Taiwan
• Fit Alumin-Alloy Housing Teflon Coated: I.D: 20mm / O.D: 89mm / H: 32.44mm
• Fit 6x Red Roller Weights: 16x13
• Fit 3x Plastic Red Slides
• Fit Belt Size: 669, 729, 788 (Fit QMB ONLY)
• Fit Belt Size: 654 (Fit DIO ONLY)
• Fit DIO 49/90cc+
• Fit QMB 49/50cc+

Supported Models: NCY CVT Kit (Part# 1200-1171); Honda Dio AF16 AF18E 50; Elite S/SE/SR 1994-2001, Daelim Cordi 50, Kymco Fever/ZX50, SYM DD50, GY6 40QMB 50cc 2-stroke, 139QMB 49cc-50cc 4-stroke, 50QMF 90cc-100cc, GY6 139QMB 49cc-50cc engines, Buddy50, Filly 50, Kymco, QLink, Peugeot, Piaggio, RoughHouse, SYM, TaoTao, and virtually any scooter engine with these measurements.

-----
Item Weight & Product Dimensions:
• 0.156 pounds | 2.894" (OD) x 0.557" (ID) x 0.456" (H)
NCY Variator Ramp Top (DIO, QMB)
Stock:

13

Brand: NCY
Part #:

1200-1056
Products Sold: 2
Product Views: 8448
Price in reward points: 13
Tags:
dio variator top
,
qmb variator top
,
ncy variator ramp top 73.5mm coated gold dio qmb
,
ncy variator ramp top dio qmb
,
ncy variator top 73.5mm coated gold set 139qmb buddy50 roughhouse
,
ncy variator top 73.5mm coated gold 139qmb
,
ncy variator top 73.5mm coated black 139qmb
,
ncy coated variator top 73.5mm black 139qmb
,
ncy coated variator top 73.5mm black color
,
ncy coated variator top
,
ncy variator top
,
139qmb variator top
,
scooter variator top
,
ncy super transmission set
,
ncy cvt kit
,
ncy cvt variator top kit
,
ncy cvt set
,
ncy cvt variator top set
,
139qmb cvt kit
,
139qmb cvt set