NCY Variator Roller Weight Set 20x12 (Vino, Zuma 125)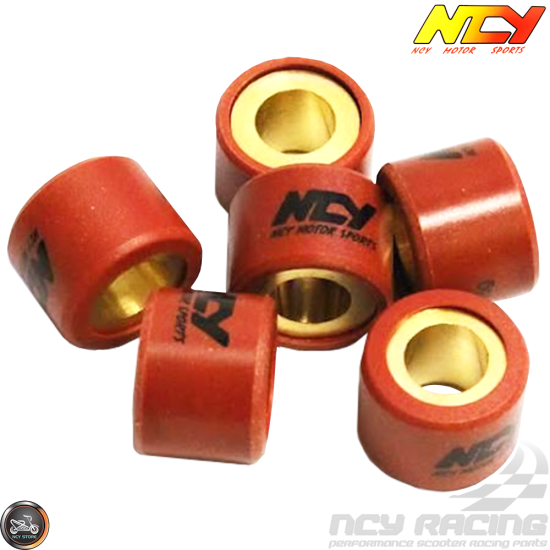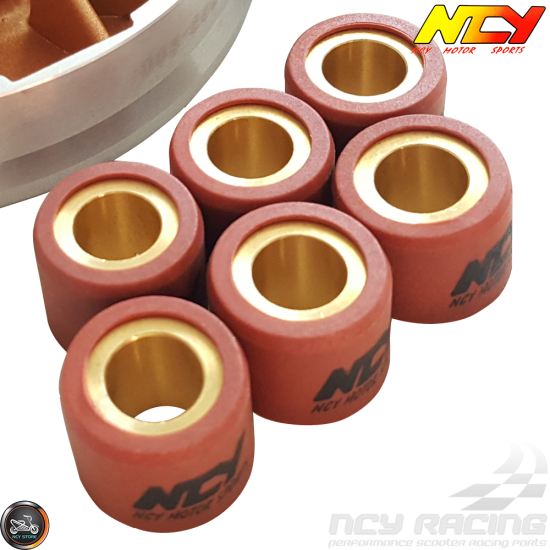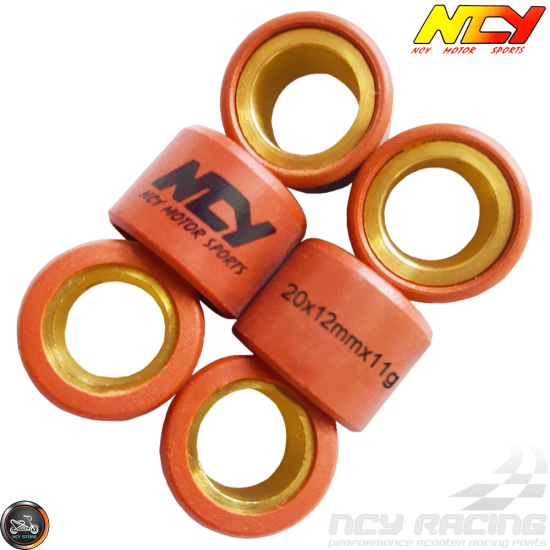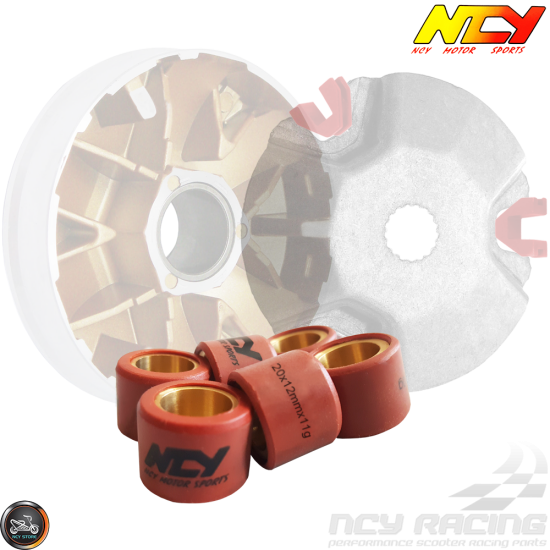 Description: Great quality NCY Variator Roller Weight Set 20x12 for Yamaha Vino and Yamaha Zuma 125 scooters. Lower your stock weight (12-14) with 10s or 11s for a great performance upgrade for better take and just plain replacing worn out stock weights. 20X12 mm roller set for Yamaha Vino, Yamaha Zuma 125, and many other scooters.
For those of you unfamiliar with roller weights, they are an important tuning device and have a significant impact on your scooter's performance! Roller weights are used for fine-tuning your Yamaha to get the most out of what you need from your scooter. If you're a heavy person (and/or) if you have a stock motor you will want to lean towards the lighter rollers. If you are a light person (under 140lbs) or you have a big bore you will want heavier rollers. Tuning Tips: Light rollers are good for quick acceleration, stop and go riding, and hills, but you lose top-end speed. Heavy rollers will give you a higher top-end speed (long roads) but you will lose low-end acceleration.
They should be checked/changed every 1000 miles (per maintenance schedule) to keep your scooter running tops. Over time, roller weights will develop flat spots which will impair the performance of your scooter. A good indication that your rollers are worn is increasingly high revs for a given speed and/or decreased top speed. Replacing worn rollers with this set will restore and actually improve your low-end power and especially your top speed. Fuel efficiency will also improve dramatically!
Specifications:

• 6x Roller Weights: 20x12mm 8gm<13gm
• Made in Taiwan
• Fit Dowel Pin Set (8x14mm)
• Fit Belt Size: 759-22-30 (Vino)
• Fit Belt Size: 810-22-28 (Zuma)
• Fit Vino 125
• Fit Zuma 125

Supported Models: NCY CVT KIT (Part# 1200-1047); Linhai 260/300, Yamaha BW's 125, Yamaha Cygnus 125, Yamaha GTR 125, Yamaha Morphous 250, Yamaha Vino 125, Yamaha Zuma 125.
-----
Item Weight & Package Dimensions:
• 0.105~0.172 pounds | 3.486" (L) x 2.852" (W) x 1.050" (H)

NCY Variator Roller Weight Set 20x12 (Vino, Zuma 125)
Stock:

20

Part #:

1200-1143

NCY
Price in reward points: 19
Tags:
roller weights
,
ncy roller weight set 20x12 vino
,
ncy roller weights 20x12 vino
,
ncy roller weights 20x12
,
roller weights 20x12
,
weights 20x12
,
vino roller weights
,
vino variator weights
,
20x12 ncy roller weights 20x12 8gm to 13gm
,
ncy roller weights 20-12
,
roller weights 20x12
,
weights 20x12
,
vino roller weights
,
vino variator weights
,
20x12
,
ncy roller weight set 20x12 zuma
,
ncy roller weights 20x12 zuma
,
zuma roller weights
,
zuma variator weights
,
zuma roller weights
,
zuma variator weights