NCY Variator Roller Weight Set 20x15 (GY6B, PCX)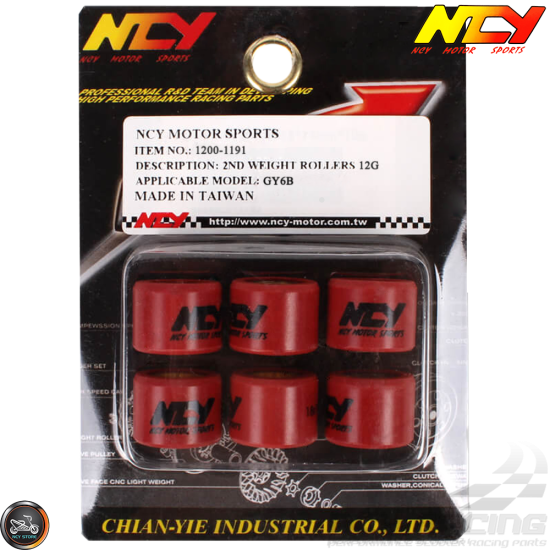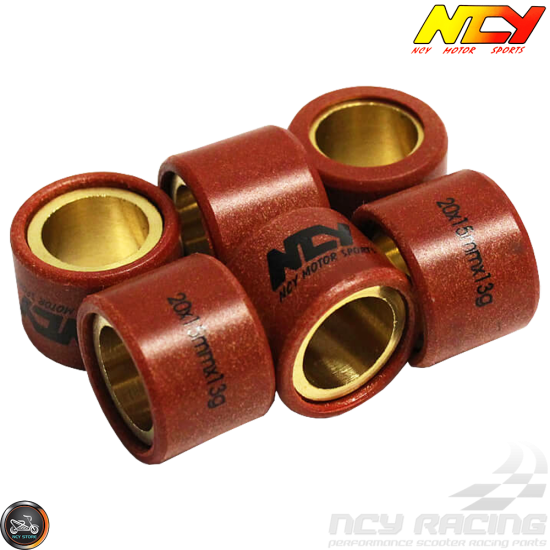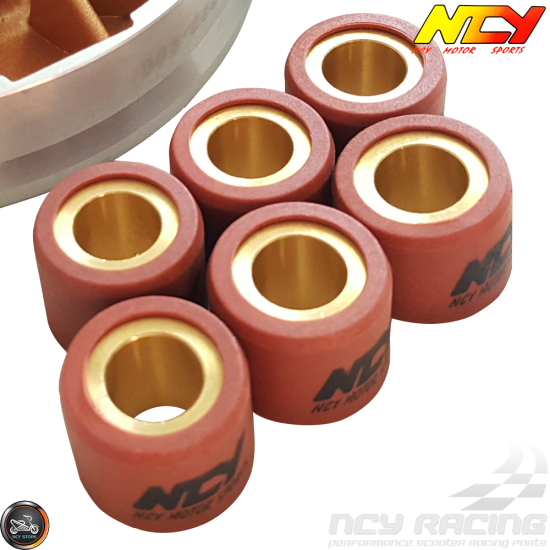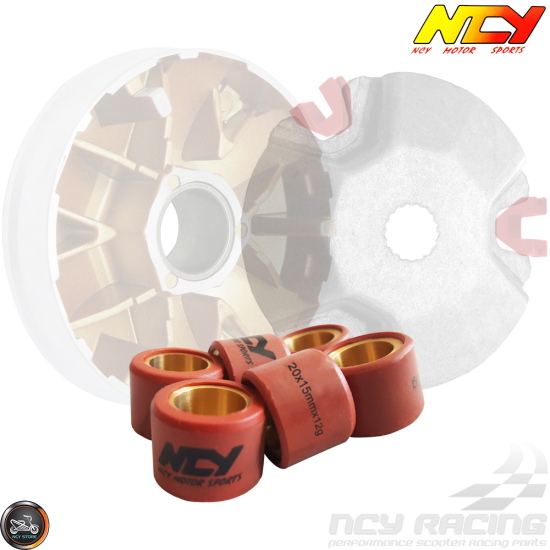 Description: NCY Variator Roller Weight Set 20mm x 15mm for GY6B 150cc 4-stroke ZNEN and Honda PCX 125/150cc 4-stroke engines. These high-quality HD [Heavy Duty] weights not only perform very well as a stock weight replacement but also show their true potential in high-end engines. During production, the inner ring is carefully knurled, and only after this is it bonded with the plastic. This prevents the weight material from separating from the inner ring under temperature fluctuations, which usually happens with cheaper weights. The high PTFE content in the outer material provides good self-lubrication and durability and the characteristics of the Teflon provide smooth Variator shifting.
For those of you unfamiliar with roller weights, they are an important tuning device and have a significant impact on your scooter's performance! They should be checked/changed every 1000 miles (per maintenance schedule) to keep your scooter running tops. Over time, roller weights will develop flat spots which will impair the performance of your scooter.
A good indication that your rollers are worn is increasingly high revs for a given speed and/or decreased top speed. Replacing worn rollers with this set will restore and actually improve your low-end power and especially your top speed. Fuel efficiency will also improve dramatically!
Specifications:

Include the following Roller weight set.
• 6x Roller Weights: 20x15mm 12gm<18gm
• Made in Taiwan
• Fit Variator Housing: 117mm or 123mm / Shims: 24mm
• Fit Variator Shaft Nut: M14 / Washer: M14 / Socket: 22mm
• Fit Belt Size: 816, 836-22-30 (Fit PCX ONLY)
• Fit Belt Size: 842-20-30 (GY6B ONLY)
• Fit Dowel Pin Set (8x10mm)
• Fit GY6B 150cc+
• Fit PCX 125/150cc+

Supported Models: NCY CVT KIT (Part# 1200-1195); Aprilia Scarabeo 4T, Genuine Blur 220i, GY6B 150cc 4-stroke, Honda PCX 125/150, Honda SH 125, Honda SH 150, ZNEN ZN150T-18
-----
Item Weight & Package Dimensions:
• 0.126~0.179 pounds | 5.317" (L) x 3.127" (W) x 1.145" (H)

NCY Variator Roller Weight Set 20x15 (GY6B, PCX)
Stock:

39

Part #:

1200-1191

NCY
Price in reward points: 22
Tags:
20x15mm
,
20x15
,
roller weights
,
ncy roller weight set 20x15 gy6b
,
ncy roller weights 20x15 honda pcx
,
ncy roller weights 20-15
,
roller weights 20x15
,
weights 20x15
,
gy6b roller weights
,
ncy variator weights
,
20x15 honda pcx roller weights 20x15 12gm
,
ncy roller weights 20-15
,
roller weights 20x15
,
weights 20x15
,
pcx roller weights
,
gy6b variator weights