Polini Cylinder 63mm 177cc Big Bore Kit w/Alumin Piston (Genuine Stella, Vespa 2T)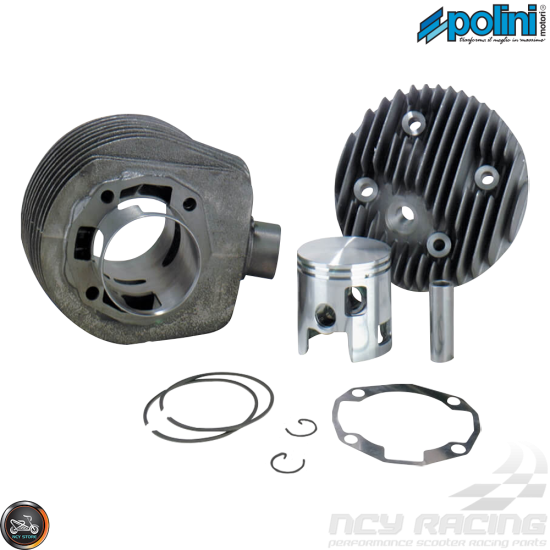 Description: Polini Cylinder 63.4mm 177cc Big Bore Kit with Aluminum Piston for Genuine Stella 2T, Vespa VP, Vespa VLB, and Vespa VNX 2-stroke engines. Polini has become the leader in Italian racing cylinder kits. Kit includes cylinder, cylinder head, piston, rings, piston pin, circlips, and gaskets. Cast iron cylinder and double ring piston for longevity.
When you use this Polini 63mm Big Bore Kit in conjunction with your stock crankshaft you will increase your total displacement to 177cc! The manufacturer claims 15.5bhp at 7,600RPM is possible with this kit.
NOTE: The bottom two fins of the cylinder will need to be modified if this kit is used with an electric starter. Properly break in your big bore kit and add about an ounce of 2 stroke oil to your gas tanks. For break-in, we recommend 200-300 miles before running your bike full throttle for any extensive length of time. Boring and machining may be required.
Specifications:
Includes the following Cylinder, Piston + Rings, Gaskets (compression base gasket), Wrist pin, and G-clips.
• 1x Aluminum Piston: 63mm
• 2x Piston Rings: 63mm
• 1x Wrist Pin w/G-clips:
• 1x Cast-Iron Cylinder: 63mm
• Cylinder Height (side-width): mm
• Made in Italy
• Fit LML Star
• Fit Stella
• Fit VP/LB/NX

Supported Models: Genuine Stella 2T, LML Star 2T, Vespa VP, Vespa VLB, Vespa VNX
-----
Item Weight & Package Dimensions:
• 5.8 pounds | 7.5" (L) x 5.5" (W) x 5.25" (H)

Polini Cylinder 63mm 177cc Big Bore Kit w/Alumin Piston (Genuine Stella, Vespa 2T)
Stock:

40

Reward Points:

12

Part #:

PCK2

Polini
Price in reward points: 300
Tags:
polini cylinder big bore kit 63mm 177cc
,
polini cylinder big bore kit 63mm 177.7cc
,
vespa vp big bore kit
,
genuine stella big bore kit
,
polini cylinder
,
vespa vlb big bore kit
,
vespa vnx big bore kit
,
polini big bore kit aluminum piston
,
polini aluminum piston
,
polini corsa bbk
,
polini cylinder corsa vespa
,
polini corsa bbk
,
polini cylinder corsa stella
,
polini corsa bbk
,
polini cylinder vespa 125
,
polini big bore kit vespa