Prima Variator Roller Weight Tuning Kit 15x12 (Aprilia, JOG, Zuma 50)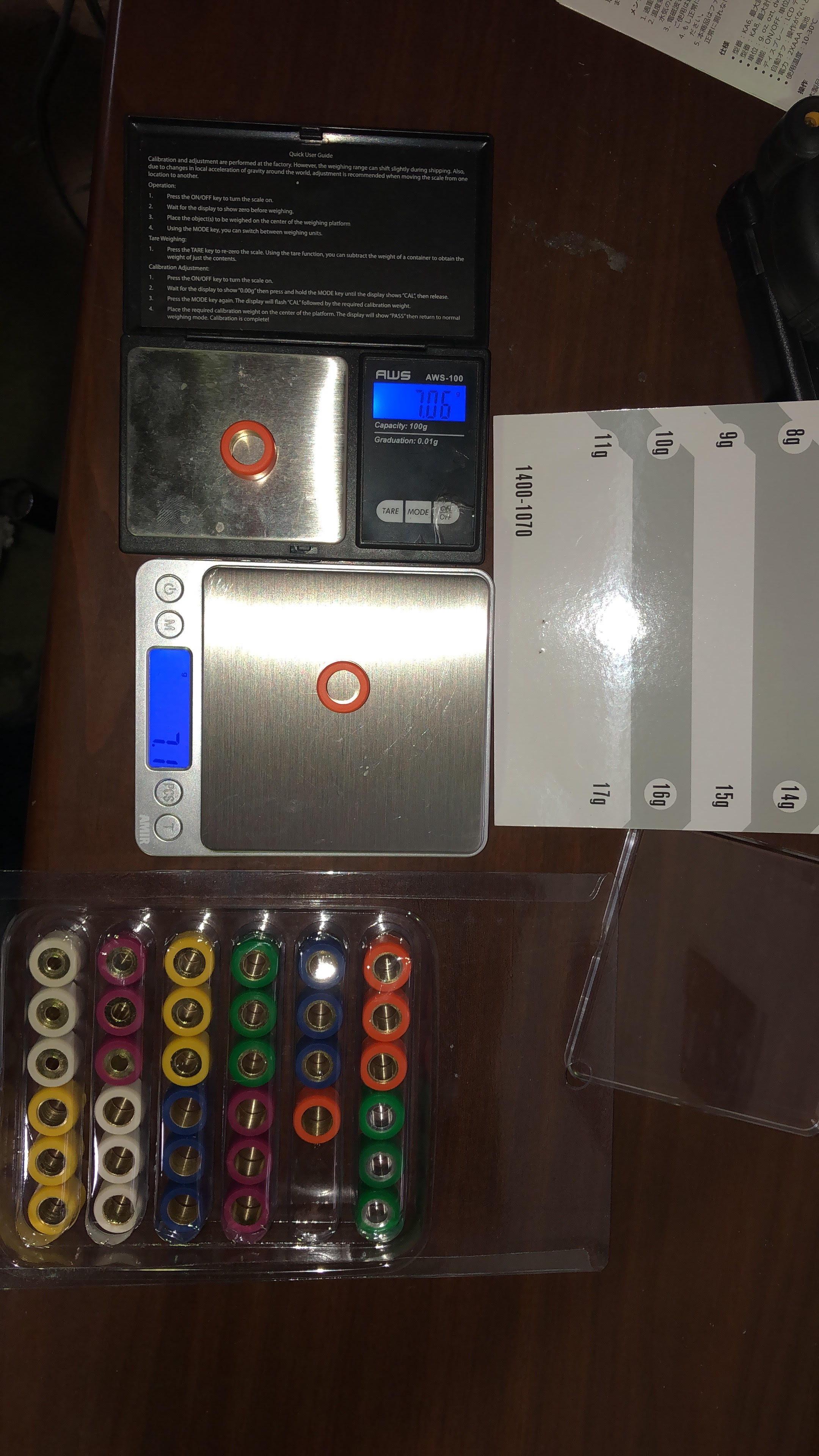 * tested on an actual gram scale tuning rollers can be offset by ± 0.1gm
Description: Prima Variator Roller Weight Tuning Kit 15x12mm test roller weight set for Aprilia, JOG, and Zuma 50 2-stroke engines.
For those of you unfamiliar with roller weights, they are an important tuning device and have a significant impact on your scooter's performance! They should be checked/changed every 1000 miles (per maintenance schedule) to keep your scooter running tops. Over time, roller weights will develop flat spots which will impair the performance of your scooter.
A good indication that your rollers are worn is increasingly high revs for a given speed and/or decreased top speed. Replacing worn rollers will restore and actually improve your low-end power and especially your top speed. Fuel efficiency will also improve dramatically!
Includes 36 Roller Weights, from 2gm to 13gm. Lighter roller weights will increase RPM for any given road speed. Heavier weights will lower RPM for any given road speed. Must be put in a 120° pattern!
NOTE: You must install these weights in an alternating pattern, otherwise a severe imbalance in the variator will occur. These rollers are designed for tuning purposes only and we recommend that they are not used for long-term use. Once you have determined the appropriate weight for your set up you should buy a complete roller set for permanent use.

Installation: 1. Slack the belt by opening the CVT clutch gives belt slack to the variator side. 2. Then install the variator drive face while lifting the slack belt further away from the center boss if done properly should not see any splines between variator drive face slop-side and boss flat-side. Should be flushed together. 3. Then install the existing variator fan, washer, and hand-tight nut. 4. Finally, apply blue Loctite, torque nut to 30-35ft-lbs. For reassurance please consult your manufacturer's variator torque specs.

Specifications:

Include the following Roller weight set.
• 36x Roller Weights: 15x12mm 2gm<13gm
• Made in Taiwan
• Fit Variator Housing: 95mm / Slides: 3 / Top: 79.3mm / Boss: 20mm / Shims: 18mm / Drive Spline: 15
• Fit Belt Size: 818-19-28 (Fit Aprilia ONLY)
• Fit Belt Size: 788-17-30 (Fit JOG ONLY)
• Fit Belt Size: 748-18-28 (Fit Zuma ONLY)
• Fit Aprilia 50
• Fit JOG 50
• Fit Zuma 50

Supported Models: NCY CVT KIT (Part# 1200-1197); Yamaha C3, Yamaha Zuma CW50, Yamaha Zuma 50F, Yamaha Vino Minarelli Jog engines, Chinese Yamaha Clones 1PE40QMB 1E40QMB engines, Malaguti, CPI, Aprilia Scooters with Piaggio engines, and Franco-Morini 50cc engines found in the 1E41QMB Suzuki AD50 AG50, TGB R50X, TGB 101, TGB 303, and Peirspeed Scooters.
-----
Item Weight & Package Dimensions:
• 1.025 pounds | 9.5" (L) x 5.93" (W) x 0.64" (H)

Prima Variator Roller Weight Tuning Kit 15x12 (Aprilia, JOG, Zuma 50)
Stock:

39

Reward Points:

1

Part #:

1400-1083

Prima
Price in reward points: 35