SSP-G Oil Decompression Tube 17mm Kit (QMB, GY6, Universal)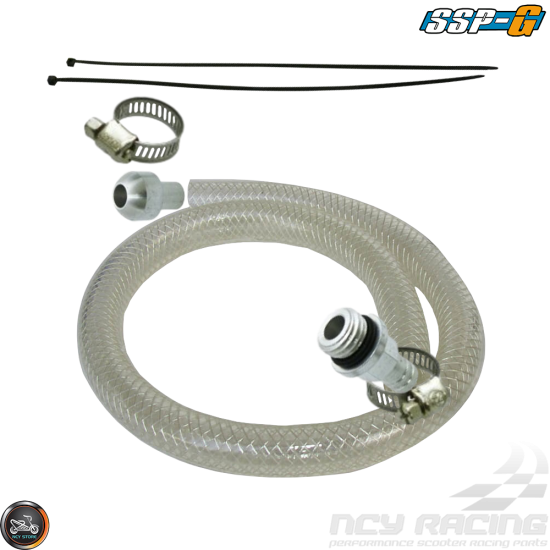 Description: SSP-G Oil Decompression Tube Kit. This kit makes your engine breathe a whole lot easier by removing the oil dipstick cap and freely"engine burb" itself out the excess pressure spilling motor oil through 2 ft oil and fuel resistant tough clear braided tubing. Very kool to see the motor oil running up and back into the crankcase while it is relieved of its needed crankcase pressure.

NOTE: Please confirm measurement is correct prior to ordering.

Specifications:
Includes the following Oil decompression tube, and Fittings.

• 1x Oil and Fuel Resistant Clear Tubing L: 24" / ID: 12mm / OD: 18mm
• 1x Aluminum Filler Cap/Tube Adaptor: 17mm
• 1x Aluminum Tube End Cap: 12.66mm
• 1x White Zip Tie: 8"
• 2x Stainless Steel Claps: 1"
• Made in Taiwan
• Fit ANY Engine 17mm Oil Filler Cap
• Fit 54mm Stud Spacing (A-Block)
• Fit 57mm Stud Spacing (B-Block)
• Fit GY6 125/150cc+
• Fit Honda Grom 125
• Fit Honda Metropolitan GET 50cc
• Fit Honda Ruckus GET 50cc
• Fit QMB 49/50cc+
• Fit Yamaha Zuma 50F and 125

Supported Models: GY6 139QMB 49cc-50cc 4-stroke, 50QMF 90cc-100cc, 152QMI 125cc, 157QMJ 150cc, 161QMK 170cc, 161QML 200cc, Chinese Scooter, ATV, Genuine Buddy, Grom, Kymco, Metropolitan, Polaris RZR 170, Ruckus, Vento, Zuma 50F, and virtually any other engine with these measurements.
-----
Item Weight & Package Dimensions:
• 0.4 pounds | 8.3" (L) x 6.6" (W) x 1.875" (H)
SSP-G Oil Decompression Tube 17mm Kit (QMB, GY6, Universal)

SSP-G
Price in reward points: 20