SSP-G PWK Choke Lever Cable 24in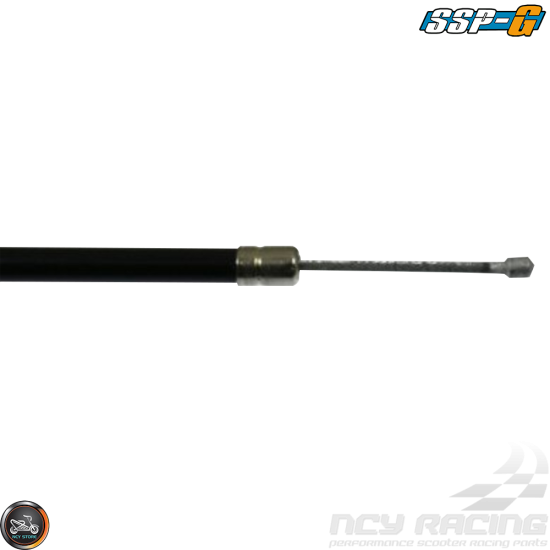 Description: SSP-G PWK Choke Lever with 24 inch cable line allows you to control your choke from a remote location.
NOTE: Choke cable will come dry (non-lube). Recommend use lubricating grease, oil, or WD-40 before use. This also helps ease cable friction wear and tear in throttle cable's sleeves, use lubricating tool help grease where applicable.
Specifications:
Includes the following manual choke Actuator, Lever knob, Plunger, Spring, and Cable.

• 1x PWK Manuel Choke Actuator w/Knob Lever L: mm / OD: / Mount OD: 11mm
• 1x PWK Manuel Choke Plunger L: mm / OD: 8mm
• 1x PWK Manuel Choke Spring L: mm / OD: mm
• Overall L: 2.1" (55mm)
• 1x PWK Choke Cable L: 24" (609.6mm) / Sleeve L: 19.5" (495.3mm)
• Made in Taiwan
• Fit PWK Manual Choke Actuator
• Fit PWK Carburetor
• Fit GY6 125/150cc+
• Fit QMB 49/50cc+

Supported Models: Honda Dio AF16 AF18E 50; Elite S/SE/SR 1994-2001, Daelim Cordi 50, Kymco Fever/ZX50, SYM DD50, 40QMB 50cc 2-stroke, 40QMB 50cc 2-stroke, Eton, Peugeot, PGO, SYM, TGB,139QMB 49cc-50cc 4-stroke, 50QMF 90cc-100cc, 152QMI 125cc, 157QMJ 150cc, 161QMK 170cc, 161QML 200cc, Chinese Scooter, ATV, Genuine Buddy, Kymco, Polaris RZR 170, Ruckus, TaoTao, Yamaha Cygnus, Vento, and virtually any scooter engine with PWK Carburetor measurements.

-----
Item Weight & Package Dimensions:
• 0.419 pounds | 12.5" (L) x 8.75" (W) x 0.75" (H)

SSP-G PWK Choke Lever Cable 24in

SSP-G
Price in reward points: 15