SSP-G Throttle Cable 69-75.5in (CP, PHBG, PWK)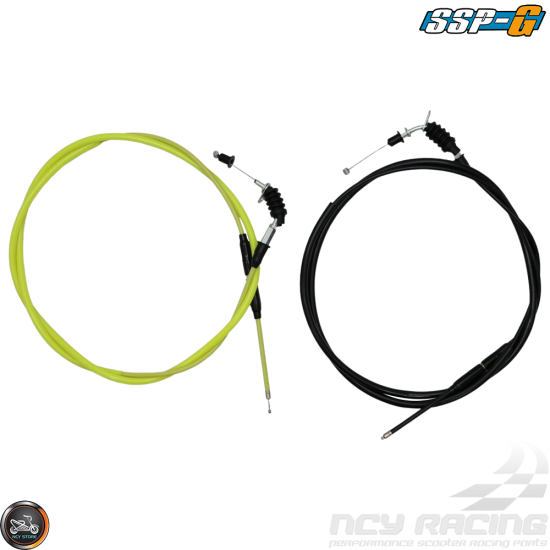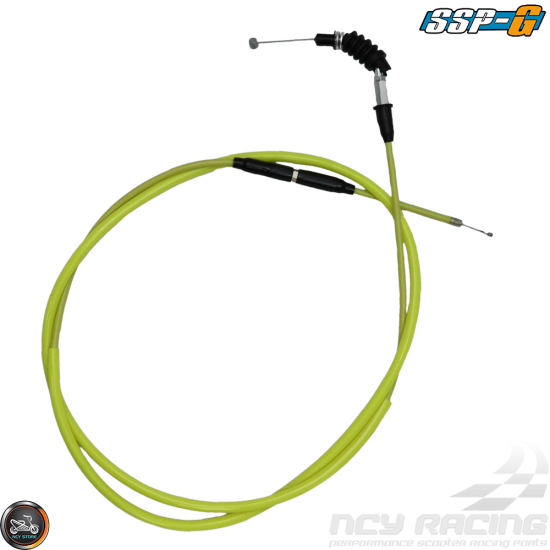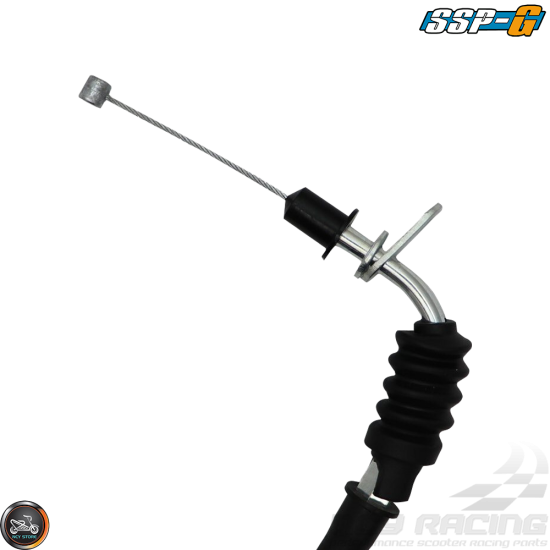 Description: SSP-G Throttle Cable 69" or 75.5" length for CP, PHBG, and PWK carburetors on GY6 125/150 4-strokes, Honda Ruckus, Honda Dio/Elite, Yamaha Zuma 2-stroke as well as 2-stroke scooters from manufacturers such as Aprilia, Malaguti, Derbi, and any use with 70-90cc scooters and mopeds.
Please choose from 69" or 75.5" sleeve length. The 69" cable has a 63.5" yellow sleeve and the 75.5" cable has a 70" black sleeve. We recommend that you measure the original cable and check the detailed photos for accuracy.

NOTE: If throttle cable becomes dry (non-lube). Recommend use lubricating grease, oil, or WD-40 before use. This also helps ease cable friction wear and tear in throttle cable's sleeves, use lubricating tools to help grease where inner throttle sleeve and cable inside line ONLY.
Recommended use hairspray to help ease of rubber grip set slide onto the handlebar left-side and onto the throttle sleeve right-side. Hairspray will allow it to tack dray in minutes, thus allowing grip usage after 10-15 minutes applied. Or if available use an air-compressor wedge open a tiny air pocket in front of the rubber grip while pressing from behind grip to slide onto or off the handlebar and onto or off the throttle sleeve without the use of chemicals.
Specifications:
Include the following CP, PHBG, PWK carburetor throttle cable.

• 1x PWK Throttle Cable (choose one) L: 69" or 75.5"
• Yellow Sleeve L: 63.5" / Overall Cable L: 76"
• Black Sleeve L: 70" / Overall Cable L: 81"
• Made in Taiwan
• Fit CP Carburetor
• Fit PHBG Carburetor
• Fit PWK Carburetor
• Fit DIO 49/50cc+
• Fit QMB 49/50cc+
• Fit GY6 125/150cc+

Supported Models: Honda Dio AF16 AF18E 50; Elite S/SE/SR 1994-2001, Daelim Cordi 50, Kymco Fever/ZX50, SYM DD50, 40QMB 50cc 2-stroke, 40QMB 50cc 2-stroke, Eton, Peugeot, PGO, SYM, TGB,139QMB 49cc-50cc 4-stroke, 50QMF 90cc-100cc, 152QMI 125cc, 157QMJ 150cc, 161QMK 170cc, 161QML 200cc, Chinese Scooter, ATV, Genuine Buddy, Kymco, Polaris RZR 170, Ruckus, TaoTao, Yamaha Cygnus, Vento, and virtually any CP/PHBG/PWK carburetor style.

-----
Item Weight & Package Dimensions:
• 0.75 pounds | 8.25" (L) x 6.5" (W) x 1.625" (H)

SSP-G Throttle Cable 69-75.5in (CP, PHBG, PWK)

SSP-G
Price in reward points: 20
Tags:
cp throttle cable
,
phbg throttle cable
,
pwk throttle cable
,
honda ruckus stretch pwk throttle cable
,
ssp-g-throttle-cable-63.5-70in-pwk-qmb-gy6-universal
,
pwk throttle cable
,
ssp-g throttle cable 63.5in pwk assy gy6 ruckus
,
ruckus
,
ssp-g carburetor pwk cable assy
,
ssp-g cable assy pwk carburetor
,
ssp-g throttle cable
,
ssp-g 70-inch throttle cable
,
gy6 63.5-inch throttle cable
,
gy6 throttle cable
,
gy6 throttle cable