Stage6 Crankshaft Bearing & Oil Seal HQ Set (Minarelli, Yamaha)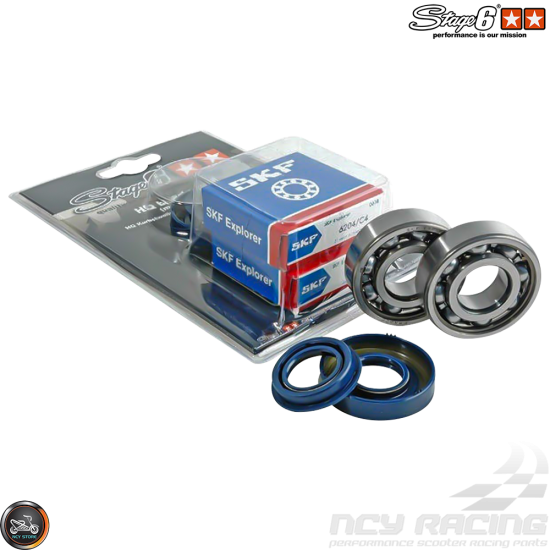 Non-Stock
Description: Stage6 Crankshaft Bearing & Oil Seal HQ Set for Yamaha Zuma 50cc, Minarelli 50cc 2-stroke scooters. Especially with high-performance engines, you should not be too stingy when it comes to buying crankshaft bearings. This is why Stage6 only collaborates with leading European and Japanese manufacturers of bearings and oil seals such as SKF and Corteco. We offer you these high-quality crankshaft bearing kits in 2 versions, with a metal cage or with a polymer cage. Both types can, according to SKF, be used up to 20,000rpm and have of course the necessary bearing clearance (C4). Sufficient lubrication and proper installation of crankshaft and bearings are of course essential for long life.
The version with a polymer plastic cage has higher elasticity and a reduced friction coefficient as compared to the metal ball cage. This is also the type of bearing that we prefer for our racing engines. What is important for these bearings is the right ignition timing and carburetor settings since bearings should not be subjected to more than 120deg for a longer time in order to prevent damage. This is also the reason why the TN9 bearings should not be used in engines with catalytic converters.
Please keep in mind that the half-open cage must be inserted so that it faces the crank webs. This metal cage bearing on the other hand is more resistant than the polymer version, but unfortunately, it also generates more friction and hence more heat, which results in a shorter life expectancy.

Temperature Modification May Be Required: You'll need to heat the aluminum crankcase area where the bearing set will be placed in order to fit immediately the freezing Taida bearing set. Users assume full responsibility and risk doing so using this Taida Transmission Bearing Set.

Specifications:

Includes the following Crankshaft bearing and oil seal set.

• 1x Flywheel Shaft Bearing ID: mm
• 1x Variator Shaft Bearing ID: mm
• 1x Oil Seal ID: mm / OD: mm / H: mm
• 1x Oil Seal ID: mm / OD: mm / H: mm
• Made in Italy
• Fit Aprilia
• Fit Minarelli
• Fit Yamaha

Supported Models: Aprilia 100 Scarabeo 2T (Minarelli Yamaha), Yamaha Aerox, Yamaha Neo's, Yamaha BW'S, BW'S100, Yamaha YW100, YW100SWC, YW100A, YW100B, and YW100D, Various unlisted makes/models
-----
Item Weight & Package Dimensions:
• 0.74 pounds | 6.4" (L) x 5.25" (W) x 1" (H)

Stage6 Crankshaft Bearing & Oil Seal HQ Set (Minarelli, Yamaha)
Stock:

Non-Stock

Reward Points:

1

Part #:

S6-80366C4-MET

Stage6
Price in reward points: 40