Stage6 Intake Manifold MKII 23mm (Aprilia, Piaggio, Vespa 50)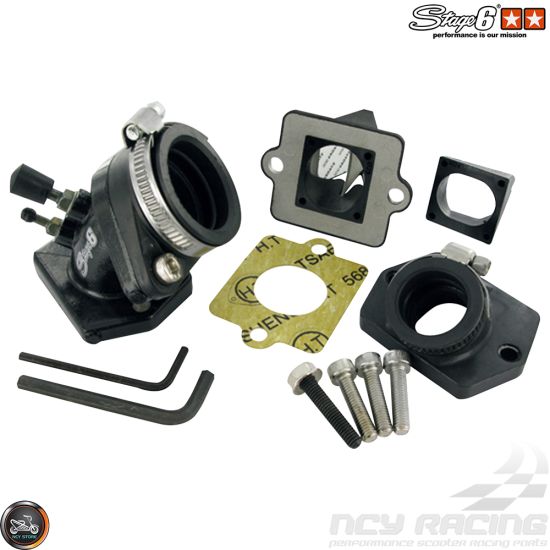 Description: Stage6 Intake Manifold MKII 23mm for Aprilia, Piaggio 50, Vespa 2-stroke engines. No matter which carburetor you want to use - the Stage6 Piaggio intake system is your choice! The kit includes 2 intake manifolds and Venturi inserts adapted to the respective reed blocks. These Stage6 products make it possible to mount all standard carbs to your Piaggio engine easily. In order to get an ideal engine response, the intake tract has been kept as short as possible. Furthermore, the manifold is equipped with a boost bottle/ vacuum and oil connections.
Specifications:
Includes the following Intake manifold, Clamps, and Allen bolts.

• 1x Aluminum Intake Manifold
• 1x Stainless Steel Clamps
• 1x Intake Manifold Spacer
• 4x Stainless Allen Bolts
• Made in Italy
• Fit Aprilia 49/50cc
• Fit Piaggio 49/50cc
• Fit Vespa 49/50cc
Supported Models: Aprilia Mojito, Aprilia Scarabeo 4T, Aprilia Sport City One, Aprilia Sr R Factory, Aprilia Sr Street, Piaggio Fly, Piaggio Typhoon, Piaggio Vespa, Various unlisted makes/models

-----
Item Weight & Product Dimensions:
• 0.506 Pounds | 4.035" (L) x 2.937" (W) x 3.25" (H)
Stage6 Intake Manifold MKII 23mm (Aprilia, Piaggio, Vespa 50)
Stock:

40

Reward Points:

5

Part #:

S6-3214000

Stage6
Price in reward points: 128