Stage6 Intake Manifold MKII 23mm Set (Aprilia, JOG, Zuma 50)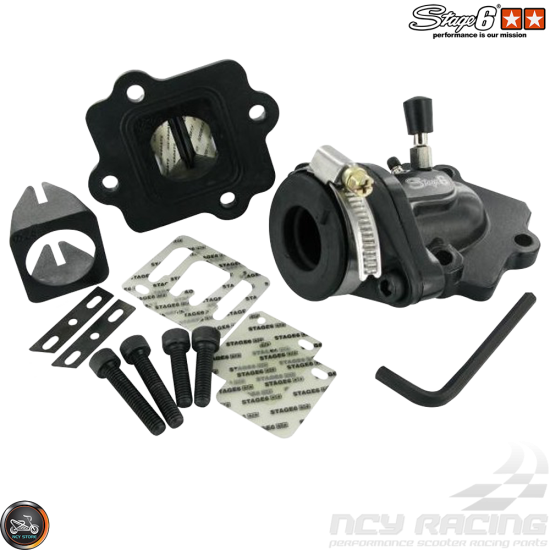 Description: Stage6 Intake Manifold MKII 23mm Set for Aprilia, JOG, Zuma 50, and many other 50cc base engines. incl. 23mm adaptor (Dellorto 10 - 21mm, Arreche 17 - 21mm), reed valve (Boysen style), stuffers, connections for boost bottle and oil. Complete intake system from Stage6. Consists of a Teflon-coated intake manifold with oil and vacuum connections, gaskets, and a vulcanized reed block. The big 2-petal reed block, combined with a carburetor of 19mm or more, ensures enormous cylinder filling which is essential for good performance. The carburetor adapter can be replaced in order to convert to bigger carbs such as Stag6/Keihin PWK, Stage6/Mikuni TM24, or KOSO 28mm. The included adapter fits Dellorto 10-21mm and Arreche 17-21mm.
Specifications:
Includes the following Intake manifold, Clamps, Reed valve, and Allen bolts.

• 1x Aluminum Intake Manifold
• 2x Stainless Steel Clamps
• 4x Stainless Allen Bolts
• Made in Italy
• Fit Aprilia 49/50cc
• Fit JOG 49/50cc
• Fit Zuma 49/50cc
Supported Models: APEX Pro MXR 50, Aprilia SR 50 LC, Benelli 491 RR 50, Benelli K2 50 LC, Beta Ark 50 LC, Beta Eikon 50, Garelli GSP 50, Italjet Dragset 50, KTM Ark 50 LC, MBK Nitro 50, MBK Nitro Naked 50, Malaguti F12 Phantom 50 LC, Malaguti F15 Firefox LC, Motowell Magnet RS 50, Streak Access 50, Yamaha Aerox 50, Yamaha Jog RR 50, and virtually any scooter engine with these measurements.

-----
Item Weight & Product Dimensions:
• 0.506 Pounds | 4.035" (L) x 2.937" (W) x 3.25" (H)
Stage6 Intake Manifold MKII 23mm Set (Aprilia, JOG, Zuma 50)
Stock:

40

Reward Points:

3

Part #:

S6-3216600

Stage6
Price in reward points: 75