Taida Cylinder Head 61mm 171cc 2V 28/23 Fit 57mm (GY6)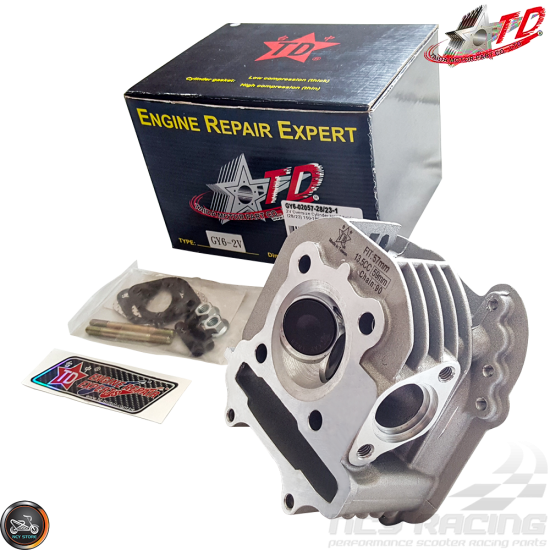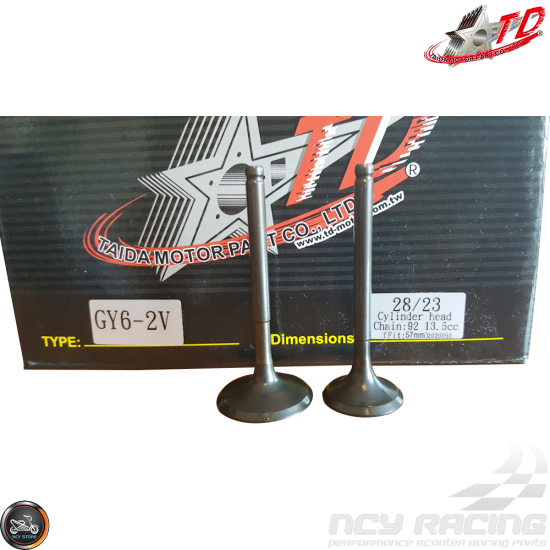 ETA 45 - 60 Days
Description: High-Quality Taida Cylinder Head 61mm 171cc with large 2-Valve 28mm intake and 23mm exhaust and improved oversize valve ports for 57mm stud-spacing B-Block GY6 engine type; Chinese scooters, quads, buggies, many others listed below.
This Taida Cylinder Head 61mm 2V fits the Taida Cylinder 58.5mm 2V or 61mm 2V Cylinder. When pairing with Taida Cylinder 58.5mm 2V and Taida Crankshaft 57.8mm Stroker will produce 155cc engine displacement. In order to get 171cc engine displacement, you'll need to pair with Taida Cylinder 61mm 2V and Taida Crankshaft 57.8mm Stroker, to produce 171cc engine displacement. To increase further performance, we suggest adding a performance Taida Camshaft T-300.
Specifications:
Includes the following Cylinder Head, Valves Assembly, Gaskets (manifold spacer +gasket, steel exhaust gasket), intake\exhaust studs, nuts, and Taida Sticker.
• 1x Cylinder Head Stud Space: 57mm / H: 60mm / Intake Port: 26.5mm / Exhaust Port: 25mm
• 2x Valves: 28x66mm Intake / 23x65.6mm Exhaust / Stem: 5mm / (w/intake valves) H: 67<69.3mm
• 1x Plastic Intake Manifold Spacer L: 58mm / ID: 28mm / W: 38mm / H: 5.15mm
• 1x Paper Intake Manifold Gasket L: 58mm / ID: 28mm / W: 38mm / H: 1mm
• Intake Manifold Gasket Bolt-to-Bolt Space: 45mm
• 2x Intake Studs: M6x62mm
• 1x Exhaust Gasket L: 68mm / ID: 27mm / W: 45.15mm / H: 1.9mm
• Exhaust Gasket Bolt-to-Bolt Space: 45<51mm
• 2x Exhaust Studs: M8x35mm
• 2x Exhaust Nuts: M8x12mm
• Made in Taiwan
• Fit Intake Studs: M6 / Nuts: M6 / Socket: 10mm
• Fit Exhaust Studs: M8 / Nuts: M8 / Socket: 12mm
• Fit Cylinder Studs: 187.5mm 195.5mm / Nuts: M8 / Washers: M8 / Side Bolts: M6 / Socket: 8mm-12mm
• Fit 57mm Stud Spacing (B-Block)
• Fit 57mm Rocker Arm 2V Assembly
• Fit Crankshaft 57.8mm +3mm
• Fit Dowel Pin Set (10x14mm)
• Fit Cam Chain 45 (90) links
• Fit Chain Guide (standard)
• Fit 57mm Cylinder Head 59mm to 63mm 2V
• Fit GY6 125/150cc+
• Optional: cut plastic fan shroud for best fitment

Supported Models: GY6 161QMK 161QML Chinese Scooter, ATV, Kymco, Polaris RZR 171, Ruckus, Vento

-----
Item Weight & Product Dimensions:
• 2.318 pounds | 5.804" (L) x 5.313" (W) x 2.728" (H)
Taida Cylinder Head 61mm 171cc 2V 28/23 Fit 57mm (GY6)
Stock:

ETA 45 - 60 Days

Reward Points:

7

Part #:

GY6-02057-28-23-1

Taida
Price in reward points: 176
Tags:
171cc
,
171cc bbk
,
171cc big bore kit
,
taida 171cc big bore kit
,
taida cylinder head 61mm 171cc 2v 28-23 fit 57mm gy6
,
taida cylinder head 63mm 2v 28-23 fit 57mm gy6 125-180cc
,
taida 63mm cylinder head 2v 28-23 fit 57mm gy6 125-180cc
,
taida 61mm cylinder head
,
61mm taida cylinder head
,
taida oversize 63mm cylinder head 2v 28-23 fit 57mm gy6
,
taida oversize 63mm cylinder head 2v 28-23 fit 57mm
,
taida oversize 63mm cylinder head 2v 28-23
,
taida oversize 63mm cylinder head 2v
,
taida oversize 63mm cylinder head
,
taida 63mm cylinder head
,
gy6 63mm cylinder head
,
taida 59mm cylinder head 2v 28-23 fit 57mm gy6 125-180cc
,
taida oversize 59mm cylinder head 2v 28-23 fit 57mm gy6
,
taida oversize 59mm cylinder head 2v 28-23 fit 57mm
,
taida oversize 59mm cylinder head 2v 28-23
,
taida oversize 59mm cylinder head 2v
,
taida oversize 59mm cylinder head
,
taida 59mm cylinder head
,
gy6 59mm cylinder head