Taida Cylinder Stud 218mm 225mm 4V Set (GY6)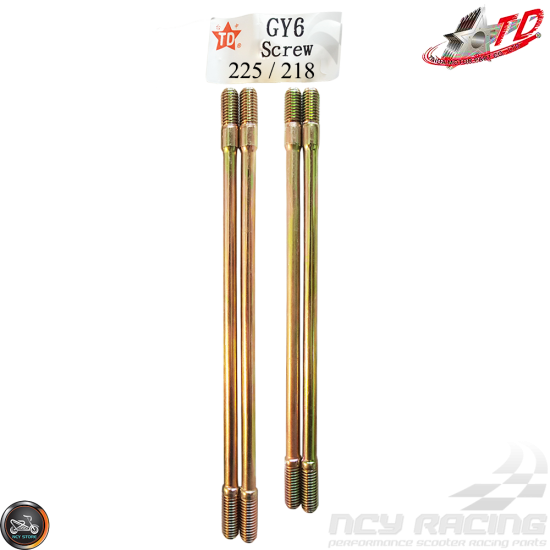 Description:
Taida Extended Cylinder Stud 4-Valve Set for GY6 205cc-232cc. Includes two short studs at M8x218mm and two longer studs at M8x225mm. Set of 4 studs.
NOTE: The long thread screw into the crankcase, the shorter thread is nutted. Recommended apply blue Loctite and torque no more than 7 ft-lbs max. on these 8mm studs. For assurance please consult your manufacturer's torque specs.

Specifications:

Include the following Cylinder stud set.
• 2x Cylinder Studs (Rt Crankcase): M8x218mm
• 2x Cylinder Studs (Lt Crankcase): M8x225mm
• Thread Length: 20mm (end-Crankcase)
• Thread Length: 16mm (end-Rockrarm)
• Made in Taiwan
• Fit Intake Studs: M6 / Nuts: M6 / Socket: 10mm
• Fit Exhaust Studs: M8 / Nuts: M8 / Socket: 12mm
• Fit Cylinder Stud Nuts: M8 / Washers: M8 / Side Bolts: M6 / Side Bolts: M6 / Socket: 8mm-12mm
• Fit 54mm Stud Spacing (A-Block)
• Fit 57mm Stud Spacing (B-Block)
• Fit 54mm Rocker Arm 4V Assembly
• Fit 57mm Rocker Arm 4V Assembly
• Fit Crankshaft +8.2mm
• Fit Dowel Pin Set (10x20mm)
• Fit Cam Chain 48 (96) links
• Fit Cam Chain Guide (A & C)
• Fit Taida Ceramic Cylinder 67mm 4V
• Fit Taida Liquid Cylinder 67mm 4V
• Fit Cylinder Head 67mm 4V
• Fit GY6 125/150cc+

Supported Models: Taida Crankcase (Part# GY6-KS-S / GY6-KS-L); GY6 161QMK 161QML Chinese Scooter, ATV, Kymco, Ruckus, Vento
-----
Item Weight & Product Dimensions:
• 0.518 pounds | 8.583" / 8.858" (L) x 0.315" (W) x 0.250" (H)

Taida Cylinder Stud 218mm 225mm 4V Set (GY6)
Stock:

40

Part #:

GY6-STUDS-218-225-4V

Taida
Price in reward points: 23