Taida Gear Set 16*37 (GY6)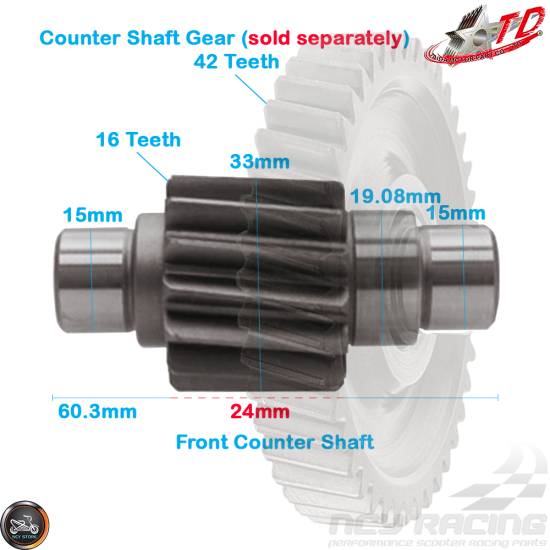 30 - 45 Days
Description: Taida Gears Set 16*37 is longer by 25% from the stock (13/40 teeth) which will provide higher top-end speed without losing power on acceleration. The final drive ratio is the last bit of gearing between your transmission and the driven wheels. In general, a lower final drive ratio will lead to less torque at the wheels but higher top speed. Meanwhile, a higher ratio will result in the opposite, i.e. more torque at the wheels but lower top speed.Compare to stock GY6 125/150cc+ transmission gear ratio set is 13x40 this up gear set is 16x37 = 2.31:1. Get the most out of your big bore kit, with increased top speed and a more usable rev range performance.

NOTE: Machine shop 12-ton hydraulic compressor is required for removing gear off donor counter shaft and then re-pressing the donor gear onto the replacement Taida countershaft.

Specifications:
Includes the following two-piece transmission gear set.
• Front Counter Shaft Teeth: 16
• 60.5mm (L) 27.35mm (OD) x 15mm (ID)
• Rear Final Drive Gear Teeth: 37 / Inner Splines: 19
• 75mm (L) 20mm (W) x 18mm (ID)
• Fit 54mm Stud Spacing (A-Block)
• Fit 57mm Stud Spacing (B-Block)
• Fit GY6 125/150cc+

Supported Models: GY6 152QMI 157QMJ 161QMK 161QML Chinese Scooter, ATV, Genuine Buddy, Kymco, Polaris RZR 170, Ruckus, Vento
-----
Item Weight & Package Dimensions:
• 1.2 pounds | 8.06" (L) x 2.25" (W) x 1.68" (H)

Taida Gear Set 16*37 (GY6)
Stock:

30 - 45 Days

Reward Points:

1

Part #:

GY6-GEAR1637

Taida
Price in reward points: 42
Tags:
gear set
,
taida transmission gear set
,
taida transmission gear
,
taida gear set
,
taida gear
,
taida transmission gear set 16-37 gy6
,
taida transmission gear set 16-37
,
gy6 gear set
,
gy6 transmission gear set 16-37
,
gy6 gear set 16-37
,
scooter transmission gear set 16-37
,
scooter gear set 16-37