Taida Intake Manifold 32mm (Honda Dio)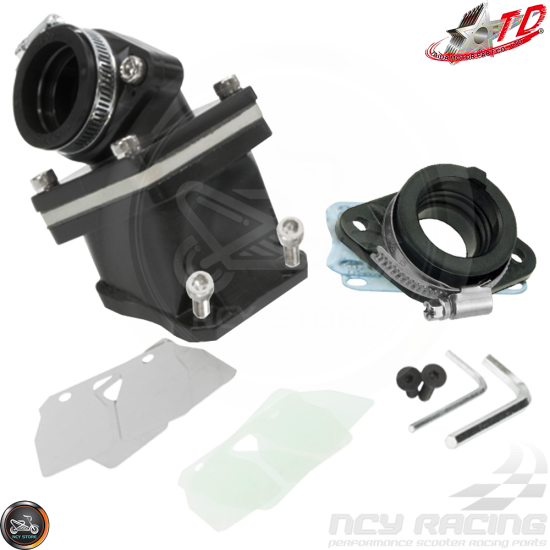 ETA 45 - 60 Days
Description: Taida Intake Manifold Non-EGR 32mm offers a smooth bore and larger inlet diameter over the stock. Combined, these two assets allow more air and more fuel into your cylinder, giving you more power. Intake manifold upgrades are a must for larger carburetors. It doesn't make sense to install a large carburetor only to have its flow restricted by the manifold. Larger manifolds can make a noticeable power increase on their own and provide a choice option over the standard rubber manifolds. Long-lasting parts, and more power. It's a win-win.
NOTE: THIS IS NOT FOR EARLY MODEL (PRE-1994) AF05E Engines. When joined together with a 26mm-32mm carburetor, please verify the carburetor's outer-diameter manifold port is within 2mm ± (34mm or 38mm).
Features:
Includes the following Intake manifold, Clamp, Reed cage, Gaskets, Allen bolts, and Taida Sticker.
• Alumin-Plastic Intake Manifold
• Alumin-Flange Riser (reed cage)
• One Base Gasket + Reeds
• One Alt-Size Carburetor Joint
• Two Stainless Steel Clamp
• Two Allen Wrenches
• Four Stainless Allen Bolts
Specifications:
• Carb Bore: 32mm
• Carb Adaptor-1: 2mm max. ± 32mm
• Carb Adaptor-2: 2mm max. ± 38mm
• Engine Bore: 27.5mm
• Fit Taida Crankshaft 52.6mm
• Fit Taida Cylinder Kits 52mm to 56mm
• Fit PWK Carburetor 26mm-32mm
• Fit TM26 / TM32 Carburetor
• Fit DIO 50/90cc+

Supported Models: Honda Dio AF16 AF18E 50; Elite S/SE/SR 1994-2001, Daelim Cordi 50, Kymco Fever/ZX50, SYM DD50
-----
Item Weight & Package Dimensions:
• 1 Pounds | 7.9" (L) x 2.8" (W) x 2.8" (H)

Taida Intake Manifold 32mm (Honda Dio)
Stock:

ETA 45 - 60 Days

Reward Points:

4

Part #:

DIO-MANIFOLD-G08

Taida
Price in reward points: 123
Tags:
taida intake manifold 32mm
,
taida intake manifold 32mm honda dio
,
taida intake manifold 32mm honda elite
,
taida intake manifold non-egr 32mm dio
,
taida intake manifold
,
taida intake manifold non-egr 32mm elite
,
taida 32mm intake manifold non-egr dio
,
taida 32mm intake manifold non-egr elite
,
taida intake manifold 32mm
,
dio intake manifold non-egr 32mm
,
dio intake manifold
,
scooter coated intake manifold non-egr 32mm
,
honda scooter intake manifold
,
taida intake manifold non-egr 36mm dio
,
taida intake manifold non-egr 36mm elite
,
taida 36mm intake manifold non-egr dio
,
taida 36mm intake manifold non-egr elite
,
taida intake manifold 36mm
,
dio intake manifold non-egr 36mm
,
scooter coated intake manifold non-egr 36mm