Taida Piston Forged 67mm 4V Set (GY6)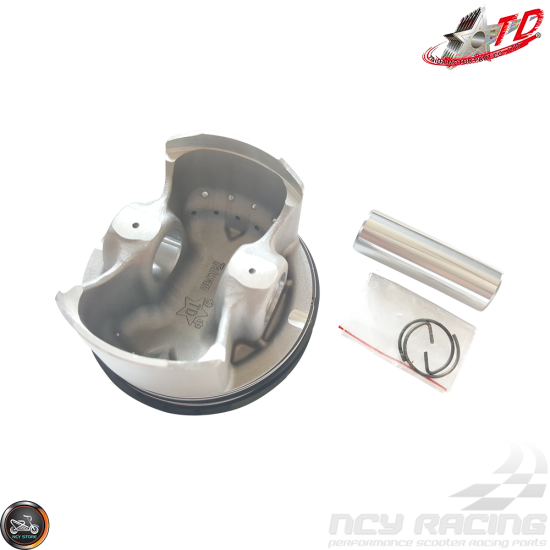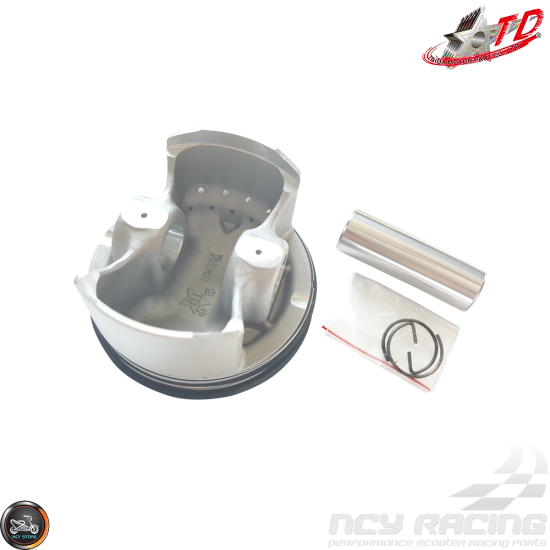 Description: Taida Piston Forged 67mm 4V Set 232cc for 4-stroke GY6 Engine. Forged aluminum piston offers better durability and reduced friction for GY6 205/232cc engines. The piston is 67mm and needs to be used with Taida Cylinder 67mm jug and Taida Crankshaft 66mm 4V 8200 Stroker (232cc) with Taida Cylinder Head 67mm 4V.
NOTE: Boring and machining may require unless used Taida Crankcase (Part# GY6-KS-S or # GY6-KS-L).

Specifications:
Includes the following Piston + Rings, Wrist pin, Locking rings, and Taida Sticker.

• 1x Forged Piston: 67mm*
• 5x Piston Rings: 67mm 0.8/0.8/2.0
• 1x Wrist Pin w/G-clips: 36mm x 15mm
• Made in Taiwan
• Fit Cam Chain 48 (96) links
• Fit Cam Chain Guide (A & C)
• Fit Crankshaft 66mm 4V 8200
• Fit Stud Set- 218mm 225mm
• Fit Base Dowel Pin Set (10x20mm)
• Fit 57mm Stud Spacing (B-Block)
• Fit Taida Ceramic Cylinder 67mm
• Fit Taida Liquid Cylinder 67mm
• Fit Cylinder Head 67mm 4V
• Fit GY6 125/150cc+ BORE

CORRECTION: piston "EX" smaller valve indent should be facing down toward the exhaust. This means the entire piston engrave 61mm and the Taida Star symbol would be upside-down NOT like the video shown. We did this for the reading aesthetic of what piston size/brand installed. *New designed, now come aesthetically upright Taida Star symbol and it's marked "IN" piston near indent should face up (intake).

Supported Models: Taida Crankcase (Part# GY6-KS-S / GY6-KS-L); GY6 161QMK 161QML Chinese Scooter, ATV, Genuine Buddy, Kymco, Ruckus, Vento
-----
Item Weight & Product Dimensions:
• 0.3625 pounds | 2.637" (L) x 2.637" (W) x 1.5" (H)

Taida Piston Forged 67mm 4V Set (GY6)
Stock:

1

Reward Points:

5

Part #:

GY6-PIS67-F-4V

Taida
Price in reward points: 127