TRS CVT Case Brace Raw Steel (GY6 longcase)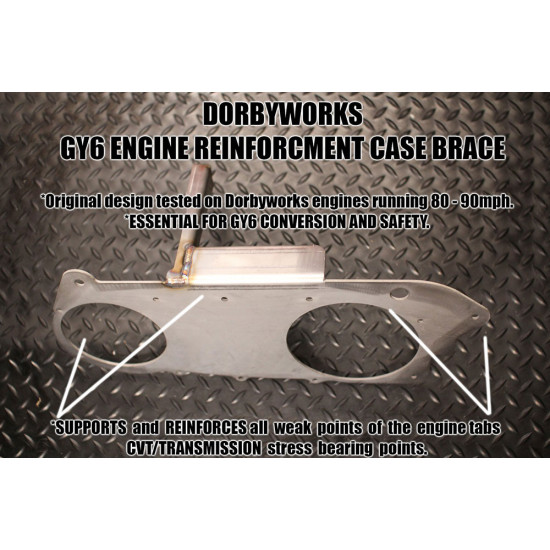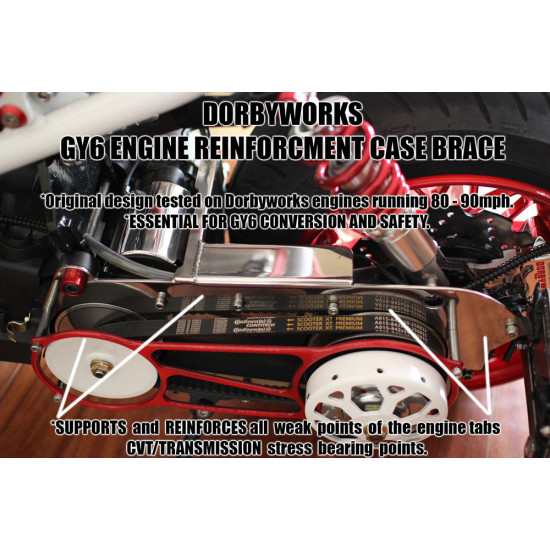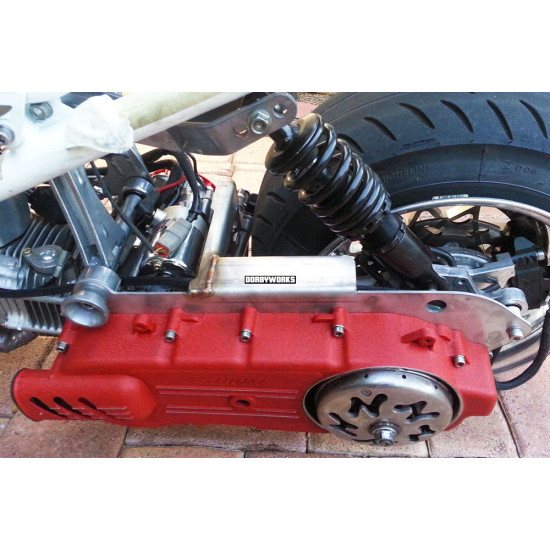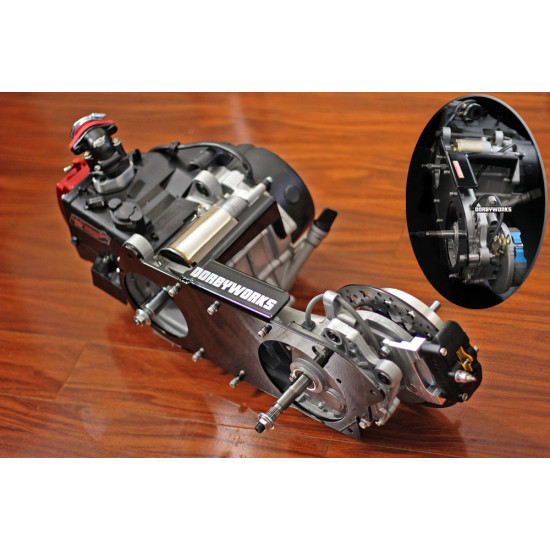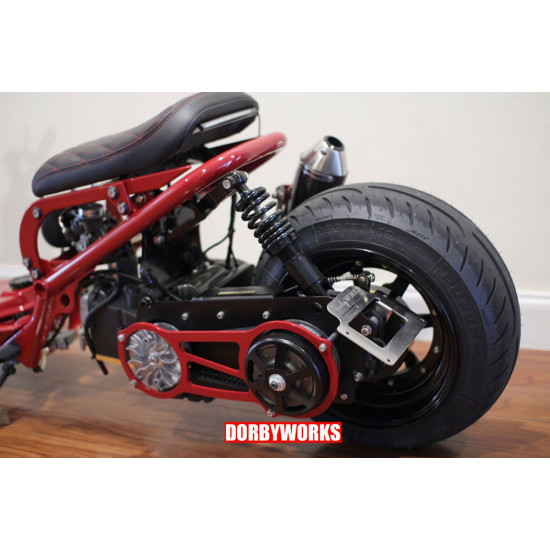 Description: TRS Reinforcement Stainless Steel CVT Case Brace for GY6 longcase. Made from raw high-quality stainless steel, no rust!!! The brace comes with machined stainless steel, ready for you to Powder Coat, Paint, Anodized, Polish or finish however you'd like.

NOTE: GY6 engine, drive face, clutch bell, and starter motor - not included, sold separately. Belt guard (front frame) not included. Case brace comes in raw stainless steel - not polish or black powder-coated.
Features:

• Case Brace Tested Rigorously up to 90mph on rough roads
• Compatible with longcase Ankle Biter \ CVT Trims
• Complete 3-Point System CVT/Trans Stress Bearing Points
• Connects to the Fan Cover Side of the Engine Block
• Developed through 7-Years of Riding Ruckus Conversions
• Essential for GY6 Engine Conversion and Safety
• Supports and Reinforces All Weak Points of Engine Tabs
Specifications:

Includes the following Case brace, Allen bolts, Spacer, Washers, Emblem, Key fob, and Dorbyworks Sticker.
• 1x Stainless Steel 'Backing Plate'
• 1x Alumin-Silver Contour Spacer
• 8) Stainless Steel Allen Bolts w/Washers
• Made in the U.S.A.
• Fit Variator: 115mm / Weights: 18x14mm / Slides: 3 / Boss: 24mm / Shims: 24mm / Drive Spline: 19 / Nut: M12 / Washer: M12
• Fit Clutch: 121.8mm / Shaft: 174mm / Sheave: 34mm / Nuts: M12, M28 / Washer: M12 / Bearing Seat: 45.4mm / Bell Spline: 19 / Socket: 17mm, 39mm
• Fit Clutch Springs: 1k, 1.5k, 2k rpm
• Fit Compression Spring: 1k, 1.5k, 2k rpm
• Fit Belt Size: 835, 842-20-30
• Fit Dowel Pin Set (8x10mm)
• Fit GY6 125/150cc+ (longcase)

Supported Models: GY6 152QMI 157QMJ 161QMK 161QML Chinese Scooter, ATV, Genuine Buddy, Kymco, Ruckus, Vento
-----
Item Weight & Package Dimensions:
• 2 Pounds | 22" (L) x 10" (W) x 8" (H)
TRS CVT Case Brace Raw Steel (GY6 longcase)
Stock:

39

Reward Points:

7

Part #:

TRS-RCB072

TRS
Price in reward points: 180
Tags:
trs-cvt-case-brace-raw-steel-gy6-longcase
,
trs cvt case brace raw steel gy6
,
trs reinforcement case brace gy6
,
trs reinforcement case brace
,
engine brace
,
cvt case brace
,
engine cvt brace
,
trs reinforcement engine case brace raw steel gy6
,
trs reinforcement engine case brace gy6
,
trs reinforcement engine case brace
,
gy6 reinforcement engine case brace raw steel
,
gy6 reinforcement engine case brace
,
gy6 reinforcement engine case brace
,
case brace cvt cover Anklebiter
,
case brace cvt cover
,
case brace Anklebiter gy6
,
Anklebiter gy6 case brace
,
gy6 Anklebiter case brace
,
gy6 cvt open cover case brace
,
case brace open cvt cover
,
gy6 silver Anklebiter case brace
,
gy6 Anklebiter case brace
,
gy6 cvt cover case brace