Uni Breather Filter 3/8in Push-In (UP-122)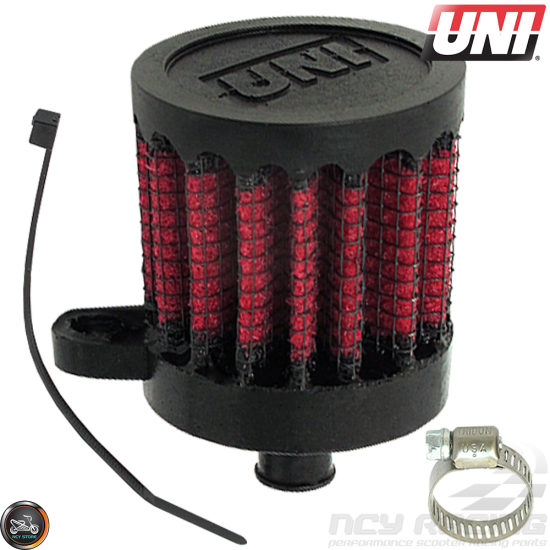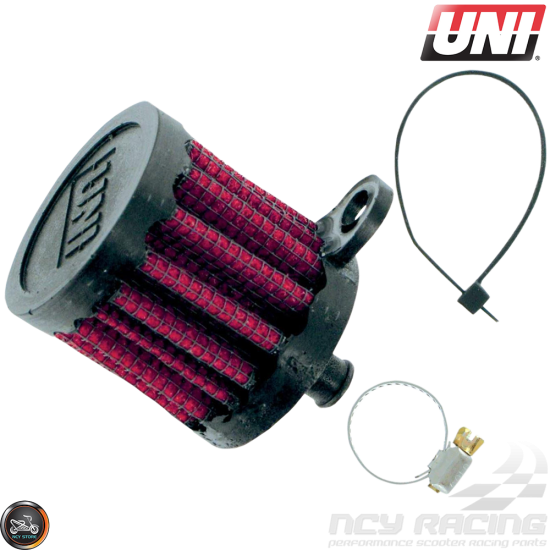 Description: Uni-versal air filter is where it all started over 45 years ago. High-Quality Male "Push-In" Breather Filter made by UNI. Make the world's best quality filter that push-in directly to the crankcase hose and differentials. UNI's signature red urethane foam to give your scooter that race-ready look. Also, for use on air compressors, go-karts, motorcycles, snowmobiles, tractors, anything with crankcase ventilation can benefit from a Uni Breather Filter. It's superior dirt capturing capabilities and its capacity to be easily cleaned and reused. Also, available push-ins 5/16" and 1/2" size options.
The 5/16" and 3/8" Uni Filter Push-In Breathers paired along with the PK-22 Air Filter (Part# 230-64) will allow you to eliminate the stock airbox on your Honda Ruckus 50cc!
NOTE: Uni's Breathers are made of a washable urethane that needs no oil or special cleaners. Not legal for sale or use on California pollution-controlled vehicles. For off-road use only.
Features:
• Better Flowing than Paper Elements
• Lifetime Guarantee Against Defects Material / Workmanship
• New Uni Washable Urethane Material
• No Oil or Special Cleaners Required
• Unaffected by Moisture or Gasoline
• Zip-Tie Loop for Easy Mounting
Specifications:

Includes the following Breather filter and Clamp.
• Filter OD: 38mm (1.496 in.)
• Filter Length: 41mm (1.6 in.)
• Filter Open: 9.5mm (0.375 in.)
• Foam Layer: Red
• Stainless Steel Clamp: 8-14mm
• Urethane Flange Straight: 0°
• Washable \ Reusable
• Made in the U.S.A.
• Fit Vent Hose 8mm-12mm
• Fit DIO 49/90cc+
• Fit QMB 49/50cc+
• Fit GY6 125/150cc+
Supported Models: GY6 152QMI 157QMJ 161QMK 161QML Chinese Scooter, ATV, Genuine Buddy, Kymco, Polaris RZR 170, Ruckus, Vento, and virtually any engine with these measurements.
-----
Item Weight & Product Dimensions:
• 0.09 pounds | 1.6" (L) x 1.496" (W) x 0.375" (H)

Uni Breather Filter 3/8in Push-In (UP-122)

Uni
Price in reward points: 15
Tags:
uni breather filter 3-8in push-in up-122
,
uni-breather-filter-9.5mm-push-in-up-122
,
crankcase breather filter
,
crankcase breather
,
crankcase vent breather filter
,
crankcase vent breather
,
crankcase ventilation filter
,
crankcase ventilation
,
crankcase vent
,
9.5mm breather filter push-in up-122
,
uni breather filter 9.5mm pod push-in up-122
,
uni breather filter pod 9.5mm push-in up-122
,
uni pod filter
,
uni air filter
,
9.5mm breather air filter
,
9.5mm breather filter
,
breather filter
,
breather air filter 9.5mm push-in
,
uni air filter universal push-in air filter
,
uni air filter
,
uni air flow filter
,
uni breather air filter
,
air-flow filter
,
air filter
,
air breather filter
,
breather air filter
,
gy6 breather flow filter
,
gy6 breather filter
,
scooter breather filter