Taida Oil Cooler Kit (GY6, Universal)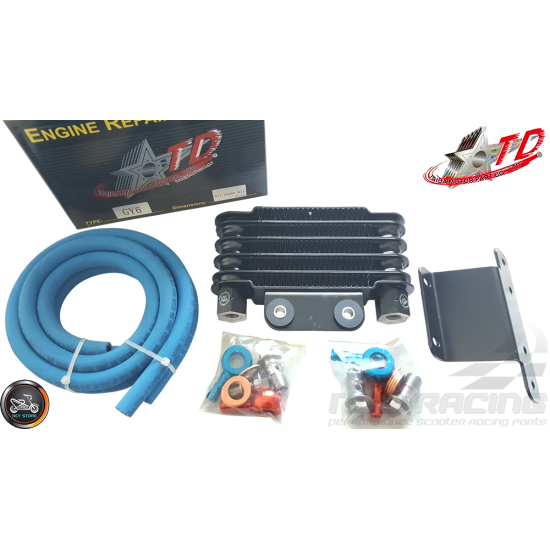 ETA 45 - 60 Days
Description: TAIDA Oil Cooler Kit is the perfect addition to your high-performance GY6 125/150cc. More oil and cooler oil both equal lower engine temperatures, longer oil life, and longer engine life in all riding conditions. Includes all hardware and lines to install. No Boring Required! Just bolt-on!

NOTE: This does NOT include right-side crankcase banjo connection ports or 17mm banjo oil port adapter may require unless used Taida Crankcase (Part# GY6-KS-S / GY6-KS-L). Also, hose clamps are not included, sold separately.

Specifications:

Includes the following listed below oil radiator, hose, and banjo fittings.
• 1x Alumin Radiator: 163.83x104x32.35mm
• 4x Alumin-Alloy Banjo Fittings: 12x12mm
• 4x Alumin-Alloy Elbow Joints: 12x9mm
• 8x Copper Washers: 20x12.2mm
• 1x Oil Hose: 12.3x914mm
• Made in Taiwan
• Fit 12mm Banjo Connection Oil Ports
• Fit Oil Drain Cap: M30 / O-ring: 30mm / Spring: 26mm / Mesh: 18mm / Bolts: M8, M12 / Washers: M8, M12 / Sockets: 10mm, 12mm, 17mm
• Fit GY6 125/150cc+

Supported Models: Taida Crankcase (Part# GY6-KS-S / GY6-KS-L); GY6 161QMK 161QML Chinese Scooter, ATV, Genuine Buddy, Kymco, Ruckus, Vento, and virtually any other GY6-based engine with banjo connection oil ports.
-----
Item Weight & Package Dimensions:
• 1.662 pounds | 6.95" (L) x 5.5" (W) x 4.75" (H)

Taida Oil Cooler Kit (GY6, Universal)
Stock:

ETA 45 - 60 Days

Reward Points:

8

Part #:

GY6-050-NOKS

Taida
Price in reward points: 223
Tags:
taida oil cooler kit gy6 universal
,
taida oil cooler kit gy6 universal
,
taida oil cooler kit gy6 ruckus
,
taida oil cooler kit gy6b universal
,
taida oil cooler kit gy6b ruckus
,
taida 2nd oil cooler set
,
12mm gy6 oil cooler
,
oil cooler 12mm gy6
,
12mm gy6b oil cooler
,
oil cooler 12mm gy6b
,
12mm universal oil cooler
,
oil cooler 12mm universal
,
taida oil cooler kit
,
taida oil cooler
,
gy6 oil cooler kit
,
gy6 oil cooler set
,
qmb oil cooler kit
,
qmb oil cooler set
,
scooter oil cooler kit
,
scooter oil cooler set