Prima Oil Drain Magnetic 17mm Kit (QMB, GY6, Universal)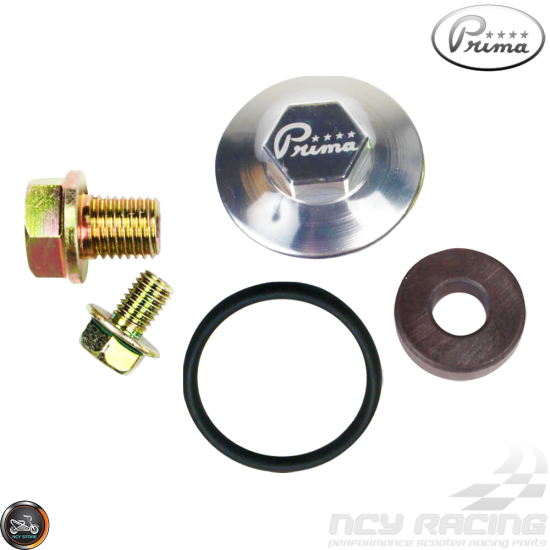 Hot


Description: A total no-brainer! This kit makes your oil drain bolt magnetically charged to pick up any particles floating in the oil. It's the oldest trick in the book, for good reason--it works!

NOTE: Please confirm measurement is correct prior to ordering.

Specifications:
Include the following Oil magnetic kit.
• 1x Alloy-Drain Cap ID: M30x1.5mm / OD: 17<40mm / H: 17.4mm
• 1x Cap Rubber O-ring ID: 30mm / OD: 33mm / H: 3mm
• 1x Cap Magnetic Donut ID: 8mm / OD: 23.7mm / H: 6mm
• 1x Steel Magnetic Drain Bolt: M12 / L: 25mm / OD: 17<20mm
• 1x Steel Magnetic Drain Bolt: M8 / L: 19.6mm / OD: 12<16.6mm
• Made in Taiwan
• Fit Oil Drain Cap Spring: 26mm / Mesh: 18mm / Washers: M8, M12 / Sockets: 10mm, 12mm, 17mm
• Fit GY6 125/150cc+
• Fit QMB 49/50cc+
• Fit VOG 250cc+
Supported Models: 139QMB 49/50cc 4-stroke, GY6 152QMI 125cc, 157QMJ 150cc, 161QMK 170cc, 161QML 200cc, ATV, Chinese Scooter, CMS Prodigy, Flyscooters Cadenza, Genuine Buddy, GY6B 4-stroke ZNEN engines commonly found in BMS Pathfinder, Kymco, Lance Phoenix, Linhai 260, VOG 260, Motorino Cassini, Polaris RZR 170, Ruckus, Vento, Xingyue ITA-150, ZNEN ZN150T-18, and virtually any other GY6-based engine with these measurements.
-----
Item Weight & Package Dimensions:
• 0.15 pounds | 5.898" (L) x 5.2" (W) x 0.816" (H)
Prima Oil Drain Magnetic 17mm Kit (QMB, GY6, Universal)
Stock:

16

Part #:

1300-1007

Prima
Price in reward points: 15