TRS CVT Cover Anklebiter Ultimate Silver (GY6 longcase)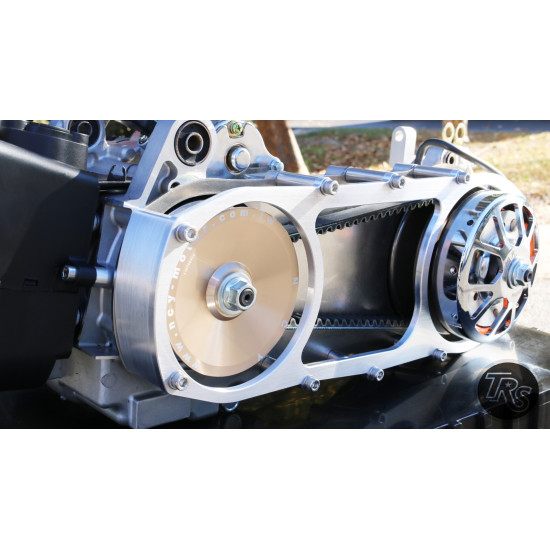 Description: TRS GY6 Anklebiter Ultimate Open CVT Cover! This CVT open cover is CNC Machined from a solid 6061 Aircraft-Grade Billet Aluminum! This is the NEW Ultimate CVT cover includes a 0.09" thick stainless steel 'backing plate' to help prevent case cracking, along with covering the ugly insides of the stock swingarm, a billet machined decorative front plate, billet aluminum machined standoffs that hold the decorative plate out from the swingarm for that open visual custom look.
Added protection included is solid 6061 Aircraft-Grade Billet Aluminum billet side panels for ultimate strength and no getting your pant's leg caught when doing a burnout. These side panels also protect well the drive face and CVT belt from direct road debris head-on. These plates come from RAW machined aluminum, ready for you to powder coat, paint, anodized, polish, finish or use as raw silver look.
Attention! This item does require the removal of the OEM CVT cover, which also removes the OEM kickstart assembly. Be sure your electric starter is in good working order! This part exposes the belt drive of the CVT transmission and allows the pulleys to spin in the open air.

NOTE: GY6 engine, drive face, clutch bell, and starter motor - not included, sold separately. Caution must be taken when using this product! This is intended for show purposes/off-road use only and should not be used on a public road or highway! You are responsible for any damage this product may cause to you personally or any other objects/personal property.
Installation: 1. Slack the belt by opening the CVT clutch gives belt slack to the variator side. 2. Then install the variator drive face while lifting the slack belt further away from the center boss if done properly should not see any splines between variator drive face slop-side and boss flat-side. Should be flushed together. 3. Then install the existing variator fan, washer, and hand-tight nut. 4. Finally, apply blue Loctite, torque nut to 30-35ft-lbs. For reassurance please consult your manufacturer's variator torque specs.

Specifications:

Includes the following CVT Cover Front plate, Back plate, Side plate, Allen bolts, Washers, and Concave spacers.
• 1x CNC Billet Aluminum #6061 Front Plate L: 17.75" / W: 6.5" / Thick: 0.25"
• 2x CNC Billet Aluminum #6061 Side Plates L: 4<4.7" / W: 1.5" / Thick: 0.3<0.5"
• 1x Stainless Steel Back Plate L: 18" / W: 6.9" / Thick: 0.09"
• 6x CNC Billet Aluminum #6061 Concave Spacers
• 10x Stainless Steel Allen Bolts w/Washers
• Made in the U.S.A.
• Fit Variator: 115mm / Weights: 18x14mm / Slides: 3 / Boss: 24mm / Shims: 24mm / Drive Spline: 19 / Nut: M12 / Washer: M12
• Fit Clutch: 121.8mm / Shaft: 174mm / Sheave: 34mm / Nuts: M12, M28 / Washer: M12 / Bearing Seat: 45.4mm / Bell Spline: 19 / Socket: 17mm, 39mm
• Fit Compression Spring: 1k, 1.5k, 2k rpm
• Fit Clutch Springs: 1k, 1.5k, 2k rpm
• Fit Belt Size: 835, 842-20-30
• Fit Dowel Pin Set (8x10mm)
• Fit GY6 125/150cc+ (longcase)

Supported Models: NCY CVT KIT (Part# 1200-1048); GY6 152QMI 157QMJ 161QMK 161QML Chinese Scooter, ATV, Genuine Buddy, Kymco, Ruckus, Vento
-----
Item Weight & Product Dimensions:
• 3.25 Pounds | 18" (L) x 6.9" (W) x 1.2" (H)

TRS CVT Cover Anklebiter Ultimate Silver (GY6 longcase)
Stock:

36

Reward Points:

9

Part #:

TRS-AO1265

TRS
Price in reward points: 249
Tags:
trs-cvt-cover-anklebiter-ultimate-silver-gy6-longcase
,
ankle-biter
,
anklebiter
,
ankle-bitter
,
anklebitter
,
trs cvt cover Anklebiter ultimate silver gy6
,
trs cvt cover Anklebiter
,
trs cvt cover
,
trs Anklebiter gy6
,
Anklebiter gy6
,
gy6 Anklebiter
,
gy6 cvt open cover
,
open cvt cover
,
gy6 silver Anklebiter
,
gy6 Anklebiter silver
,
gy6 cvt cover