Ban Jing Variator 115mm Kit (GY6)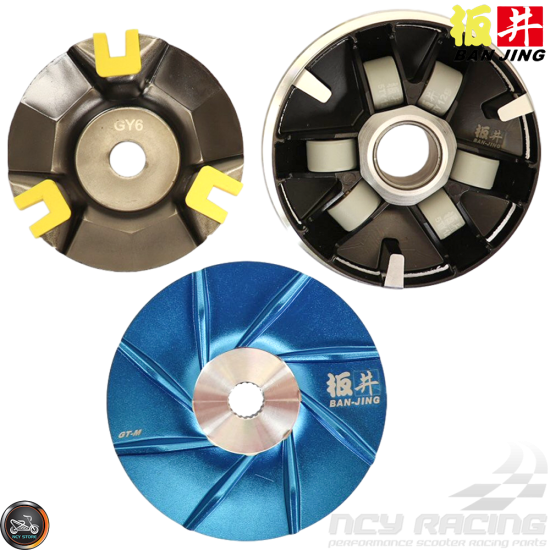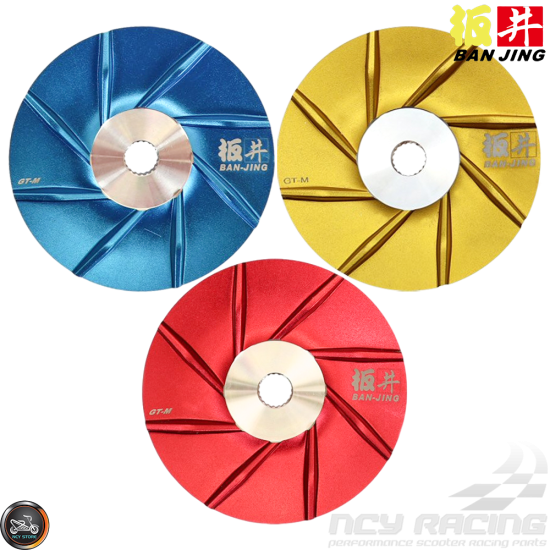 Description: Ban Jing 115mm performance variator with lightweight forged drive face for GY6 125\150cc 4-stroke engine-based scooters, ATVs, and off-road karts. This variator uses six 20x12 weights to allow for additional movement versus a standard 18x14 weight. Variator kits include a pack of 12g weights. Please see related items for additional 20x12 weights. Normally, 20x12 weights are sold in packs of eight, so you will have leftovers.
NOTE: Variator slides may be yellow as pictured or red. The functionality is the same. In some models
like the Polaris RZR 170,
you'll need to widen the Ban Jing Variator Top plate center hole, with a dremel tool, to fit through its variator shaft. Recommend using a new belt with this kit. Belt and the belt drive-facing plates KEEP DRY. All, other areas
apply
moly-graphite grease
when assembling.
Installation: 1. Slack the belt by opening the CVT clutch gives belt slack to the variator side. 2. Then install the variator drive face while lifting the slack belt further away from the center boss if done properly should not see any splines between variator drive face slop-side and boss flat-side. Should be flushed together. 3. Then install the existing variator fan, washer, and hand-tight nut. 4. Finally, apply blue Loctite, torque nut to 30-35ft-lbs. For reassurance please consult your manufacturer's variator torque specs.
Specifications:
Includes the following Variator housing, Variator slides, Roller Weights, Variator top, and Drive Face Fan.

• 1x Alumin-Alloy Housing ID: 24mm / OD: 115mm / H: 36mm
• 6x Roller Weights: 20x12mm 12gm
• 1x Metal Top ID: 15mm / OD: 87mm / H: 24mm
• 3x Plastic Slides
• 1x Forged Drive Face Fan Weight: 154gm / OD: 115mm
• Splines: 19 / ID: 14.1<15mm
• Color (choose one): Blue, Gold, Red
• Made in Taiwan
• Fit Variator Boss: 24mm / Shims: 24mm
• Fit Variator/Clutch Shaft Nuts: M12 / Washers: M12 / Socket: 17mm
• Fit Belt Size: 842-20-30
• Fit Dowel Pin Set (8x10mm)
• Fit GY6 125/150cc+

Supported Models: Ban Jing CVT KIT (Part# 169-500); GY6 152QMI 157QMJ 161QMK 161QML Chinese Scooter, ATV, Genuine Buddy, Kymco, Polaris RZR 170, Ruckus, Vento
-----
Item Weight & Package Dimensions:
• 1.28 pounds | 8" (L) x 5.48" (W) x 4" (H)

Ban Jing Variator 115mm Kit (GY6)
Stock:

36

Reward Points:

2

Part #:

169-487

Ban Jing
Price in reward points: 66
Tags:
variator
,
varaitor
,
roller weight holder
,
ban jing variator 108mm set gy6
,
ban jing coated variator 115mm set gy6
,
ban jing coated variator 115mm gray color
,
ban jing coated variator
,
ban jing variator
,
gy6 variator
,
scooter variator
,
ban jing cvt variator set
,
gy6 variator set
,
pcx variator set