NCY Boring Tool (QMB, GY6, Universal)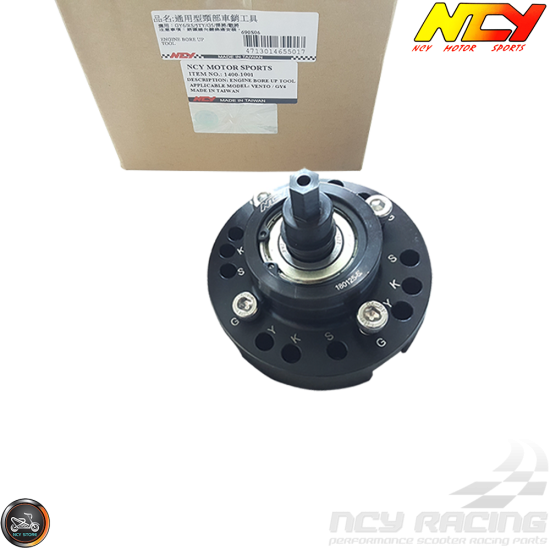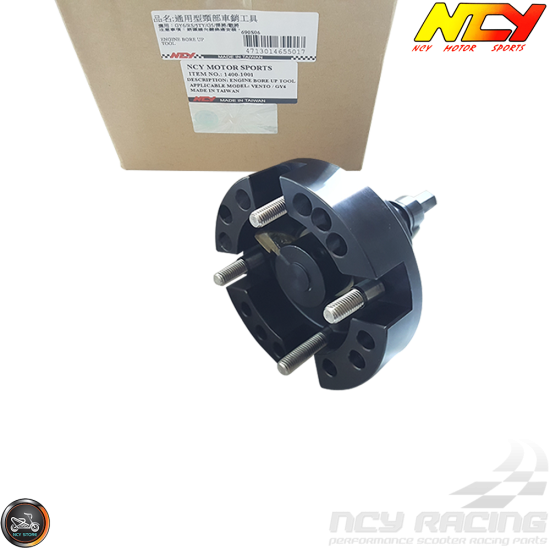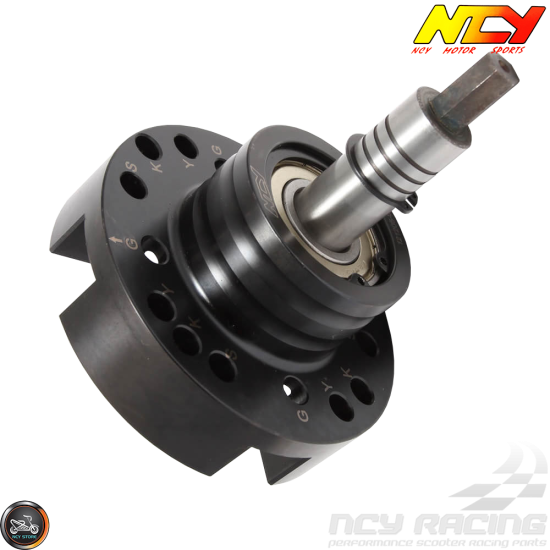 Description: Engine bore tool by NCY. A must for using most large bore cylinder kits. IMPROVED DESIGN!! Now works with multiple engine designs! Installing a GY6 cylinder kit larger than 61mm requires the factory crankcase to be machined. That is why we offer NCY Boring Tool which allows the bore of a 54mm stud GY6 engine crankcase to fit cylinder size 61mm for 171cc, 63mm for 180cc, or even 205cc+ with an extended stroker. Will also work on 139QMB bore up to 52.4mm. All else model can possibly bore up to 72mm! A replacement blade is available (Part# 1400-1081).
NOTE: This will not fit a 57mm stud spacing crankcase.
Specifications:
Includes the following power-drill attachable Bore tool, Bore bit, and Allen fasteners.
• 1x Bore Tool (upto 72mm MAX.)
• 1x Bore Bit (blade)
• Made in Taiwan
• Fit 50mm Stud Spacing /Diagonal 70.5mm (139QMB, bore upto 52.4mm)
• Fit 54mm Stud Spacing /Diagonal 76mm (A-Block, bore upto 54.6mm)
• Fit Other Models (bore upto 72mm)
• Fit GY6 50/100/125/150cc+

Supported Models: GY6 40QMB 50cc 2-stroke, 139QMB 49cc-50cc 4-stroke, 50QMF 90cc-100cc, 152QMI 125cc, 157QMJ 150cc, Chinese Scooter, ATV, Genuine Buddy, KTM Duke 125, Kymco 4v Movie 125, Kymco G3 125/150, Kymco G4 125/150, Kymco G5 125/150, Kymco Jr 100, Kymco Kiwi 100, PGO Bubu 150, PGO G-Max 150, PGO Mio 110 (ID), PGO Mio-J 115 (ID), Ruckus, Sym Attila 125/150, Sym Fighter 125/150, X-Pro 125, TaoTao, Vento 125/150, Yamaha 4v 125, Yamaha Axis Treet 125, Yamaha BWS 125, Yamaha BWS 125 X, Yamaha Cuxi 100, Yamaha Cygnus 125, Yamaha Force 125, Yamaha Fuzzy 125, Yamaha GTR 125, Yamaha GTR Aero 125, Yamaha JOG 100, Yamaha Majesty 125, Yamaha New Cuxi 100, Yamaha RS 100, Yamaha RS Zero 100, Yamaha RSZ 100, Yamaha Super-4 100, Yamaha Sv 125, Yamaha Sv-Max 125
-----
Item Weight & Product Dimensions:
• 3.638 Pounds | 4.260" (OD) x 2.837" (ID) x 4.6" (H)
NCY Boring Tool (QMB, GY6, Universal)
Stock:

30

Reward Points:

6

Part #:

1400-1001

NCY
Price in reward points: 172
Tags:
big bore tool
,
bore tool
,
boring tool
,
ncy boring tool gy6 universal
,
ncy bore tool
,
ncy crankcase bore tool gy6 universal
,
ncy crankcase boring tool gy6 universal
,
ncy bore tool
,
ncy crankcase boring tool gy6
,
ncy engine case boring tool gy6
,
ncy engine case boring tool
,
ncy gy6 case boring tool
,
gy6 boring tool
,
gy6 bore tool
,
67mm bore tool
,
72mm bore tool