NCY Brake Shoes Blue (Honda PCX)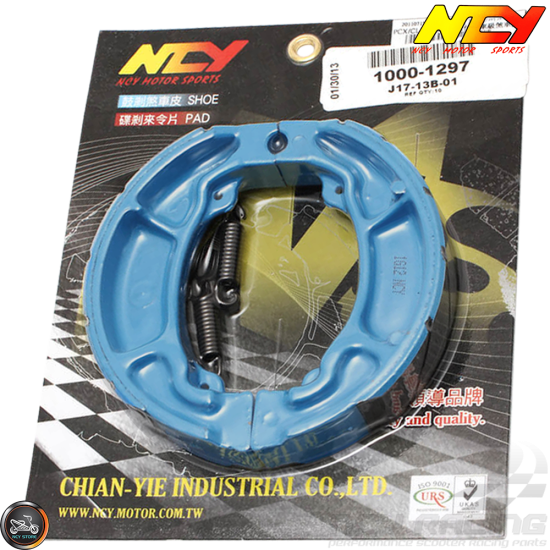 Description: NCY High-Performance Grooved Brake Shoes for Honda PCX 125/150cc and other Honda scooters. High-friction grooved linings, efficiency improves with heat. The multiple angled liner grooves are designed to channel away dirt, dust, water, and debris from the braking area to improve braking and extend shoe and drum life.
NCY Blue Series brake shoes are made using high-pressure Die cast aluminum platforms with bonded brake linings. All shoes are radius ground and edge trimmed and also feature lead-in and lead-out chamfers at lining ends and original equipment style brake shoe springs.

NOTE: Please check this measurement with your replacing brake shoes to assure proper fitment.

Specifications:
Include the following Brake shoe set.
• 2x Brake Shoes: 62mmx28mm
• 2x Clutch Springs: 35x6.5mm
• Made in Taiwan
• Fit Belt Size: 816, 836-22-30
• Fit PCX 125/150cc

Supported Models: Honda Air Blade 110, Honda Beat 110, Honda Dylan 125/150, Honda PCX 125/150, Honda PS 125/150, Honda SH 125/150, Honda Vario 110(Click 110)
-----
Item Weight & Product Dimensions:
• 0.6 pounds | 4.881" (L) x 4.8" (W) x 1.102" (H)

NCY Brake Shoes Blue (Honda PCX)
Stock:

39

Part #:

1000-1297

NCY
Price in reward points: 23
Tags:
ncy brake shoes blue pcx
,
ncy brake shoes blue honda pcx 125
,
ncy brake shoes pcx
,
pcx brake shoes blue
,
honda pcx brake shoes blue
,
pcx brake shoes blue
,
honda pcx brake shoes
,
ncy brake shoes blue air blade
,
ncy brake shoes blue honda air blade 110
,
ncy brake shoes air blade
,
air blade brake shoes blue
,
honda air blade brake shoes blue
,
air blade brake shoes blue
,
honda air blade brake shoes
,
ncy brake shoes blue beat
,
ncy brake shoes blue honda beat 110
,
ncy brake shoes beat
,
beat brake shoes blue
,
honda beat brake shoes blue
,
beat brake shoes blue
,
honda beat brake shoes
,
ncy brake shoes blue dylan
,
ncy brake shoes blue honda dylan 125
,
ncy brake shoes dylan
,
dylan brake shoes blue
,
honda dylan brake shoes blue
,
dylan brake shoes blue
,
honda dylan brake shoes
,
ncy brake shoes blue ps
,
ncy brake shoes blue honda ps 125
,
ncy brake shoes ps
,
ps brake shoes blue
,
honda ps brake shoes blue
,
ps brake shoes blue
,
honda ps brake shoes
,
ncy brake shoes blue sh
,
ncy brake shoes blue honda sh 125
,
ncy brake shoes sh
,
sh brake shoes blue
,
honda sh brake shoes blue
,
sh brake shoes blue
,
honda sh brake shoes
,
ncy brake shoes blue vario
,
ncy brake shoes blue honda click 125
,
ncy brake shoes vario
,
vario brake shoes blue
,
honda vario brake shoes blue
,
vario brake shoes blue
,
honda vario brake shoes