NCY Exhaust Gasket 27mm Steel (QMB, GY6, Universal)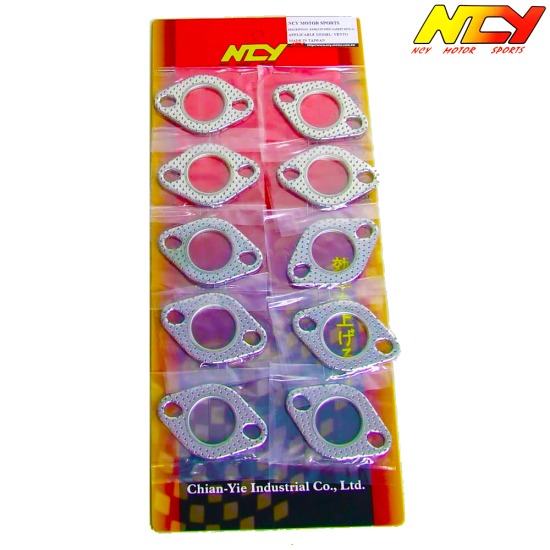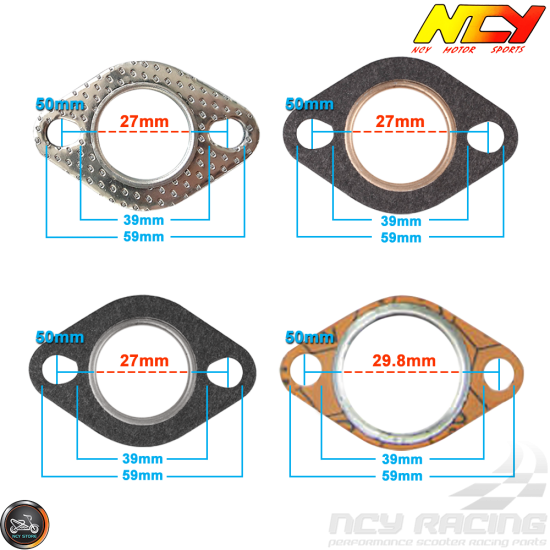 Hot
Description: NCY Exhaust Gasket Steel for the 139QMB 49/50cc 4-stroke, GY6 125/150cc 4-stroke, and various unlisted makes/model scooter engines.
When changing a cylinder kit or an exhaust, it's a good idea to pick up a few extra exhaust studs + nuts M6 set or exhaust studs + nuts M8 set since these can easily need replacing and bring your project to a grinding halt while you wait.
Specifications:

Include the following Exhaust gasket.

• 1x Exhaust Gasket L: 68mm / ID: 27mm / W: 45.15mm / H: 3.65mm
• Bolt-to-Bolt Space: 45<51mm
• Material: Steel
• Made in Taiwan
• Fit Exhaust Studs: M6 / Nuts: M6 / Socket: 10mm (Fit QMB ONLY)
• Fit Exhaust Studs: M8 / Nuts: M8 / Socket: 12mm (Fit GY6 ONLY)
• Fit GY6 125/150cc+
• Fit QMB 49/50cc+

Supported Models: GY6 40QMB 50cc 2-stroke, 139QMB 49cc-50cc 4-stroke, 50QMF 90cc-100cc, 152QMI 125cc, 157QMJ 150cc, 161QMK 170cc, 161QML 200cc, Chinese Scooter, ATV, Genuine Buddy, Kymco, Polaris RZR 170, Ruckus, Vento.
-----
Item Weight & Product Dimensions:
• 0.031 Pounds | 2.677" (L) x 1.777" (W) x 0.092" (H)

NCY Exhaust Gasket 27mm Steel (QMB, GY6, Universal)
Stock:

1

Part #:

0500-1008

NCY
Price in reward points: 4