Yoshimura Exhaust TRC Racing Carbon Full System (Honda Ruckus)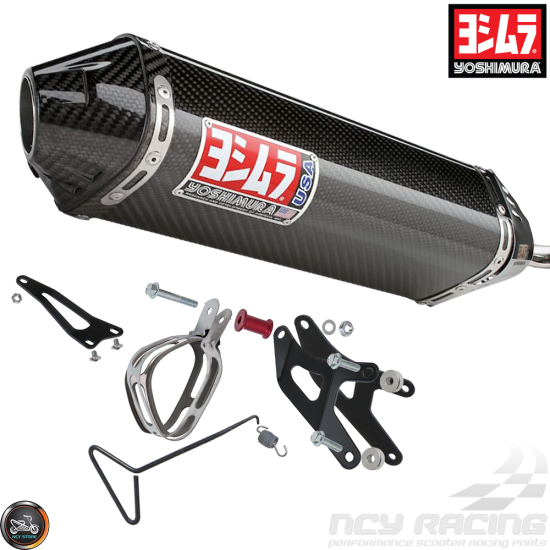 Non-Stock

Description:
Made famous by 7-Time AMA Superbike Champion, Mat Mladin. The Yoshimura TRC Exhaust System is a race proven exhaust that falls second to none featuring a Tri-Oval design and a trick cone-shaped end cap with an easily removable low-volume insert. The TRC also comes with a laser-etched heel guard that combines style and function. Perfect suit for Honda Ruckus/Zoomer 2003-2017.
The TRC Racing Carbon Full System also features an innovative stainless-steel header, which offers superior mid-range performance, and smooth torque and power curves for optimal gains. The headers also offer considerable weight reduction.
NOTE: This Yoshimura exhaust system is designed and intended for closed course competition use only. Also, available Yoshimura Exhaust TRC Racing Stainless Full System (Part# 67-10423). Downloadable PDF Installation Instructions & Parts Diagram.
Features:

• Cone End-Cap
• Diamond-Shaped Sleeve
• Large Volume Muffler Pak
• Laser-Etched Heel Guard
• Straight Baffle Ample-Flow
• USFS Approved Spark Arrestor
Specifications:

Includes the following exhaust, exhaust plug, header, mounting hardware, and Yoshimura Stickers.
• Carbon Fiber Exhaust
• Stainless Steel + Rubber Brace
• Stainless Steel Header + Mid Pipe
• 2.6 lbs Lighter Than Stock
• Made in the USA

Supported Models: Honda Ruckus/Zoomer 2003-2017, and virtually any other 50cc engine with these measurements.
-----
Item Weight & Product Dimensions:
• 7.3 pounds | 25" (L) x 14.2" (W) x 7.1" (H)

Yoshimura Exhaust TRC Racing Carbon Full System (Honda Ruckus)
Stock:

Non-Stock

Reward Points:

16

Part #:

67-10422

Yoshimura
Price in reward points: 422
Tags:
honda ruckus yoshimura exhaust
,
yoshimura exhaust trc carbon full system honda ruckus zoomer
,
yoshimura exhaust trc carbon 50cc ruckus
,
yoshimura exhaust trc carbon ruckus
,
honda zoomer yoshimura exhaust
,
yoshimura exhaust honda ruckus zoomer
,
yoshimura exhaust ruckus
,
ruckus racing exhaust
,
zoomer racing exhaust
,
racing exhaust ruckus
,
racing exhaust 50cc ruckus
,
yoshimura exhaust ruckus
,
yoshimura exhaust
,
yoshimura ruckus exhaust
,
yoshimura 50cc exhaust
,
exhaust
,
ruckus exhaust
,
50cc exhaust
,
zoomer exhaust