Naraku Oil Seal Set (Agility, SYM 50)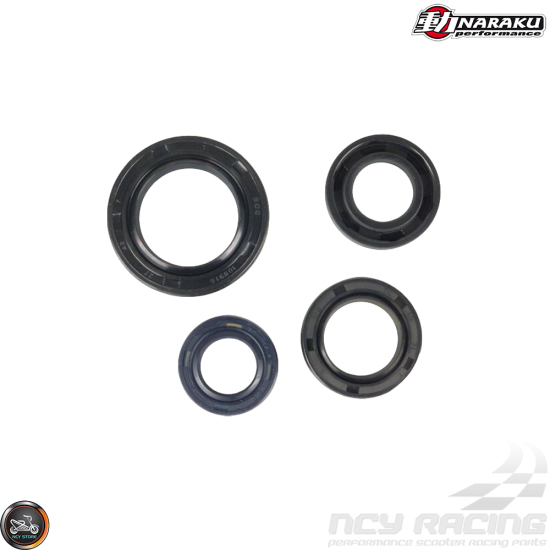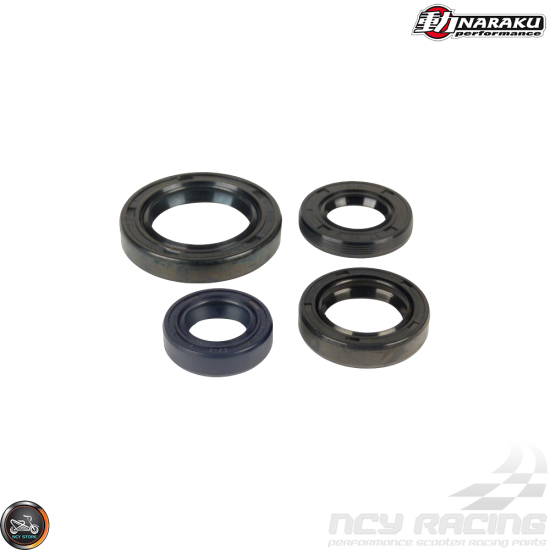 Description:
Naraku Oil Seal Set for Kymco 49/50cc, and Sym 49/50cc scooters with horizontal cylinders. Set contains all the important oil seals found in the engine. A must for engine overhauls. Purchasing individual shaft seals is usually more expensive, and when working on the engine or the gearbox, seals should always be replaced. Set includes 4-piece oil seals.
Specifications:

Includes the following Engine crank and transmission oil seals.

• 1x Flywheel Oil Seal ID: mm / OD: mm / H: mm
• 1x Variator Oil Seal ID: mm / OD: mm / H: mm
• 1x Rear Axel Oil Seal ID: mm / OD: mm / H: mm
• 1x Trans Cover Oil Seal ID: mm / OD: mm / H: mm
• Made in Taiwan
• Fit Agility 49/50cc+
• Fit SYM 49/50cc+

Supported Models: Kymco Agility 50 RS 2T KE10BA, Kymco Agility 50 RS 2T Naked KE10BB, Kymco Bet&Win 50 SH10CB / SH10CC, Kymco Grand Dink 50 G-Dink SF10RA, Kymco Grand Dink 50 SF10JA, Kymco Grand Dink 50S SF10JB, Kymco Heroism 50 Calypso 50 KCZ SB10AC, Kymco Like 50 2T / Like 50 2T LX KE10AA / KE10AD, Kymco MXU 50, Kymco MXer 50 (Mongoose), Kymco Maxxer 50, Kymco Maxxer 50 (with title), Kymco People 50 BF10AC / BF10AG, Kymco Super 8 50 2-stroke KF10AA, Kymco Super 8 50 2-stroke KF10CA, Kymco Super 9 AC 50 SF10DA / SF10DL / SF10DN, Kymco Super 9 AC 50 Sports SF10DS, Kymco Super 9 LC 50 SH10DA / SH10DD / SH10DL, Kymco Top Boy 50 (COBRA) SF10AF / SF10AG / SF10AK, Kymco Vitality 50 2-stroke and cross SF10FA / SF10FE, Kymco YUP 50 SF10EA / SF10EC / SF10EE, Kymco Yager 50 (Spacer 50) SH10AC / SH10AE, SYM (Sanyang) Jet 4R 50 2T JD05W, SYM (Sanyang) Jet 50 -00, SYM (Sanyang) Jet 50 01-05 BL05W, SYM (Sanyang) Jet 50 BasiX 08-12 BL05W, SYM (Sanyang) Jet 50 EuroX 06-12 BL05W, SYM (Sanyang) Jet 50 Evo, SYM (Sanyang) Jet 50 R SportX 07-13 BK05W-6, SYM (Sanyang) Jet 50 SR SportX 07-13 BK05W2-6, SYM (Sanyang) Jungle 50 GA05W-6, SYM (Sanyang) Mask 50 2T -00, SYM (Sanyang) Mask 50 2T 00-, SYM (Sanyang) Red Devil 50 05-09, SYM (Sanyang) Red Devil 50 99-04, SYM (Sanyang) Shark RS 50 00-
-----
Item Weight & Package Dimensions:
• 0.05 pounds | 5.5" (L) x 3.5" (W) x 0.285" (H)

Naraku Oil Seal Set (Agility, SYM 50)
Stock:

37

Part #:

NK102.01

Naraku
Price in reward points: 20
Tags:
kymco oil seal
,
naraku oil seal set kymco 50cc
,
naraku crankcase oil seal set kymco 50cc
,
naraku transmission oil seal set kymco 50cc
,
crankcase oil seal set kymco horizontal cylinders
,
transmission oil seal set kymco
,
kymco crankcase oil seal set
,
kymco transmission oil seal set
,
sym oil seal
,
naraku oil seal set sym 50cc
,
naraku crankcase oil seal set sym 50cc
,
naraku transmission oil seal set sym 50cc
,
crankcase oil seal set sym 50cc
,
transmission oil seal set sym 50cc
,
sym 50cc crankcase oil seal set
,
sym 50cc transmission oil seal set