G- Crankshaft 57.8mm Standard Stroker (GY6)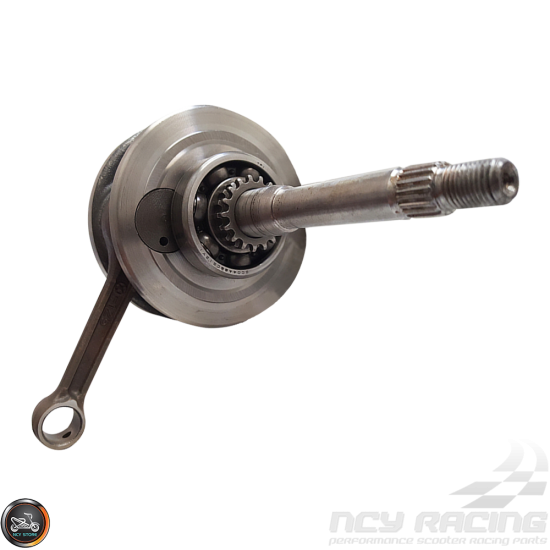 Description: GY6 Crankshaft 57.8mm Standard Stroker assembly for GY6 125/150cc 4-stroke 152QMI / 157QMJ engines.
Temperature Modification May Be Required: You'll need to heat the aluminum crankcase area where the crankshaft bearing side will be placed, in order to immediately fit the frozen crankshaft bearing, seating flush in place. Users assume full responsibility and risk doing so using this crankshaft.

Specifications:

Include the following Crankshaft stroker.

• 1x Crankshaft L: 285mm / Stroke L: 57.8mm
• 1x Piston Wrist Pin Slot ID: 15mm
• 1x Flywheel Shaft Thread: M12 x 16mm
• 1x Flywheel Shaft Bearing: 56mm x 22mm x 15mm
• 1x Variator Shaft Thread: M12 x 16mm
• 1x Variator Shaft Splines: 19
• 1x Variator Shaft Bearing: 56mm x 22mm x 15mm
• Fit Intake Studs: M6 / Nuts: M6 / Socket: 8mm
• Fit Exhaust Studs: M8 / Nuts: M8 / Socket: 10mm
• Fit Flywheel/Variator Shaft Nuts: M12 / Washers: M12 / Socket: 17mm
• Fit Starter Clutch / Nut: M22 / Washer: M22 / Castle Socket: 28.7<37.6mm
• Fit Cylinder Studs: 187.5mm 195.5mm 2V / Nuts: M8 / Washers: M8 / Socket: 12mm
• Fit 54mm Stud Spacing (A-Block)
• Fit 57mm Stud Spacing (B-Block)
• Fit Dowel Pin Set (8x14mm)
• Fit Dowel Pin Set (10x14mm)
• Fit Woodruff Keys
• Fit GY6 125/150cc+
• Optional: cut plastic fan shroud for best fitment

Supported Models: GY6 152QMI 157QMJ 161QMK 161QML Chinese Scooter, ATV, Genuine Buddy, Kymco, Ruckus, Vento
-----
Item Weight & Product Dimensions:
• 6 pounds | 11.5" (L) x 5.25" (W) x 4.75" (H)

G- Crankshaft 57.8mm Standard Stroker (GY6)
Stock:

37

Reward Points:

2

Part #:

1100-1190

G
Price in reward points: 57
Tags:
gy6 crankshaft 57.8mm stroker standard
,
gy6 crank shaft
,
gy6 standard crankshaft
,
gy6 standard stroker
,
gy6 original stroker
,
gy6 original crankshaft
,
gy6 oem stroker
,
gy6 oem crankshaft
,
gy6 crankshaft
,
gy6 oem crankshaft
,
gy6 stock crankshaft
,
scooter crankshaft
,
gy6 crank stroker
,
gy6 stroker
,
gy6 oem stroker
,
gy6 stock stroker
,
scooter stroker