NCY Front Axle 12mm x 250mm Electroplated (GET, QMB, GY6)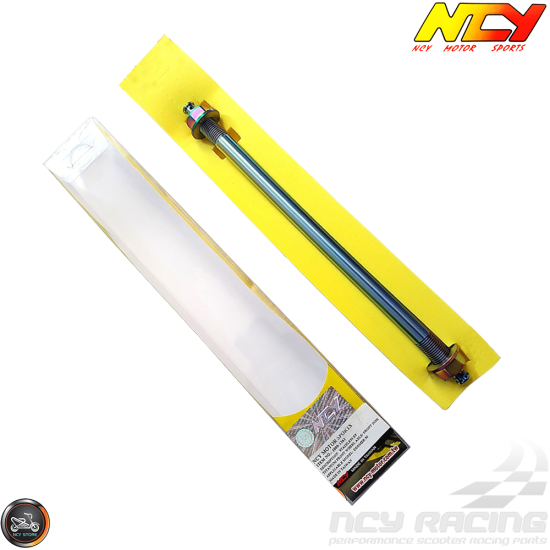 Description: NCY Front Axle 12mm x 250mm Electroplated Stainless Steel for 139QMB 49/50cc, GY6 125/150cc, Honda Ruckus, Honda Metropolitan, and many other various makes and models. Has safety wire/cotter pin provisions 2mm. This front axle is the same one that is included in the NCY Honda Ruckus Front End Kits.
Note: Please measure your original front axle before ordering to assure proper fitment.

Specifications:
Include the following Front rim axle, nuts, and provision wire pin.

• 1x Front Rim Axle L: 250mm / D: 12mm
• 2x Nuts (matched color set): M12
• 2x Provision Wire Pins: 2mm
• Material: Stainless Steel
• Color: Electroplated
• Made in Taiwan
• Fit GY6 125/150cc+
• Fit GET 49/50cc+
• Fit QMB 49/50cc+

Supported Models: GY6 139QMB 49cc-50cc 4-stroke, 50QMF 90cc-100cc, 152QMI 125cc, 157QMJ 150cc, 161QMK 170cc, Chinese Scooter, Genuine Roughhouse, Honda Metropolitan, Honda Ruckus, Kymco, TaoTao, Vento, and virtually any other scooter with these measurements.
-----
Item Weight & Product Dimensions:
• 0.531 Pounds | 9.843" (L) x 0.937" (W) x 0.472" (H)

NCY Front Axle 12mm x 250mm Electroplated (GET, QMB, GY6)
Stock:

18

Reward Points:

1

Part #:

1000-1263

NCY
Price in reward points: 30
Tags:
front axle
,
rim axle
,
front rim axle
,
wheel axel
,
axel
,
ncy axle front electroplated 12mm x 250mm honda ruckus
,
ncy axle electroplated front 12mm x 250mm honda ruckus
,
ncy electroplated front axle 12mm 250mm
,
ncy stainless electroplated titanium front axle 12mm 250mm
,
ncy electroplated titanium front Axle 12mm
,
ncy electroplated titanium axle 250mm
,
ncy front Axle 12-250mm
,
ncy axle 12mm
,
scooter front Axle 12mm
,
scooter axle 12mm
,
front Axle 250mm