Stage6 Oil Filler Cap Alloy (Aprilia, JOG, Zuma 50)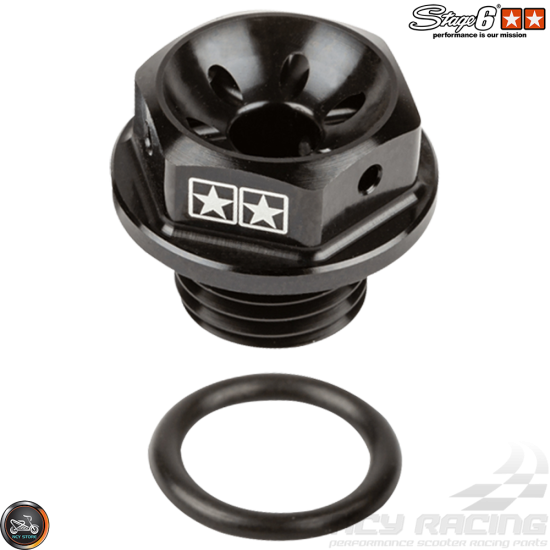 Description: Stage6 Oil Filler Cap Alloy for Aprilia, JOG, Zuma 50, and many other 50cc base engines. Oil Filler Cap Stage6 Minarelli (e.g. Yamaha Aerox) - stylish colorful anodized oil plug for optimal sealing of the crankcase. Well-sealing oil filler screws are crucial for the operability of the gearbox. The oil plug closes the filler opening of the case, a high-quality O-ring ensures perfect sealing. The oil plugs are made of a high-quality aluminum alloy (7075) and come with stunning-looking anodized finishings in different colors. Like almost all Stage6 products, they also feature the well-known two-star logo. Very handy: the head of the screw has small holes, which makes securing the screw with lock wire very easy. Securing nuts and bolts is now mandatory in many official races.
NOTE: Please confirm measurement is correct prior to ordering.

Specifications:
Include the following side Drain bolt.
• 1x Alloy Oil Filler Cap: M14x1.5mm / L: mm / OD: mm
• Color Option (choose one): Black, Blue, Green, Orange, Red, and Yellow
• Made in Italy
• Fit Aprilia 50
• Fit JOG 50
• Fit Zuma 50

Supported Models: Adly Rapido 50, Aprilia SR 50 LC, Benelli 491 RR 50, Benelli K2 50 LC, Beta Ark 50 LC, Beta Eikon 50, Garelli GSP 50, Italjet Dragset 50, KTM Ark 50 LC, MBK Nitro 50, MBK Nitro Naked 50, Malaguti F12 Phantom 50 LC, Malaguti F15 Firefox LC, Motowell Magnet RS 50, Streak Access 50, Yamaha Aerox 50, Yamaha Jog RR 50, and virtually any other scooter with these measurements.
-----
Item Weight & Package Dimensions:
• 0.03 pounds | 5.898" (L) x 5.2" (W) x 0.816" (H)
Stage6 Oil Filler Cap Alloy (Aprilia, JOG, Zuma 50)
Stock:

39

Part #:

S6-SSP140

Stage6
Price in reward points: 16